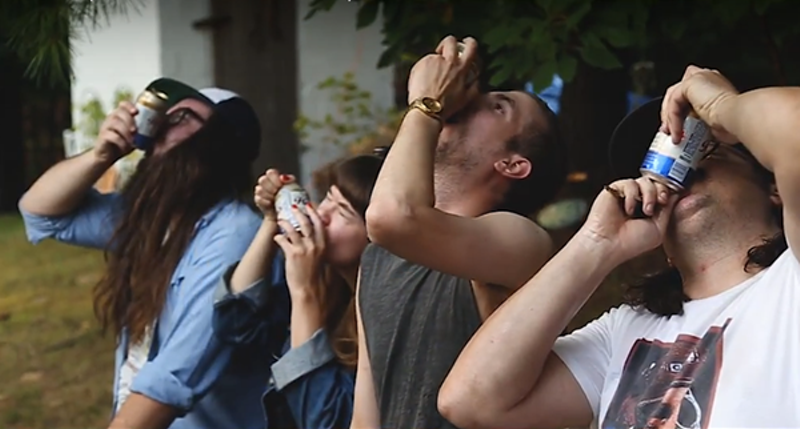 "I'll throw away my damn computer and stop texting pretty girls," E.M. Allen self-instructs on "Slow Down Time" — the debut single from Detroit's alt-country foursome, Loose Koozies.
As the band gears up to release its first seven-inch on July 4 at Outer Limits Lounge, Allen, along with bandmates Erin Davis, Nick German, and Andrew Moran, have dropped their hazy summer jam (and accompanying video) just in time for your impending sunburnt hangover — cue the hum of your window a/c unit!
The Koozie gang invited Pete Ballard of the Scrappers to lay down some pedal steel and Bonnie and Caitlin Drinkard of the Drinkard Sisters on backup vocals to up the track's twang factor from buzzed to full-on inebriated.
Shot and directed by Dustin McLaughlin, the video mirrors the hazy ennui the song suggests. From monster trucks, wood chopping, shotgunning beers, mowing lawns, and one
very
good boy, "Slow Down Time" is restless but with resolve. If all else fails, you can pack your suitcase, grab your best pals, and jam. And make sure someone remembered to fill the
g'damn
cooler with ice.
Loose Koozies will perform with the Kelly Jean Caldwell Band and J. Walker and the Crossguards at 7 p.m. on Wednesday, July 4 at Outer Limits Lounge; 5507 Caniff St., Hamtramck; 313-368-8192; outerlimitslounge.com; Tickets are $7.

Get our top picks for the best events in Detroit every Thursday morning. Sign up for our events newsletter.