Late last week, PJ's Lager House, one of D-Town's favorite rock haunts, was spotlighted in an incredibly interesting feature story on CNN Money, titled "How To Lose Money Fast, Start a Business." The story deals with the trials and tribulations of running a bar and musc venue, especially in the depressed climates of the Motor City, and features an in-depth interview with PJ Ryder, the owner of the Lager House.
The story begins: "P.J. Ryder knew making the rock club he bought a financial success was going to be a challenge. But he didn't anticipate that two years after opening, P.J.'s Lager House would still not be profitable...
Intriguing enough of a lede for you? Read the whole CNN story by simply clicking here.
Speaking of the Lager House, their New Year's Eve festivities will feature sets by the Muggs, the Beggars, the Wrong Numbers and Bixy Lutz. The $8 cover price includes a free champagne toast at midnight and festivities that run from 9 p.m. to 4 a.m.
And speaking of local music events, we blogged about it several weeks ago, but don't forget the fourth annual Mittenfest festival, which presents 40 bands in four days, at the Elbow Room in Ypsilanti. The fest runs from New Year's Eve afternoon through January 3rd and benefits 826michigan, a nonprofit writing and tutoring center. Click here for the full schedule and all the info you'll need.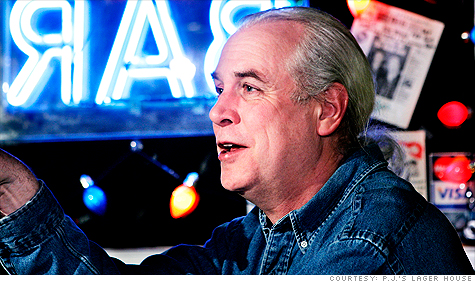 P.J Ryder of the Lager House as he appears in the CNN article.