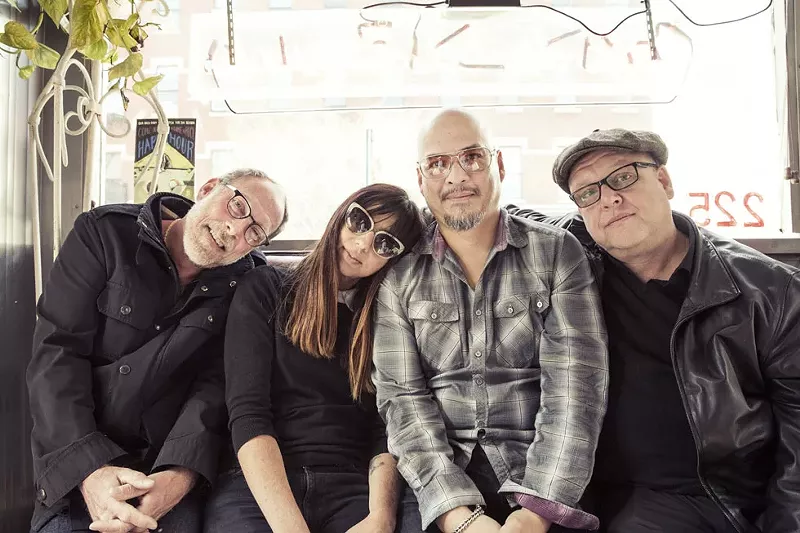 Eleven years after the Pixies released what was then its final album in 1991, the alternative rock wave was rebirthed with a 2004 reunion tour. The band cycled through festival appearances until 2009 when they launched their
20th anniversary
tour for
Doolittle
, performing a record that's made
Rolling Stone'
s "500 Greatest Albums of All Time."
Finally
after playing the same old material for years, the band released
Indie Cindy
in April of 2014, which jump-started their ambition to continue writing new material. In September 2016, the Pixies released
Head Carrier
, and have been on tour for the album since then.
The band makes a stop in Detroit on Friday, and
Metro Times
had the chance to speak with drummer David Lovering about the current state of the Pixies and the experience of writing new material with a new bassist after such a time gap.
Metro Times:
It took about nine years for the Pixies to release new music after the 2004 reunion. What was that like?
David Lovering:
What had happened, of
course
we got back together in 2004, which I couldn't believe that, and we toured from 2004 to 2011. Seven years went by and after the seven-year mark, in 2011, we all realized, "Wait a minute. Hold on." We'd been touring with our old music longer than we were initially a band back in the late '80s and early '90s. That was freaky to us.
We felt were a viable band, like we had something to offer, so that's what got us into gear through
Indie Cindy
. I have to say, the scary thing about that was that it had been a long time since we did an album. So, a lot of trepidation going into the studio thinking, "Oh this had got to be good." [
Laughs.
] And, the thing about it was that it turned out to be just like every album we wrote. So, as long as we liked it, it was fine ... and we toured on that album.
Now that broke all of the barriers for us because we knew we weren't scared anymore to do a record, and we know we're a viable band. We can play longer than when we were originally a band because we are better musicians now. It's much easier to play and more fun. So, that's how, since
Indie Cindy
came out,
Head Carrier
came easily into play. There was nothing scary because we had already gotten through the scary part, so
Head Carrier
was a breeze and it was a lot easier to write than
Indie Cindy
. Much easier all the way around, especially since we had seven weeks of pre-production on it. It was like having a luxury to actually know these songs and learn them before going into the studio. That was something we had never done. I can say now that since there is
Indie Cindy
and
Head Carrier
, it's going to be
wash
, rinse, repeat. Once we finish this tour with
Head Carrier
, I'm sure we are going to back into the studio and start another one.

MT:
So, on the band's hiatus you became a magician. Can you just touch on that a little bit?
Lovering:
Well, when we broke up, I couldn't play for another band because I was disillusioned. The Pixies were the most fun I had and that was
best
time I had on drums. So, I gave up on it and I didn't know what to do. So, while I was thinking of what to do I went to a magic convention in Los Angeles. I went along to see what it was all about and it was the first time that I saw good magic, and it blew me away. From that point I bought every book, I bought every video, I took classes, I did everything I could. For a number
years
I kept practicing until I became a proficient magician, and that's what I've been doing. I mean I still do it to this day.
I had a stage show before the Pixies, and the Breeders, but one-on-one magic is my favorite. One thing I can say about magic to expand it, with the Pixies I'm on the drum-set behind three people on stage. I could be in front of thousands of people at a festival, I'm not even nervous. I never shed any sweat when playing a show. When I did my first magic show, in front of ten people, I could have filled a Dixie Cup up with the sweat. I was somewhat shy, but magic has given me
confidence
I think.
MT:
So the new bassist Paz Lenchantin became a permanent member between these two albums. What was it like writing music with someone new in the band?
Lovering:
It was interesting because all we knew was [Pixies founding bassist Kim Deal] and the way we played for so many years, so it was scary. But I have to say one thing about working with Paz — she is wonderful, she's a joy to be around. I can't think of anyone better to be in the band besides Paz. She's just making us all very happy, we enjoy each other, and the audience wants her, which is a huge plus. I mean there is a little difference in her playing from Kim's, of
course
she's a talented musician. She is incredible when she plays. She is right on time and everything like that.
She's made me play better because I don't want to be embarrassed around her. She's so good. So, I've had to step up my game, and that's great. Since, we've been doing new stuff, especially with
Head Carrier
when we were in the studio doing really new stuff, it was not wildly different. What it is, is that she developed the sound of the Pixies just from playing and knowing the Pixies. She knows what she's doing in the Pixies bass spot. We have wonderful rhythm section now.
MT:
How did Paz exactly become a part of the band?
Lovering:
We knew of Paz from the past in Los Angeles. She had played in a band, the Martinis, that Joe and I knew from a long time ago, so there was a familiarity of her. When we needed a bass player, her name obviously came up and she was perfect for the part. She knew the band and she knew the songs inside-out. And ba-boom, we could not have found anyone better for the band.
MT:
How does it feel to tour the new material?
Lovering:
I could play "Where is my Mind?" for so long and it will never bother me. It's easy to play the old songs. They're like riding a bike, they're just in me. I mean, I could be blindfolded and play those drums. Playing the new songs, it's hard. Especially the songs from
Head Carrier
, I should say. I can see that they're fitting in with the old songs. When we weave them into the set… the audience seems to be liking them, and I'm impressed. We have been touring
Head Carrier
now since last September, so we're playing them a lot better now, too. Playing them is a challenge, but it is fun to do.
MT:
Yeah, on the press release I got it said you guys have rehearsed around 90 songs to make each set different.
Lovering:
I would say we have 75-80 songs that we can whip (out) and that's the list we can choose from. Our shows are 90 minutes and we don't write a setlist, we have no setlist. We go up there and we wing it. We know what the first song is and what the last song is, and we have hand gestures or certain things signaled so we know what to play, and part of our schtick, if you'd call it that,
is of course no setlist
. We rapid-fire these songs. Ninety minutes and we don't talk to the audience. We don't talk, we don't do anything. It is song immediately into the next one, into the next one — bang, bang, bang, bang, all the way to the end.
If there's anything I could say to
any
audience that hasn't seen the Pixies, I could say that we're not an anti-social band. We are just delivering what we do best, which is the music.
The Pixies play on Friday, Oct. 6 at the Fillmore, 2115 Woodward Ave., Detroit; 313-961-5451; thefillmoredetroit.com; Doors at 7 p.m.; Tickets start at $35.