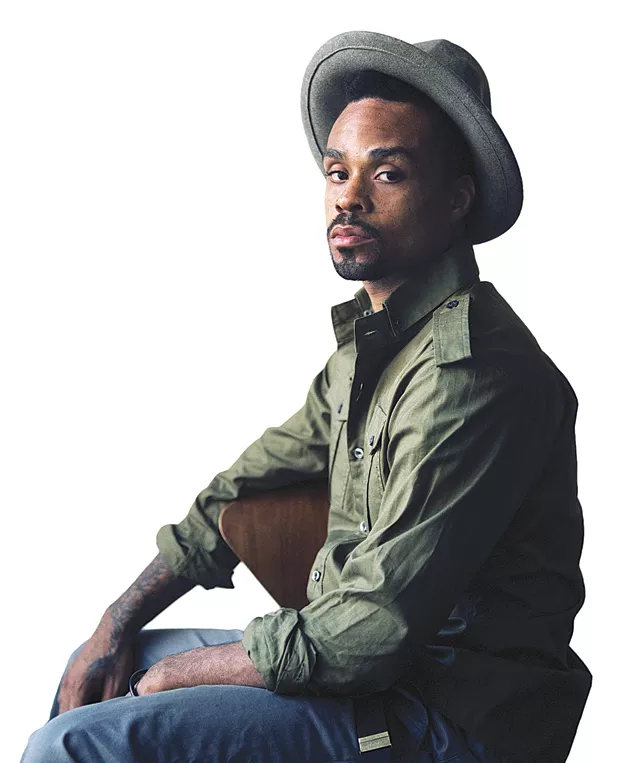 The music biz, or what's left of it, has more than its fair share of dirty tales. But the casual music fans don't notice. You buy a CD, you like it, done. But for every album purchased these days, there are 10 others that either got shelved, leaked or have to be given away despite the time and effort that went in to making them.
Take Bilal, for instance. When the singer's 2001 debut album, 1st Born Second, hit in the urban music circles, he was the sure-as-shit heir apparent to D'Angelo. His skill and crazy singing abilities instantly captured the attention of many. (He can linger in a falsetto, but can often suddenly change the timbre and pitch of his voice — it's very woodwind-like. In fact, Bilal says he "looks at his vocal range like a tenor saxophone" and says he gets his "scat and falsetto from John Coltrane and Miles Davis.")
The Philadelphia native immediately fell in with hip hop's true-school elite, making music with everyone from the Soulquarians — a powerful contemporary-soul collective in which he was a member — to Dr. Dre and Guru of Gangstarr. Although 1st Born Second didn't do numbers like Interscope Records would've liked, his fan base grew steadily, partly because his live shows include a backing band and create a vintage soul experience that most R&B singers of today wouldn't know how to create if they tried.
So it wasn't surprising that his follow-up disc, Love for Sale, had sizable expectations behind it upon its 2006 release. The album sported some of Bilal's best material, much of it based around his signature sound as a trained jazz vocalist, mixed in with upbeat hip-hop undertones. He also wrote, produced and composed the lion's share of the record. The songs were all tight, the urban music community was ready to embrace it, and all should've been well. But leave it to a fucking record company to claim they didn't know how to market it. For one reason after another, Love for Sale got delayed, then leaked on the Web, and eventually shelved. Bilal was unable to make a dime from his best work yet.
It was a bitter pill to choke on, and Bilal isn't entirely over it. When asked what caused him to wait so long before putting out a proper album since the Love for Sale leak, his answer was simple: "Politics, man. Changing labels, changing people in my camp, I've had to go through a lot since then. Changes that I had to go through other than music. It was the business side of the music really that's held everything up."
That's a tough but not uncommon situation many artists disillusioned with the music world eventually go through. Bilal's was decidedly more personal.
"When the album was bootlegged, I really had to assess how it happened, who was around me, and a lot of things started to come into play," Bilal says. "I also felt like I needed to sit back and think for a minute. I was really into that music that I was doing, and not being able to release it properly took a lot out of me."
The lone bright spot from so much biz crap is that Love for Sale ended up being one hell of a free album that true Bilal fans got behind and pushed. He kept getting gigs, and new fans, and he painstakingly dealt with the biz hangover the only way he knew how — by singing. But even that wasn't so easy, at first.
"I probably didn't make any new music for about two years," he says. "The music shows up in my brain. If it doesn't show up I don't force it. I was at a point where I was like, let me make some music, but shit, this sounds contrived, so fuck it. I was doing jazz gigs, improvising, painting, but really, I go by the whole philosophy of flow. If that's where I'm at, I flow with that situation. Miles Davis didn't play ... and then came back and changed the game. I use music as therapy I don't use it as validation."
With that philosophy, validation arrives when it's supposed to, and the sun shines these days for Bilal. In September he put out Airtight's Revenge, his second official album, on L.A. indie Plug Research. The reviews have been overwhelmingly positive and those who've heard it recognize a freshness, a kind of aural rejuvenation. Bilal handled much of the production alongside band member Steve McKie with production help from Shafiq Husayn, 88 Keys and Nottz. Songs such as "The Dollar" tackle money and capitalistic ideas, and the drum-heavy single "Restart" is all about reconnecting with a past love. The common theme on those songs and others, such as "Robots" — which questions the government — and the melody-rich "All That Matters," are about the issues and frustrations that we all face.
"I've always written songs about my life and real-life situations. I've written a lot of freaky, janky music too," he says, laughing. "It's true. But the core of my music is always still there. The blues, hip hop and jazz. And I hear that in all the things I do." One Revenge song is dedicated to his children, and it's as introspective as it is powerful, from a parent's standpoint. "Little Ones" focuses on his two boys, one of whom suffers from autism and the other is stricken with sickle-cell disease. He's been active in the fight to help cure sickle cell, participating in various fundraisers. He stays positive too that just as much awareness can be harnessed in the black community about autistic children.
"Austism is something relatively new within our community," Bilal says. "For a while, black people just look at things like that and say, 'You're a bad boy, go and sit down.' We don't really deal with psychological issues. We leave that to the church. We just go and pray about it. But I think it's something that really needs to be talked about more in the black community because it's happening more frequently."
He says raising a child with autism has helped him see the world differently, helped him to see the beauty in all of it. He's also laughing and smiling a lot more these days. Tough times have given him a can't-keep-me-down attitude, which is really the meaning behind the album title Airtight's Revenge. "Airtight" is an old nickname he's had for years from the Iceberg Slim novel, Airtight Willie and Me. The "revenge" part speaks to how his music is still reaching masses despite the label issues and setbacks he has had. He's enjoying himself again.
"I really don't worry about what people expect me to do. I don't. I know I have to make good music and that's what I focus on. I got real-life stuff to worry about, man. This music stuff is just fun."
At 8 p.m. Friday, Nov. 19, with DJ Rich Medina, Suai and DJ Minx at St. Andrew's Hall, 431 Congress St., Detroit; 313-961-6358.