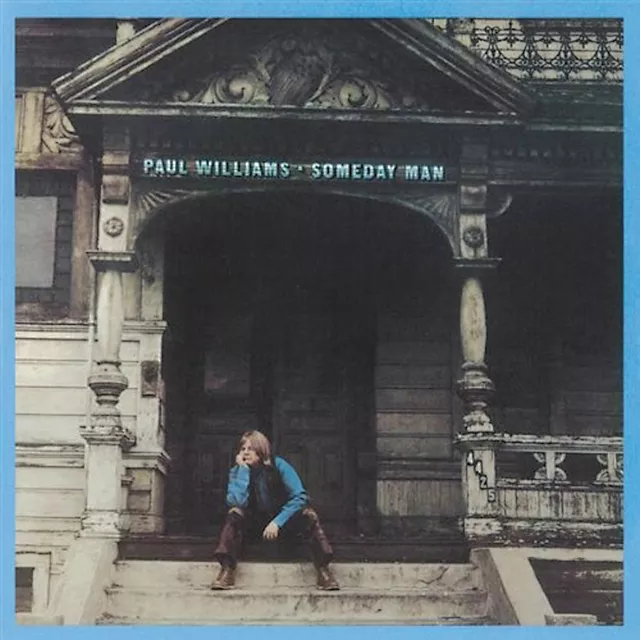 Paul Williams - Someday Man
Now Sounds
The fading mansion backdrop for bespectacled songwriter-singer Paul Williams on Someday Man's cover confuses; it suggests late '60s L.A., but is closer to Manson's creepy crawlers and dying hippie utopia than lilting melancholic pop of delicious major-minor chord and key changes.
Up from the remains of Holy Mackerel and its great but ignored Richard Perry-produced LP (which Now Sounds also recently reissued) Williams and producer-songwriter Roger Nichols recorded Someday — with Wrecking Crew assistance — as an obligation to Reprise Records. But this was hardly some contractual throwaway. (Note this is the same Williams-Nichols who later hit song lotto penning tunes covered by an unusual posse of million-sellers, from Bowie to the Carpenters.)
Beautifully arranged strings, horns, piano, guitars, and the occasional sitar support Williams' appealing tenor and wordplay, which canvass the confessional ("She's Too Good For Me"), the topical ("So Many People") and a metaphysical theme worthy of early Nilsson ("Time"). Jimmy Webb can only wish upon "To Put Up With You" and "Do You Really Have a Heart," while the title tune quells the nerdiest cravings of a hardened pop geek. Add to that a 14-page color booklet, dozen bonus tracks and audiophile mastering from original tapes.
Now Sounds head Steve Stanley authored well-researched liners — sourced with Williams and Nichols — and implies Someday Man deserves inclusion into the holy pop pantheon alongside Pet Sounds, What's Goin' On and Forever Changes. Who's to argue? Isn't it most often the case that the best you'll ever hear is something you've not heard yet?