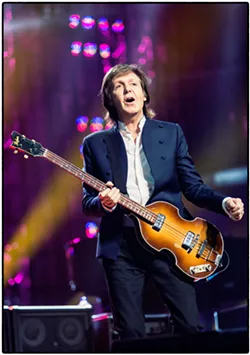 Sir Paul McCartney just played a jam-packed show at Joe Louis Arena in 2015, but a two-date stop at the newly opened Little Caesars Arena is more than welcome. The former Beatle has been touring his One on One show over the last year and we're excited to hear his classic tracks performed at the new arena — it'll be something of a spiritual cleansing after those six Kid Rock shows. We're counting on hearing tunes like "Hey Jude," "Helter Skelter," and a few other timeless tracks. Is it possible McCartney might bring out a couple Motown legends like, say, Stevie Wonder? Hey, a girl can dream.
An important note: Olympia Entertainment is advising concert goers to arrive promptly because it is likely that McCartney will go on stage promptly at 8 p.m. — because at 75-years-old, this guy wants to be in bed by 10:30 p.m.
Paul McCartney performs at Little Caesars Arena on Sunday, Oct. 1 and Monday, Oct. 2. Doors open at 7 p.m.; 2645 Woodward Ave,. Detroit; 313-471-7000; olympiaentertainment.com; Tickets start at $59.60.