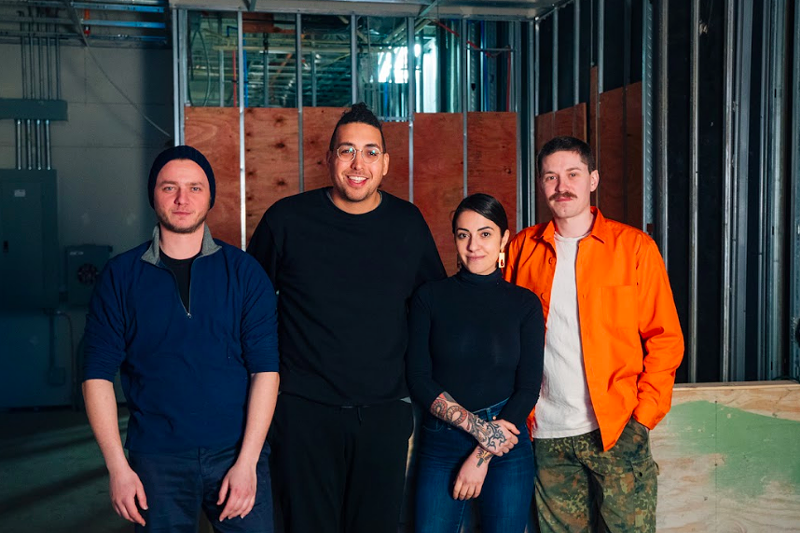 Anna Atanassova and Andrey Douthard, founders and co-owners of the West Village record store Paramita Sound, moved out of the original storefront at 1417 Van Dyke St. about a year ago following
reports of noise complaints
. Since then, they've operated out of Detroit Is The New Black and then moved into the Siren Hotel at 1509 Broadway St. Right next door to the hotel, their future awaits at 1515 Broadway — a space they hope to renovate as a record store that boasts its own bar.
They recently launched a Kickstarter crowdfunding campaign
to raise $50,000
to keep them on track for a projected Mother's Day reopening date. "We weren't expecting to be this short, but we are," says Atanassova.
Paramita Sound is a familiar name to members of the local music community and beyond. It started as that one little neighborhood record store that earned a reputation for its free, all-ages Beat Profile parties featuring well-known acts like Nick Speed and Illingsworth, as well as local lesser-knowns, but soon found that throwing parties out-of-pocket and trying to sell vinyl records wasn't the best way to add to their bottom line.
They also soon outgrew West Village, where they had set up shop since 2014. During an Aug. 25, 2017, Beat Profile party, nine police officers dispersed the crowd as part of a wider noise ordinance crackdown on performance spaces in the city as once-sparse neighborhoods fill up again. The shop hosted its final Beat Profile event in January 2018 after they were unable to secure a long-term lease.
This time around, they're prioritizing payment for featured artists and DJs at their events with help from the Kickstarter campaign. According to Atanassova and Douthard, the funds will also go toward construction and build-out of the new space, plumbing fees, and bringing the sound system up to code.
For the Paramita Sound team, the new space offers a chance to reconnect with the music community that was drawn to and brought together by their West Village location. It's also a chance to be anchored in one place while finding ways to partner with the broader community.
"The opportunity for a business like ours to live in downtown spaces is so rare and the barriers of entry are so large," says Douthard. "It's the lifeblood for all of us; it definitely has very personal ramifications."
The Paramita Sound owners have held their day jobs in the service industry from the start. Although the last year has been transitional, the team has been able to polish their expertise in nightlife, graphic design, and DJing — skills that they plan to use to help the business run smoother. The desire to pick up where they left off — hosting inclusive parties where attendees can discover new music — is the underlying vision. The record store owners hope to invite the OG music-loving, neighborhood crowd to bring that energy downtown. An in-person fundraising event is slated for Record Store Day on Sunday, April 13 at The Eightfold Collective (2831 E. Grand Blvd., Detroit), and there are more events in the works.
"We want to put everybody we can on the biggest platform we can possibly muster," says Atanassova.
Stay on top of Detroit news and views. Sign up for our weekly issue newsletter delivered each Wednesday.