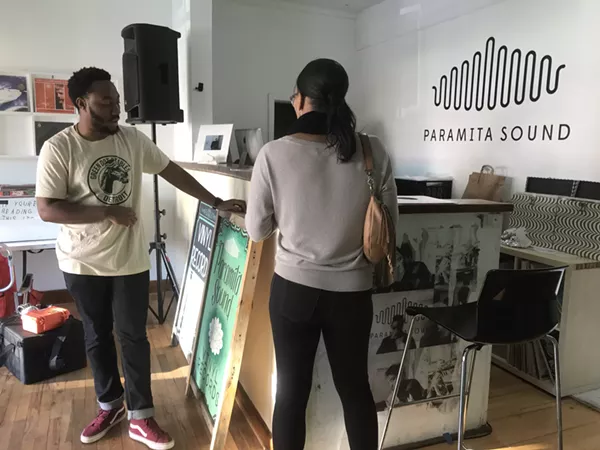 Detroit record store Paramita Sound hosted its final Beat Profile event at its storefront at 1417 Van Dyke St. on Jan. 26. With a lineup featuring DJs and producers Kyle Hall, Lexi, and Sterling Toles, the house was packed per usual, with an invigorated crowd primed to pay their respects to the West Village space. To commemorate the closing, a few members of the Paramita Sound crew sported custom white T-shirts that read "Beat Profile 2015-2018" on the front and a list of featured Beat Profile performers on the back.
last time
Metro Times
checked in with Paramita, they were receiving noise complaints from the neighborhood. But while the owners tell us they have not received any complaints since then, they were unable to secure a long-term lease in the West Village location and are now considering other options.
"It's a bittersweet thing to not have the shop at the 1417 space, but we had a really beautiful three years there," says co-owner Andrey Douthard. "And without that time there, there would be no opportunity for us to move forward like we are currently."
In the meantime, Paramita Sound will be temporarily relocating to Detroit Is The New Black's storefront located at 1426 Woodward Ave. from Feb. 20 to mid-April. As it did at its previous West Village location, Paramita Sound will sell new and used vinyl, and a DJ will be on hand spinning music every Saturday. Douthard tells us the two stores have a few other collaborative events in the works.
Douthard says the plan is for Paramita Sound to have a new permanent location by
Record Store Day
(Saturday, April 21). Although Douthard has not yet revealed the new location, he says the Paramita Sound team is looking forward to what the space will offer.
"It's going to give us the opportunity to do a lot of the things we wanted to do from the beginning," he says. "We aren't done, by any means."
You can follow Paramita Sound on Facebook
here
, and Detroit Is The New Black
here
.