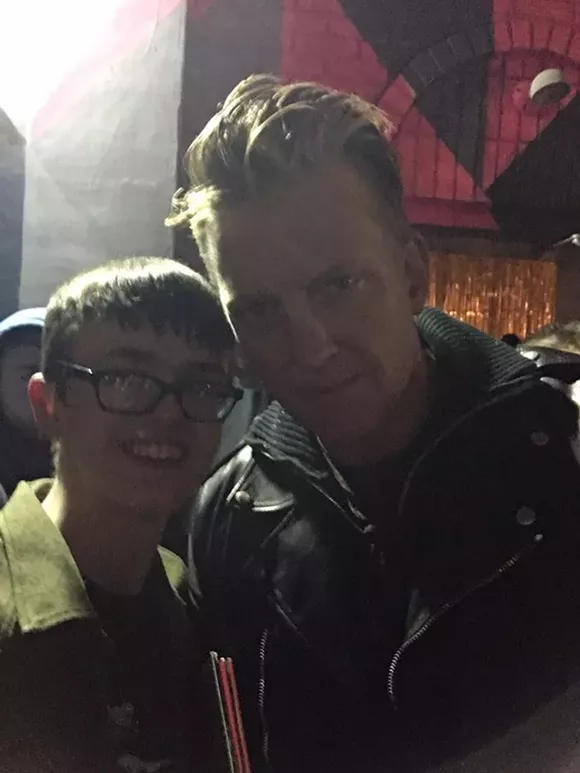 After Iggy Pop's energy-driven
performance on April 7 at the Fox Theatre
, a bunch of fans swarmed over to MoCAD for
an exclusive photo exhibition
featuring outtakes and shots from the new Pop album
Post Pop Depression
by photographer
Andreas Neumann
, which also promised to be an afterparty with Iggy and the band. The band, for those not in the know, includes Josh Homme (Queens of The Stone Age, Kyuss, Eagles of Death Metal) and Dean Fertita (the Dead Weather, Queens, The Waxwings), two fantastic multi-instrumentalists who contributed greatly to the show earlier that night.
I, being a fan of both Pop and Homme, headed to MoCAD and waited outside, in the hopes of getting one of my records signed (a copy of The Stooges'
Raw Power
and the Queens' album
…Like Clockwork
, for inquisitive minds). I don't resell autographs, and I don't completely understand the mindset of those who purchase autographs themselves, because, to me, they're all about being there at the time and actually talking to the person who signed it. While I stood there, records in hand, I overheard a handful of those outside mention that they were going to resell the autographs on the internet, probably eBay, and particularly relating to Iggy Pop.
When Pop arrived, he got out of his car and ran into the venue, not stopping to sign or take photos, which wasn't expected of him. Despite Iggy's security guards telling those outside that Pop was very tired and that he should be respected, all of the autograph collectors ran towards Pop, obviously deterring him. I wasn't willing to get crushed by these behemoth collectors, so I stood back and watched. When I remarked that it was rude for everybody to swarm him, a collector sneered at me. I'm not kidding — he made an audible noise when I suggested that. The vultures circle.
By the time Homme's car arrived out front, autograph collectors had switched their Stooges records to Homme's own memorabilia. Homme stepped out of the car, and, running toward him, the collectors took out their Sharpees until Homme waved them off. He said he would be willing to take pictures with anyone and everyone who wanted them, but that he wasn't wanting to sign autographs. I was excited myself, because a picture was oh-so much cooler than getting an autograph.
A man off to the side in a hoodie who had previously discussed the autograph trade became angry, remarking "Do you know how much money you made off us tonight?," obviously not appreciative of Homme's photo gesture. I'll spare the details on what Homme said back to the guy, because it's all over the internet, and I don't want to draw attention to this
TMZ-altered clip of the altercation
. Let me just say that a 30-second clip was definitively unable to capture what the man in the hoodie said, and it only makes me more disappointed with the media and their inaccurate portrayal of events. Clickbait extreme. I got my photo with Homme, who clearly was happy to take pictures with everyone there. The event, for charity, was already going in inside, so when the photos were all taken, he stepped through the door.
When I later got into the MoCAD, Pop was gone; however, Homme and Fertita were still inside, still posing for photos with fans. With only a small group of people around him, I went over to Homme and apologized for the guy's behavior. I didn't want Homme or anyone else to think that every person out there was trying to get his autograph for malicious purposes, and he completely understood, just being angry that the collectors outside were trying to make a quick buck off his fame. Taking photos with real fans, Homme took the high road. Not surprisingly, the autograph hounds weren't at all interested in taking photos with Homme, instead leading one of the guys to berate him. Even though I didn't succeed in getting any autographed records that night, I walked away happy with a photo of myself and one of my favorite musicians.
This morning, I saw
an article posted by music news site Consequence of Sound
where they posted the obviously clipped and altered video of the 'altercation.' I was angry about how the media treated Homme, obviously not searching for the truth, so I typed a Facebook comment-reply, telling my side of the story. I left the comment on several news sites, and
Consequence of Sound
was the only one to alter their article with an 'update' containing my information. Good for them; that's good journalism!
Spin magazine twisted it
into how Homme "unleashed a fury" onto an unsuspecting fan, while
Loudwire insisted
that Homme "ripped into an apparent autograph hound." Both reports are false and embarrassingly single-sided. Don't be mad at Josh Homme for this incident; if anyone at all, be mad at how rude and inconsiderate some are when they demand something of a celebrity. All Homme 'owed' those outside was the fantastic show he had just played with Pop, and he delivered.
"Who makes music happen? Does a tabloid like
Rolling Stone
make music happen? You and I make it exist!" – Jack White