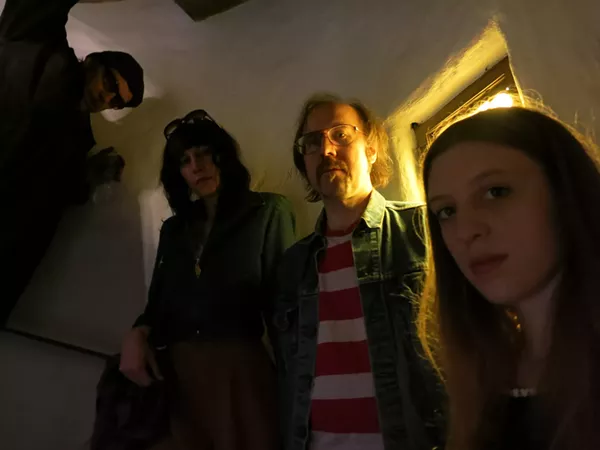 With their unmistakable psychedelic art rock sound, filtered through folk and bubblegum pop without sacrificing the power of sick guitar solos, Outrageous Cherry is an underground Detroit music institution. We've been covering the band since the early days; you can even get lost in this short list (1988-2005) of records that founder Matthew Smith has appeared on.

Metro Times is excited (but also saddened) to premiere "Complicate Me" off their final studio album, Meet You In The Shadows, out October 5th on Burger Records. Excited, of course, because the track is an instant Outrageous Cherry gem, but saddened because it marks the end of the band as we presently know it due to the untimely passing of founding lead guitarist Larry Ray, whose highly individual guitar style was a hallmark of the band's sound.

"Complicate Me" is sunshine piercing through clouds, dulcet vocal harmonies bouncing off minimalist drumming to culminate in a pleasantly stormy guitar solo; all of which encapsulates the brilliant blend of pop elements with rock riffs that Outrageous Cherry does so well.

We've referred to their style as "lunatic pop" in the past, and the new album is no exception – although the lunacy is easily sweeter, like a nicer Velvet Underground. Completed prior to Ray's death, Meet You In The Shadows features the same line-up that appeared on the previous OC album, The Digital Age (Smith, Ray, Maria Nuccilli, and Colleen Burke).

As you wait for the new album to come out, you won't want to miss the new (super)group that Smith has put together to perform at the inaugural Motor City Muscle festival. Members include Nuccilli (OC, Deadbeat Beat), Burke (OC), Ava East (Deadly Vipers), Molly Jones (who appeared on Metro Times' Bands to Watch list this year), and Chris Pottinger (Odd Clouds, Cotton Museum). They will be playing songs from Smith's upcoming solo album, as well as songs from the Outrageous Cherry back catalog.

Matthew Smith Group will perform at 9 p.m. on the Hart Plaza Underground Stage as part of the Motor City Muscle Festival; 313-829-7373; motorcitymuscle.us; admission is free.



Get our top picks for the best events in Detroit every Thursday morning. Sign up for our events newsletter.