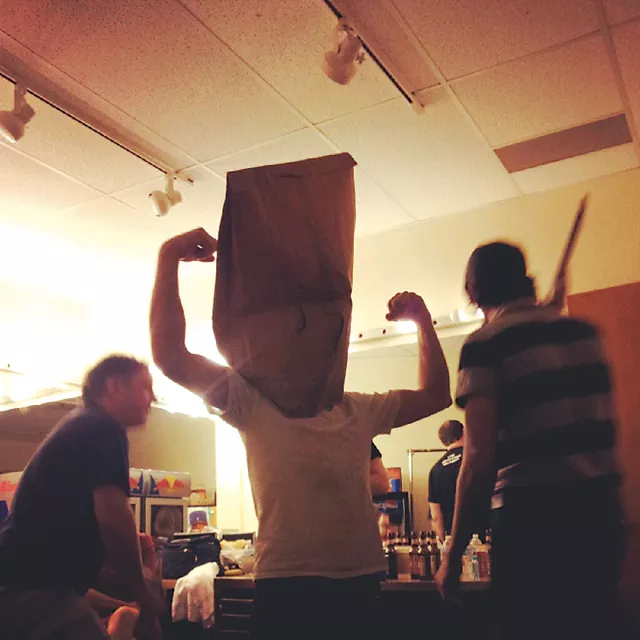 The Sights' homecoming and Left Over Right album release party with the Hard Lessons and Katie Grace is 8 p.m. Saturday, Aug. 11, at the Magic Stick, 4120 Woodward Ave., Detroit.
It's a high time for the Sights. Eddie Baranek and his current companions — Jarrod Champion (piano), Skip Denome (drums), Kyle Schanta (bass), Dean Tartaglia (sax) — released Left Over Right, the band's fifth album, in June, to strong reviews. Three songs have been picked up for advertising by Chevrolet, and the garage-rock warriors are coming home to celebrate after nearly 50 shows over three months. Some those shows were in major venues as an opening act for the concurrent tour of Tenacious D. Some were in ... well, dives. And through them all — high-class joints and honky-tonks — Baranek has posted nearly 30 letters from the road — something like 18,000 words — sharing the highs and lows and high jinks and quirks of crossing America in a van dubbed Jerry Sprinter. The full opus is well worth a read in the Star Traction blog at metrotimes.com. But if you haven't done so, here's a sampling accompanied by smartphone pics from road manager Jason "Shades" Schusterbauer. (Note to future Sights chroniclers: The dates here are the dates of the entries, not those of events related.) 
May 17: You see, being in a van with a band isn't always talking about the best Beatles record (Revolver), or arguing over what the best Dylan period is (everybody knows it's just after the holy trinity). It's about reliving my youth by shooting Nerf darts at 7 a.m. with a 13-year-old who could give two shits about how many records I have or the latest I put out. You gotta serve somebody (yourself?), and you gotta stay grounded. ... 
May 26: Wednesday was D-Day: Tenacious D Day 1. We loaded into the Santa Barbara Bowl early and found ourselves in the canteen. It hit my eyes first, then my nose, and finally found me: backstage catering. We eat and eat and eat. Everyone working backstage is so nice, the weather is about 78 degrees, the food is endless, nobody is watching if I take too much, I'm not pocketing an extra coffee creamer (caramel of course) for later. ...  My diet before D-Day was a mix of Lord of the Flies berries meets Karen Carpenter — scary. ... I am a scrounger, I save and hoard in the van knowing I'll use it later. Not only that, but some of the non-D gigs can be rough. Small clubs, more characters. This is nothing new for me, I am used to that. But when you contrast that world (wormholes that see drunks drinking in shifts) to the D world, well this is where life gets interesting. ...
May 30: We hop onstage and play a 35-minute set with some new tunes thrown into the mix. It was cold, my hands weren't warming up, and I had a hard time getting it going. My strumming hand starting bleeding early in the set, and someone in the crowd gave me a Band-Aid. The crowd was warm, and they were chanting for me to "put it on" (the Band-Aid) and so I stuck it on my forehead and not on my cut. I don't know why I did that, but it felt like the right thing to do at the time. The crowd loved it. It's funny, you do the dumbest shit onstage and people eat it up. It's like the dumber you are sound-wise or stage-wise, the more (sometimes) people dig it. So stupid and strange to me. 
Afterward, the stage manager (who you can tell is an old gig vet) comes up and personally shakes my hand to say we did a great job. We always get love from the older stage hands, crew guys who "get it." Why can't they all be pretty girls? Nope, instead they are big, older, black T-shirt wearing dudes. You can't pick your fans. 
June 1: So we play our early afternoon set [at the Sasquatch Music Festival in Washington state] to a crowd of a few ... a few including Jack Black and a gang of his people. I speak with Black afterward, thank  him for watching the entire set. It was good to know that even though the dude was tired, had a show eight hours later, and basically could hang with a bunch of other famous people, he came and heard us play. I like that, it shows character. ...
I went out into the crowd and watched Feist's entire set, and it was equally as strange to be completely surrounded by girls younger than me singing along to every song. Outta place here? 
June 22: The final stop on the first leg of the tour has us at Skip's parent's cottage in Marquette.  It got me thinking: I've always wanted to pull a Traffic and spend a week in a cottage just playing music. ... No cell phones, work, other people, etc. Just playing music with people you love. I came close to that Friday at the cottage. Hell, I am doing that a lot this summer already. I have to remember to take it all in and be grateful. I was good in the past at taking all of this for granted. ...
We played our first set [in Marquette] and it was sooo good — we're tight as shit (a few weeks on the road will do that to ya). ... The second set is slop rock at its finest — we're switching instruments on "Sticks & Stones" ...  so many people are dancing that we shift into party-dance set.
We play all the songs that you can dance to, which is pretty much all of them. A bachelorette party comes and shakes their collective cheeks. At one point, the future bride gets onstage and awkwardly tries to ... I am not sure what she was doing. I loved the chaos, I loved that people had a good time.
This is what music should be for everyone, every night on Earth. 
July 6: Then the first NYC show of the tour happened. I came out with my usual "Hello, we're the Sights from Detroit," and right away a dude yells "Fuck Detroit!" And with that, we were off. As in, off our game. It threw me. New York has always been kind to the Sights, but this was New York with Tenacious D fans. They are serious fans, and I let it get to me. I am usually pretty good with hecklers, but tonight I was caught off guard and pissed-off.
I felt like I had let my band down. We rallied in the room after and agreed that it was bad to focus on the heckler and instead focus on the other 2,000 or more people who dug us. But I wanted revenge on New York — really bad. Our turn would come the next night, but first we had some business in Jersey City.
We got up early the morning of our second Hammerstein Ballroom show to do a WFMU session with Joe Belock for his Three Chord Monte show. ... Joe has been a longtime supporter of the Sights and this marks our fourth time on his show (and fifth on WFMU).
Shades drove Jerry Sprinter back into New York for our second night at the Hammerstein, where we delivered the best set of the tour, and I walked off the stage with a feeling that I gave it my all and the crowd loved it. And they did really love it. I felt energized and ready to kill anything and everything. ... there were moments of pure "fuck you" attitude. I know Kyle had his middle finger aimed at the audience while plonking the bass. We're ready for anything now. 
July 12: The next day we trekked to Boston for another outdoor gig at some place owned by a bank. Before the gig I was chatting with Jack Black — well, he was telling me how he lost his virginity and what album was playing while he was doing the deed. I was listening while brushing my teeth. It wasn't awkward at all, and this is our relationship at this point. It doesn't feel right to talk about the album that was playing when Jack lost his V, only that I know I've never heard it in its entirety. ... 
July 31: We went onstage to a more than half-filled Red Rocks [Amphitheater in Colorado], and when we finished the place was packed. And dancing. And clapping. And loving it. During the quiet chorus of "Mercy" where Jarrod and I sing "bring you to your knees, have you begging me ..." a woman got up and started shaking her booty. It was the coolest. There was a strong contingent of people in the front seats who couldn't get enough of us. ...
As a band we delivered another killer set, and I was very proud to load our gear off that stage that night. We were ourselves up there, and people loved it. I think of the vice-prez at Capitol Records who told me years ago we were stuck in the '60s (which could have been true at the time) and I think — you were stuck in the Fischerspooner. How's that working out for you? Oh, yeah, just played Red Rocks. See ya. Later.
All the best,
eddie
Special thanks to MT intern Paul Kitti for editing assistance.