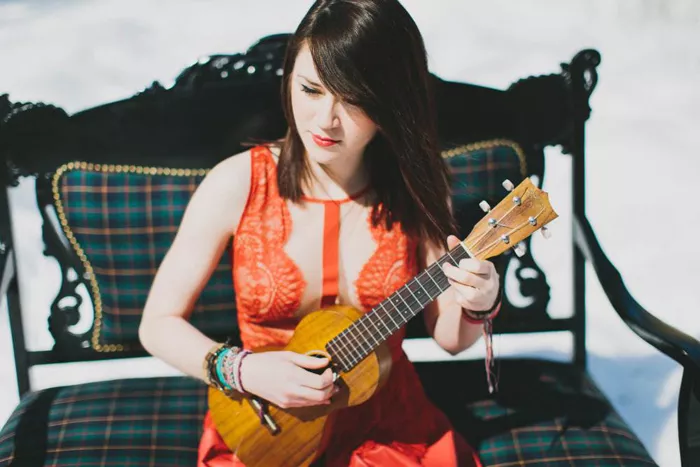 As we enter the swanky Dino's Lounge on Woodward in Ferndale and survey the intensely "nice" surroundings, singer-songwriter Olivia Millerschin sticks out like a strawberry in a bowl of vanilla ice cream. She sits alone at her table, sipping on a glass of ice water with a wedge of lemon, awaiting the tardy ass of MT. When we blow in, she's courteous and humble, delighted that we want to tell her story. The 18-year-old has had a big year, picking up a John Lennon Songwriting Award for the song "Screw Valentine's Day," performing at the Detroit Music Awards, and, as the nation is about to discover, successfully auditioning for America's Got Talent. More on that later. …
---
Millerschin is something of an anomaly; at 18, she's barely lived yet, but her honest and reflective lyrics display a maturity that her face has yet to catch up with. Dig a little deeper and it becomes clear that Millerschin isn't trying to grow up too fast. She isn't making the mistake of writing from the perspective of someone more experienced, attempting to emulate her musical heroes. Rather, she's writing what she knows. Her lyrics tackle the issues and problems faced by any teenager, particularly one looking to find her place. Life isn't easy at 18, a fact quickly forgotten by just about everyone as soon as we're out of our teens.
So Millerschin's lyrics tackle loneliness, disillusionment, and unrequited love, as well as positive themes like the feeling of a first love. Millerschin has grown up listening to the likes of Simon & Garfunkel, Carole King, James Taylor, and Cat Stevens, successfully negotiating the much-traveled, peer pressure-inspired minefield of contemporary pop. As a result, she's able to structure her own very real experiences into songs pleasing and familiar to fans of those classic folk-rock veterans. It's quite a feat.
"My tastes haven't changed much," she says. "I didn't really get into the pop scene. I was a lot more into folk music. I think it's because of how [my family] raised me with their music. I like top 20 — I like listening to that and knowing what's on the radio, but I like the folk and indie music a little more."
Millerschin started singing when she was just 8. "I started taking opera lessons because I wanted to be like my grandma, who was a professional opera singer," she says. "Then I let that go. That went out the window because I realized I'm not an opera singer. But it was good training. I started performing in the area a few years ago, just at coffee shops. Now I'm touring."
At 18, the support of one's family is invaluable, so coming from a musical family has to be helpful. Plus, an opera-singing granny is just really cool. "I think she just performed around the U.S.," Millerschin says. "I know she studied at U-M and then she had to stop because she had kids. She was a soprano, just like me. She was a huge inspiration. My grandpa's a great singer too — I heard him at a glee club. My dad's not musical at all, but he's good at other things, like math. My mom likes to sing; she's a great singer, and she always wrote songs around the house."
Millerschin put out her debut album, Yes. No. Maybe So., in 2013, and she's just released an EP, Over the Weather. It's impressive that, despite her tender years, she's already showing growth.
"Even looking at the music on the EP, the stuff I'm writing now I feel is even more mature," she says. "I like to just keep improving, and I get embarrassed [by] my old stuff. But I really shouldn't be because I'm 18, so I just keep working on it. The album came out last winter. It feels like a super-long time ago. My full album was a little bit boy-focused because it was all of the music that I had written the previous couple of years. I just put it all on the one thing. This most recent EP is a lot more reflective of observations of my generation. I'm not used to working with people of my age. The music industry is all people older than me. Going to college for one year, I had to be around everyone my age and I learned a lot from them, watching how they interact."
It's fascinating that a teenager had to observe other teenagers in order to fully understand being a teenager. Millerschin says that the first song she wrote was called "Crazy for a Fool" ("it was really silly"), and the first song she made available to the public was "I Wanna Grow Old With You." It's a song from her recent EP, the Tori Amos-ish "We Know Not," which really tells you how good this girl could be, with the line "When we're young, we know not." She's capable of being open and vulnerable while retaining an air of strength.
Millerschin completed a year of college last year, but she's taking a break to see where the current wave takes her. "I studied commercial music production at school," she says. "A little bit of production, a little bit of music business, and then some composing too. I'm not going back next year. I did the first year, but I was getting tons of offers to tour, and I had to keep turning them down. Now I have America's Got Talent going, so I'm going to take a year off."
---
Well, now, that's a neat link. Millerschin had to keep the details close to her chest, but we can say that she auditioned for the popular reality show and, as we go to press, is doing rather well. "I feel bad because everyone's like, 'Are you really going to be on the show?' and I'm like, 'Yeah we are, but I can't tell you how it's going,'" she says. "It airs on May 27, so this week. It'll be really fun, I think. It's been crazy. They keep you at their disposal from like 6 a.m. to 9 p.m. every night, and you're there for three weeks. It's in New York. I actually have to go out to L.A. because they have, like, a boot camp. They have vocal coaches and all that. It'll be cool."
Of course, appearing on that show means being in proximity to the infamous Howard Stern. "He's actually really nice," she says. "Very cool. He remembered my name, which surprised me. He's really tall, but really nice. He's inappropriate, but funny. I think he's hilarious. Mel B is probably the hardest for me. She's so serious all the time, and you can't tell what she's thinking. She's kind of playing Scary Spice. It's a little intimidating."
Shock jocks and Spice Girls aside, Millerschin is already a winner in our book. Hey, she has an award with John Lennon's name on it. "I submitted for that about two months before it was due," she says. "I forgot completely about it, and then I was contacted to say that I won. Thousands of people enter. The category was 'love songs' because it was a Valentine's Day thing. I had the only not-love song in there — my song was called 'Screw Valentine's Day.' I think all these people were like, 'Why did she win it?' It was cool."
That award led to a performance at the DMAs. "I didn't expect to be able to perform at the DMAs. I hadn't even previously been to them, so that was really cool. We were sharing a dressing room with [metal band] Battlecross. They were really scared about putting us in the same room as Battlecross, like, 'Are you guys gonna be OK.' I'm like, 'We're really fine.' They're super-nice."
The glitz and glamour of TV shows and award ceremonies will be put to one side on Sunday, when Millerschin will play a show at Callahan's, a CD release show for Over the Weather. "I'm going to play a lot of the older stuff," she says. "At the EP release, I'm probably going to play a lot of the stuff off my old album, and then some of the new, and then I have a bunch of new music that I'm going to be putting out, hopefully in the fall. I want to keep constant music coming out, so I'll be playing some newer things that people haven't heard yet."
Beyond that, Millerschin's plans are generally on hold. The America's Got Talent people can call her at any time and expect her to be in a studio at a moment's notice for days at a time. "I feel like my whole schedule's been messed up because the show can call at any time and say, 'We need you right now,' 'We don't need you next week,' or anything else," she says. I guess we'll go as far as we can in the show and then get a bunch of shows scheduled for the fall."
We'll be waiting.
Olivia Millerschin plays with the Mike Leslie Band at 7:30 p.m. on Sunday, June 8, at Callahan's, 2105 South Blvd., Auburn Hills; 248-858-9508; $10.