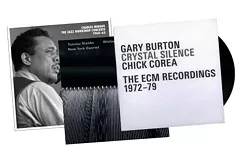 The European jazz label ECM is treating fans to a sumptuous feast of deluxe edition box sets containing some of its most significant music from the 1970s and '80s. Included are extensive liner notes, rare photos and previously unreleased material.
ECM (Editions of Contemporary Music) has maintained a consistent musical aesthetic, reflecting the singular vision of founder-producer Manfred Eicher, who started the label in Munich in 1969.
What distinguishes ECM from other labels is its unique look and sound. The label uses state-of-the-art recording techniques and high-end packaging with its signature, as well as minimalist, cover art that has remained unchanged since its inception.
ECM, much like Motown, is a label that's synonymous with a particular musical style. In this case it's ethereal, impressionistic jazz.
Aside from introducing the world to major northern European jazz innovators such as Terje Rypdal, Jan Garbarek, Eberhard Weber and others, the label also brought us the early work of many emerging American artists, including Chick Corea, Pat Metheny, Keith Jarrett and Gary Burton.
The Old and New Masters series is an ambitious reissue project that started in 2008 with Keith Jarrett's Setting Standards. So far, 12 releases have been introduced that include new sets from Charles Lloyd and Paul Motian, which was released on April 23 this year.
The series also includes these ECM treasures: The Codona Trilogy with Don Cherry, Nana Vasconcelos and Collin Walcott; the compilation brings together their albums from '78 to '82. The music is mesmerizing and played on traditional instruments from a variety of cultures. Don Cherry plays doussn'gouni, the Malian "Hunter's Guitar," while Brazilian percussionist Nana Vasconcelos plays berimbau and cuica. Walcott, who studied with Ravi Shankar, adds sitar, tabla and the ancient sanza (thumb piano) for a gentle sound that is pleasingly hypnotic and meditative.
Longtime collaborators Gary Burton and Chick Corea created legendary work with ECM. Their box set, Crystal Silence, contains some of their most powerful music as a duo, interweaving jazz and classical with additional elements from around the world.
Eberhard Weber's Colours contains his groundbreaking albums Yellow Fields, Silent Feet and Little Movement. He's an inventive composer who incorporates Eastern and Western musical traditions, and who also plays his custom 5-string upright bass to create a sound all his own. The recordings were made from '75 to '80, with Charlie Mariano, Rainer Bruninghaus, Jon Christiansen and John Marshall.
ECM says future sets are in preparation; its Old and New series is for those seeking an engaging, substantive musical experience.