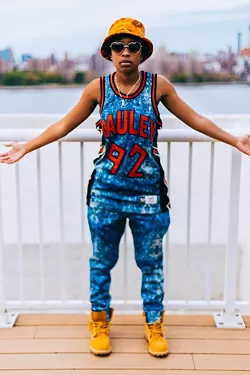 OK, I admit I have a Google alert set up for DeJ Loaf,
Detroit's reluctant hip-hop star
, in an attempt to get any scrap of news regarding her presumably forthcoming "proper" LP. The rapper is hot stuff, and with a Columbia deal in hand, surely set to blow up.
The only problem is those daily Google alerts seldom have any interesting news to offer. Instead, they're dominated by stupid article like
this
, or
this
, or
this
, or
this
, etc.
All hip-hop media seems to want to talk about is speculation regarding DeJ's sexuality — no doubt due to her tomboyish style (and OK, also her coy response to
direct questions
about the issue: "I'm just me, man… girls… they just love me. I don't know why, but they do.")
But c'mon. Who gives a flying fuck? It's 2015. Hip-hop: Get over your issues with homosexuality. Nobody cares. Everybody stopped giving a fuck about Frank Ocean being gay two weeks after
Channel Orange
dropped.
Surely DeJ's sexual orientation is by far the least interesting aspect about her — especially since she's obviously uninterested in talking about it.
It seems like modern rising pop artists are always mentioned in the same breath along with some sort of trivial, gimmicky "tidbit." Sometimes it's a controlled gimmick (think the White Stripes, "Aren't they a brother and sister?"). Sometimes it's not so controlled (like Lana del Rey, "Aren't her lips fake?"). Even Nicki Minaj, who just took DeJ with her on tour, used to always get mentioned along with notes of her supposed bisexuality.
But all of that seems like such a long time ago. The true test of an artist's merit, it seems, is whether they can escape the gravitational orbit of stupid press and connect with fans in their own way.
Good luck, DeJ.