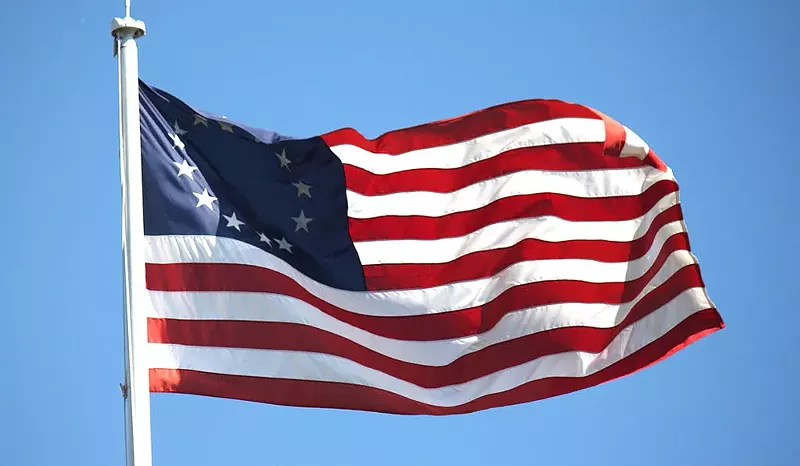 On Friday, Kid Rock performed the first of
his four-show run at DTE Energy Music Theatre
, where he took time out of his show to honor military veterans against a backdrop of an enormous Revolutionary War-era Betsy Ross flag.
@metrotimes Kid Rock honoring military members last night. Awesome show. pic.twitter.com/oSB7oHO3Xh

— Matt Tedder (@mtedder22) September 7, 2019
In a vacuum, the event would be innocuous. Commendable, in fact. Except nothing exists in a vacuum, of course.
See, Kid Rock is helping to make the Betsy Ross flag become the new dog-whistle Confederate flag.
Kid Rock spent much of the 2000s performing against the backdrop of
a giant Confederate flag
, which he defended at the time as a symbol of Southern rock and rebellion. Uh, sure, it's a symbol of rebellion — rebels who sparked a civil war because they wanted to protect the institution of slavery.
By 2011, the NAACP (
for some reason
) decided to give Kid Rock a "Great Expectations Award" at Detroit's Cobo Center (
of all places
), which prompted protestors to burn Confederate flags outside the venue. During his speech, Kid Rock said he "never flew the flag with hate in my heart," adding, "I love America, I love Detroit, and I love Black people."
Detroit Free Press article
reported that Kid Rock quietly decided to stop using the Confederate flag at that time — though a source who worked backstage during Kid Rock's 2015 tour claims the performer wanted to bring back the Confederate flag backdrop, and alleges it was even backstage all ready to go but sponsor Chevy explicitly barred him from using it.
Enter the Betsy Ross flag.
The flag became the center of a controversy this summer after the
Wall Street Journal
reported Nike recalled a batch of Betsy Ross-themed sneakers set to drop on July 4 after former NFL quarterback and Nike ad star Colin Kaepernick objected to the use of a slavery-era flag on the shoes. (Apparently, some fringe extremist groups had taken to the Betsy Ross flag.) Kaepernick, of course, is the former San Francisco 49er who was ousted from pro football after he started a movement by kneeling during the National Anthem before football games as a protest of police brutality against Black people.
At this point things got very stupid. Suddenly Republicans — who just months earlier
were burning Nike shoes
in protest of the company's Kaepernick hire — had a newfound, gleeful enthusiasm for both Nike shoes and the Betsy Ross flag. Arizona's governor
ordered Nike's tax breaks to be revoked
. Senate Majority Leader Mitch McConnell urged the company to release the shoes, and tweeted a picture of the flag with the caption "Happy Fourth of July!" —
even though his home state of Kentucky was omitted from the flag
, which features a circle of 13 stars representing the Thirteen Colonies.
The most generous reading of the situation was that the Betsy Ross flag had now become code for "fuck Colin Kaepernick" — something Kid Rock
has said onstage
loud and clear
at least twice
, anyway.
So what do we make of this? Kid Rock now gets to once again fly a flag that some fringe extremist white groups love, and essentially gets to continue to say "fuck Colin Kaepernick" onstage — and what do you think that is code for? — with a new level of plausible deniability.
Of course, it can be argued that the Betsy Ross flag was an ultimately neutral symbol
before all this dumb shit
, and that Nike — and yeah, the left — helped make it into a racist symbol by making such a fuss over something the wider American public probably didn't even know about.
That's a fair point.
But trolls like McConnell and Kid Rock are equally culpable in making something out of nothing here. Otherwise, why wouldn't Kid Rock just use a normal American flag?
And anyway, who's the real rebel here? Kid Rock, who is fighting to maintain the status quo? Or Kaepernick, who is using his voice to fight for change?
Stay on top of Detroit news and views. Sign up for our weekly issue newsletter delivered each Wednesday.