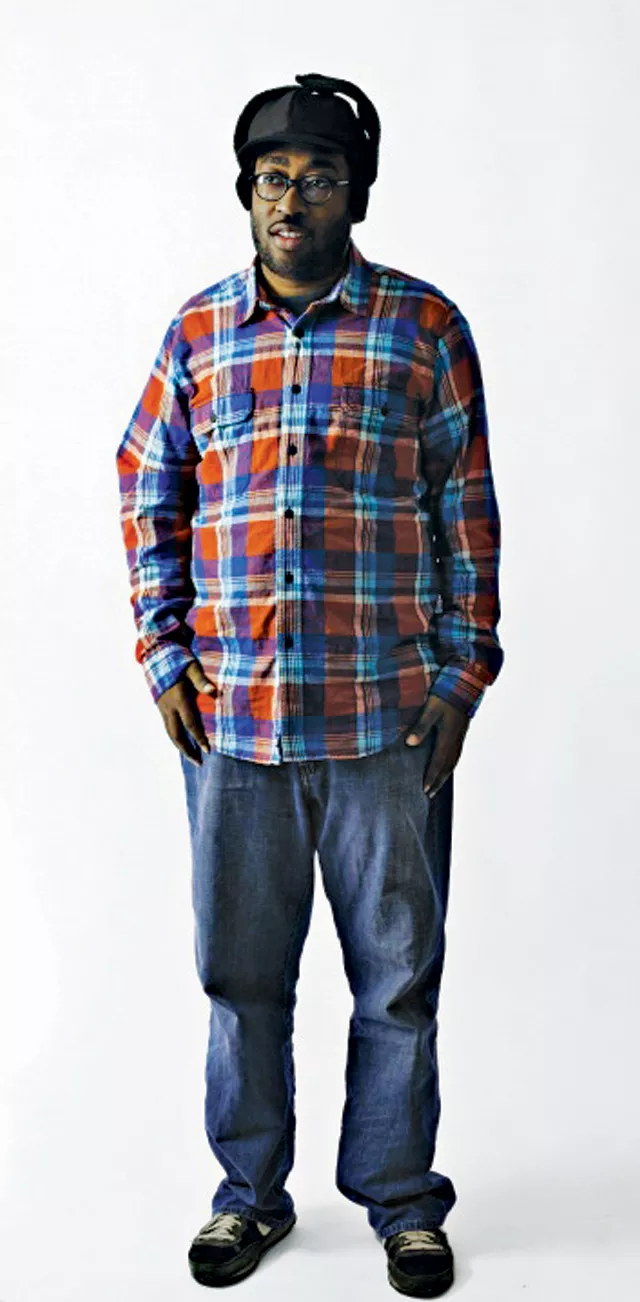 Doc Waffles Ambulance Chasers Release Party (and Ping-Pong Battle Royale) featuring SelfSays, Passalacqua, Josef Coney Island, Eddie Logix, Dial81 and J. Walker is Saturday, Aug. 25, at 1440 Gallery, 1440 Service St., Detroit.
Ping Pong participants sign up at show for competition immediately. Selfsays' iNsect 7-inch comes out Sept. 25. April is available online and at performances.
It was the hawk that got him started. 
Ben Ness was turning 30 and marking a decade of performing and recording as Doc Waffles. 
Stepping over a wounded hawk in the gutter while transferring buses on the east side last Halloween set him off on writing pieces for an album about getting older. His raps — wildly evocative, intricately woven satires about various kinds of wear, tear and neglect — would aim to defy "personal" and "regional" disposability. The result: Ness is self-releasing his fifth album, Ambulance Chasers, this weekend. 
"I wanted to deploy a system of imagery as personalized and regionalized as possible," Ness says. He reflects on his own struggles with alcohol and soured relationships as well as on city spaces and the opportunism of lawyers who plaster their mugs on billboards and bus sides. 
He adds, "With poetry, you're trying to describe something while making it abstruse, elusive. It's a kind of self-defense but also a means of eliciting the listener to fill in the dim spaces between a flash of lights and sirens."
Ness is also featured on a new track recently released by fellow emcee SelfSays (Charles Vann), on the latter's latest EP, April. Vann, in turn, cameos on Chasers' soaring, soulfully brass-balled "Wings Over Detroit," (produced by Eddie Logix, Vann's roomate in Troy). 
The title refers to how Vann spent April touring Europe, opening up sets for Ann Arbor-based electronica composer Shigeto. April features collaborations with five notable producers, including New York-based Blockhead. 
It's been a big year for Vann, and that's reflected in his latest raps. Vann, like Ness, is just hitting his stride at 30 after a decade spent as a humble but lyrically gifted blue-collar plodder. 
He described himself, back in 2000, as "the shy kid commuting at 19, trying to be involved at rap shows in Ann Arbor and Flint because nothing was happening out in Lansing." His influences spanned prominent Detroit hip-hop artists from DJ House Shoes to Slum Village. 
"Equally influential," Vann says, "were cats in the Athletic Mic League, 14kt, Invincible and Starving Artists Crew, some of my first acquaintances in the scene and friendships I still have today."
In 2009, Vann's proper debut, Something Out of Nothing, went up online with "songs that were just sitting around in my old Gmail messages." 
In early 2011, the streaming tunes started steadily turning heads in the hip-hop community (including heads at influential URB Magazine). Fast forward: Vann is featured on the newest album by one of his heroes, House Shoes (Let It Go). He's also working with Texas-based iNsect Records for a forthcoming 7-inch, opening choice gigs for big hip-hop and electro acts such as Shabazz Palaces, and nearing completion on an EP with London-based label Earnest Endeavors.
Vann admits it's feeling like this "music-stuff" is "so close" to really taking off.
And, yeah, being on the cusp like that is nerve-wracking. "But, just from things transpiring this year I feel if there's any time to go for it, it's now."
"I wanted things that are happening now to happen when I was younger," says Vann, who considers the music a universal "ice-breaker," not just for social engagement but for breaking through any personal disillusionment inherent to, say, slogging through nightshifts in the "custodial arts" to support his passion. "But I don't think I'd a been ready for it back in 2000."
"Am I ready now? Hmm...I'm as ready as I'll ever be."
Jeff Milo is a freelance writer. Send comments to [email protected]