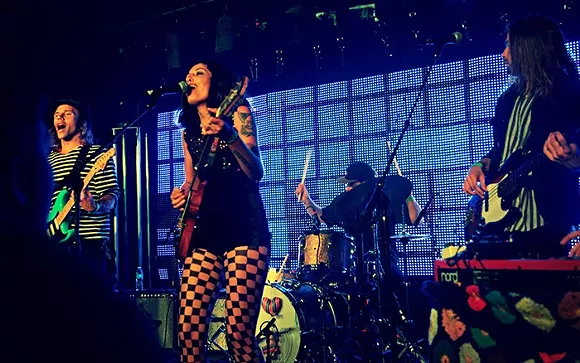 Last night we stopped by the Magic Stick to check out the album release show for
Secret Evil
,
the long-awaited
full-length by Detroit's Jessica Hernandez & the Deltas. When we interviewed Hernandez almost two years ago, she had just scored a deal with jazzy imprint Blue Note Records and was ready to start recording. The finished product, however, remained in limbo for over a year, lost in the shuffle as Blue Note merged with Universal Music Group.
As someone close to the band summarized last night, "basically, the worst things that can happen when you get signed to a label happened." Not wanting to lose momentum, Hernandez found a new home on pop magnate Richard Gotthrer's Instant Records.
And it appears that the strategy worked, with Hernandez and her band drawing a crowd that nearly packed the Magic Stick. Based on the tentative and confused steps up the stairs to the Stick, many of Hernandez's fans seemed to be young women who had never been to a concert before — but in Detroit's often jaded and often insular music scene, a coveted demographic to be sure.
The band played through many of the songs on
Secret Evil,
a set of WDET-friendly pop-oriented rock bolstered by Hernandez's soulful vocals (and copious trombone). They played some new material, too, indicating it may not be as long of a wait for their next album. A big LED video screen served as the band's backdrop, the kind you're more likely to see with a national band at the Fillmore than a local show at the Magic Stick — possibly a vestige of her major label budget.
The Deltas work with a limited palate, and we confess to feeling a bit of fatigue toward the end of the set — but then they closed with an unexpected cover of electroclash band Le Tigre's "Deceptacon," with the trombonist expertly interpreting the track's spastic guitar lick. More, please.