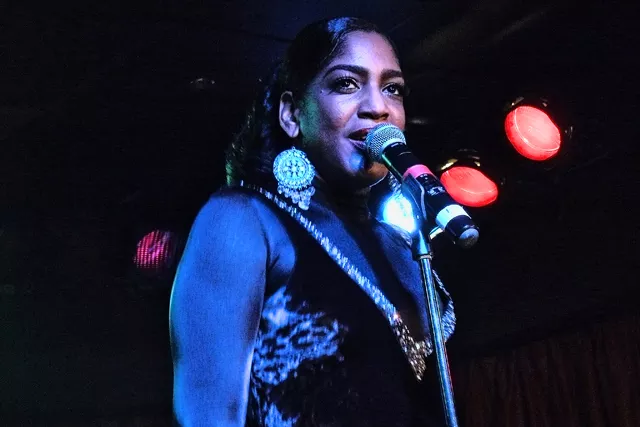 Vocalist Kimmie Horne can operate in many musical situations. For starters, there's Horne the consummate show-woman with her 10-piece ensemble, performing the music of pop bigwigs such as Tina Turner and Michael Jackson. Then there's Horne impersonating — or as she calls it channeling — the spirits of great jazz singers of long ago, the likes of Billie Holiday, Sarah Vaughan and Dinah Washington. That's all good; however, if you want to get a load of Kimmie Horne the vocal purist, or the jazz chanteuse, it's best to catch her in a modest-sized club such as the Harbor House or the Dirty Dog Jazz Café. At clubs, her performances feel as if she invited you to her house for a private listening party. Her voice particularly on love songs covers you like a down comforter on a cold night.
The last time Horne played at the Dirty Dog, back in November, she won over the crowd all four nights. Gretchen Carhartt-Valade, the owner of the Dog and Mack Avenue Records, normally only attends opening night, but Horne so impressed that she caught each show — and came to the second night with family members in tow. She wanted them to experience Horne.
Her peers appreciate the experience as well. Take the bassist Ralphe Armstrong, who's played with leaders from Miles to Jean-Luc Ponty, and last year co-founded a group with Horne that includes the drummer Gayelynn McKinney and pianist Henry Gibson.
"I don't like working with singers," he says, flat out. "I've worked with Patti Austin and Aretha Franklin, but Kimmie is the best. She is the most professional vocalist that I've worked with, and she's the easiest to get along with."
At 5-foot-9, Horne is a statuesque beauty. She would give any runway model a run for her money. Horne is very formal when being interviewed. She has notes with talking points prepared, and she asks her longtime manager to participate.
Horne grew up on Detroit's west side with seven siblings. Her dad, a carpenter by trade, was a singer and a drummer. Her Uncle Cleveland was the frontman for the R&B group the Fantastic Four (their big hit was "The Whole World is a Stage"). The late, great actress and chanteuse Lena Horne was a distant relative. In 1983, Horne graduated from Redford High School. Then she headed off to Ferris State to study journalism, wanting to follow in the footsteps of Channel 7 Action News' Diana Lewis. That plan changed one summer when her big bro, Tony, asked Horne to help with a recording project.
"He wanted me to sing backup for him, and he was working with Henry 'Hank' Cosby. At the time, Hank was with Motown and he co-wrote many of Stevie Wonder's hits. That was my first studio experience ever.
"I did a good job singing background, so Hank asked if I'd mind singing lead. I sang the song, and after I heard the final mix, my whole vision changed from wanting to be the next Diana Lewis to wanting to be a singing superstar. When I left the studio, I told my brother this is what I wanted to do with my life," Horne, 45, recalled. The song she recorded with her brother and Cosby went unreleased, but that made little difference.
Horne never returned to college. She joined a singing group called New Life, and took a job selling new cars at Page Toyota, which she hated.
"At the time, I was talking to a lot of musicians that I knew about making it as a musician. I was afraid, and wondering how could I let a good job go for a singing career. But one day, after a 12-hour day, when I got home, I realized that I had been there all day and I didn't sell a car. I didn't like cold calling people that I didn't know trying to sell them a car. I said why can't I start making cold calls for myself about my singing career"?

Calling the shots
Horne worked five years with saxophonist and bandleader Norma Jean Bell and the All Stars. Bell was a former member of organist Lyman Woodard's Organization, and she spent some time as one of Frank Zappa's Mothers of Invention. Back in Detroit, Bell founded the record label Pandamonium, and released the smash EP I'm the Baddest Bitch. Horne gives Bell props for being her foremost inspiration.
"Before I auditioned for her band I saw her live show at Baker's Keyboard Lounge. I will never forget it. The line was outside the door. I was blown away. There was this woman with a saxophone. She was dynamic with a full band behind her. She was calling the shots," Horne recalls.
Working with the smooth jazz outfit David Myles and Milestones at the former jazz club Alexander's, Horne met Michael Cash, the club's co-owner. Horne's name was missing from the marquee, and she confronted Cash about it, and he immediately corrected the oversight. After the performance, they talked about Horne's dreams. She wanted a full band with background singers. She envisioned performing R&B, pop and jazz, and she wanted make it to Las Vegas. Cash became her manager that night — and remains so today.
"It was scary at first," Cash recalls. "For three months, she didn't have any bookings, and we needed to create a revenue stream."
Eventually, things loosened up. She got booked at Baker's Keyboard Lounge, the Montreux Detroit Jazz Festival (now known as the Detroit International Jazz Festival). She was among the first regional acts to get steady work at Detroit's MotorCity Casino Hotel and MGM Grand after they opened in 1999. She hit the Vegas circuit with stints at the Bellagio Resort & Casino and at Caesar's Palace.
When she decided to include more jazz in her shows, she sought out jazz bandleader, arranger and pianist Teddy Harris Jr. His New Breed Bebop Society Orchestra was a breeding ground for up-and-coming jazz musicians. Horne wanted to make certain she had a firm understanding of the music. She also hooked up with Thomas "Beans" Bowles, who was a studio mainstay during Motown's earliest days, and whose roots go back to the fabled Flame Show Bar.
"I would go and talk to the elders because they had the stories and wisdom to share. I went to Beans Bowles' house. I told him about the jazz songs I wanted to perform, and what my plans were. I told him that I really wanted to get deeper into jazz. I really wanted to understand it. The first thing that he said was I have to live a little pain to really understand jazz," Horne recalls.
She dug deep on her fourth album Loving This Jazz, released in 2010 on her Sepia Tone label.
She put her twist on some oldies such as "Lullaby of Birdland," and "It Had Better Be Tonight." Horne added nuances to the standards without compromising their original melodies. On the disc, Horne is backed by the Kyoto orchestra. Often, when an orchestra accompanies a vocalist, they can be overpowering. On Loving This Jazz, the orchestra blends with Horne's voice.
Asked if she ever regrets giving up her first dream of becoming the next Diana Lewis, Horne chuckles, and then says she's fortunate to be a professional singer. It definitely beats selling Toyotas for a living.
Kimmie Horne performs Wednesday, March 23, through Saturday, March 26; shows are 6 and 8:30 p.m. Wednesday-Thursday; 6, 8:30 and 10 p.m. Friday-Saturday. The Dirty Dog Jazz Café is at 97 Kercheval Ave., Grosse Pointe Farms; 313-882-5299; dirtydogjazz.com. Reservations recommended or required for most shows.