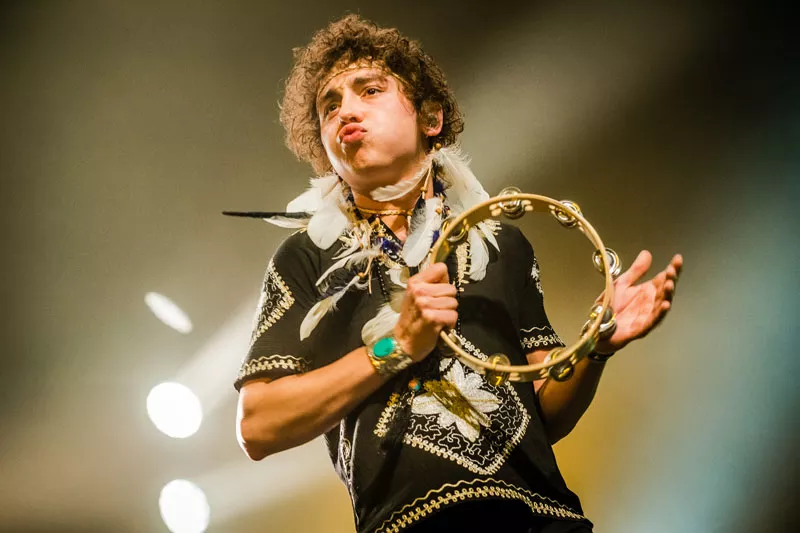 It's been a hell of a year for Greta Van Fleet, the little rock band that could. After gracing the cover of
Metro Times
earlier this year, the band performed three sold-out shows at Detroit's Fillmore in May — all before the release of its debut LP
Anthem of the Peaceful Army
in October. The band then sold out three more shows at Detroit's even bigger Fox Theatre scheduled for the end of the month.
The band's success is also being used as a case study in two stories published on Wednesday that look back at two of 2018's biggest music trends, one looking toward the past and one toward the future: rock 'n' roll nostalgia and the rise of computer algorithms as tastemakers.
Over at the music blog
Stereogum,
writer Jeff Yerger took a look at the state of rock this year, which he found to be "too infatuated with its own history, and too stubborn to be different." In the piece, Yerger ties in a number of different threads, including the lackluster and predictable programming at 92.3 FM, New York City's first alternative rock radio station in six years; Weezer's chart-topping cover of Toto's "Africa," a joke that the band played perhaps a bit too straight; and the Lady Gaga and Bradley Cooper-starring remake of
A Star is Born
, among other things.
Yerger also folds Greta Van Fleet into his analysis, a band that (yeah, like we suggested in the headline of our cover story) have a sound that could be generously described as "heavily inspired" by classic rockers Led Zeppelin. But Yerger is skeptical that GVF's short-term success can translate into a long-term career, writing:
Then there was Greta Van Fleet. Oh, Greta Van Fleet, you beautiful young hippie children. Remember when you were a kid and fantasized about getting up on stage at your high school talent show and just ripping into a Jimmy Page solo as your classmates stare and swoon in awe of your god-like guitar wizardry? It wasn't just me, right? RIGHT? Well, Greta Van Fleet is currently living that dream, quite literally. If they sounded any more like Led Zeppelin, Phil Collins would be asking to drum for them.

Be that as it may, the kids from the land of the ice and snow (Frankenmuth, MI) have racked up three #1 hits on the mainstream rock charts over the past nearly two years. In October, they released their debut album Anthem Of The Peaceful Army, which peaked at #3 on the Billboard 200. Of course, this opened the door to people like that one uncle to proudly claim that "Rock is back!" at Thanksgiving before proceeding to talk to you about the first time they saw Rush live. Only time will tell how long this fad will last. I mean, didn't we already try this with Wolfmother? At least those guys had cool cover art. Anyway, call me when GVF discover the Velvet Underground.
That facet of GVF — the appeal to those Zep fans — leads into the other big trend of 2018: the rise of the algorithm, or digital streaming services' computerized musical recommendations, as a pop culture tastemaker.
Over at
Columbia Journalism Review,
music and tech writer Cherie Hu refers to GVF as "a major-label rock debut dismissed as 'an algorithmic fever dream,'" in her lead, a reference to
Pitchfork
's
harsh review
of GVF's debut.
She writes:
Music critics are lamenting the possibility of a machine-driven world that rewards artists not for their originality, creativity, or emotional authenticity, but for their ability to replicate proven, predetermined formulas. Studies show that pop music and lyrics have grown increasingly repetitive and homogenous over the past few decades, and there is a whole graveyard of startups mining streaming and social data to predict the next big hit. Research initiatives like Google Magenta and Sony's Flow Machines are even training machine-learning algorithms to compose songs on the spot, aiming to be indistinguishable from human songwriting.

This warped reward system, by which musicians climb the streaming charts, can influence every aspect of a song, from the music and lyrics to the artists' wider visual and social personas. In the aforementioned "algorithmic fever dream" review, for instance, Pitchfork's Jeremy Larson described musician Greta Van Fleet's attire at live shows as "hippie costumes they 3D-printed off the internet."

"After my review got published, I received a lot of emails being like, 'Why are you talking about all this other stuff, not just about whether their music is good?'" Larson told Hu. "But criticism isn't just talking about the music: it's also talking about the context and environment in which the music is created and consumed."
For 2018, that context is digital streaming — we all listen to music on our computers now, alone — and the computerized algorithms that recommend new music to listeners based on their listening habits. And those algorithms have given rise to a crop of new artists who have been rewarded for appealing to the machine.
It's even given rise to what some critics are calling a new genre of music. In a third piece published on Wednesday, music writer Liz Pelly writes in
The Baffler
about the phenomenon of "Spotify-core" artists.
Of "the Spotify sound," Pell writes that it "has a few different variations, but essentially it's a formula." To be sure, GVF would not be considered a "Spotify-core" band; the sound of a typical Spotify-core band is described as having "this soft, emo-y, cutesy thing to it" and is "often really minimal and based around just a few simple elements in verses" according to a producer quoted in Pelly's piece. But as
Pitchfork
's Larson argued, Greta Van Fleet's pitch-perfect reverence to Zep serves the same purpose in appealing to the algorithm, at least for people who like classic rock.
Even though Pelly is writing about the "Spotify-core" sound, she could almost be writing about classic rock disciples, too:
Musical trends produced in the streaming era are inherently connected to attention, whether it's hard-and-fast attention-grabbing hooks, pop drops and chorus-loops engineered for the pleasure centers of our brains, or music that strategically requires no attention at all — the background music, the emotional wallpaper, the chill-pop-sad-vibe playlist fodder. These sounds and strategies all have streambait tricks embedded within them, whether they aim to wedge bits of a song into our skulls or just angle toward the inoffensive and mood-specific-enough to prevent users from clicking away. All of this caters to an economy of clicks and completions, where the most precious commodity is polarized human attention — either amped up or zoned out — and where success is determined, almost in advance, by data.

The chill-hits Spotify sound is a product of playlist logic requiring that one song flows seamlessly into the next, a formula that guarantees a greater number of passive streams. It's music without much risk — it won't make you change your mind.

To be clear, the dudes in GVF are talented musicians. It would be unfair to credit all of the band's success to the whims of a machine, as it would be unfair to suggest that its fans — even three whole Fox Theatres full of 'em, at least — were somehow brainwashed by computers into liking them.
And anyway, the joke could be on music critics. The whole thesis of the
CJR
piece was how the same forces that are helping algorithm-friendly bands like GVF are arguably killing the relevance of the music critic as a tastemaker. Perhaps much like how video killed the radio star, Spotify killed the music snob.
Plus, Greta Van Fleet is up for
four Grammy nominations
.
Stay on top of Detroit news and views. Sign up for our weekly issue newsletter delivered each Wednesday.