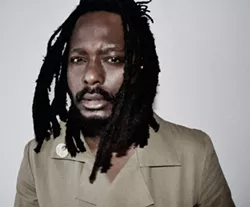 It's an unusually humid fall night in Seattle, and Canadian rapper-guitarist k-os is pacing, preparing to jump on stage. The 32-year-old is by no means nervous, but this show does kick off his, surprisingly, first-ever headlining U.S. tour. Sure, he's a certified platinum-seller in Canada three times over, but he's still got plenty to prove in the lower 48. Tonight he's dressed in black with a partial wool shawl over his dark dreadlocks, and with a guitar strapped around him, he looks part rock star, part alien.
In essence, he's both. Since his career started, k-os (born Kevin Brereton) has been a rap anomaly on either side of the border for years. His particular form of rap has always borrowed from rock, reggae, global sounds, new age and doo-wop, and, at times, he proselytizes it in a way that's inclusive to some music fans, but alienates others. In a sense, k-os is a Saul Williams-type singer-rapper-poet — destined to create music just beyond the reach of what's popular in black American music culture. His most recent release, the Anchorman Mixtape, is helping k-os sell out shows without a single track marketable for mainstream radio — it's an absurdity k-os is accustomed to, nearly 10 years into his career. During a recent chat, he spoke freely of the freedoms and frustrations about living just north of what's popular.

Metro Times: Musically, what do you think prevents Detroit and Toronto from being sister cities?
k-os: Detroit is a black city, man. Detroit's the heart of soul music in America. Toronto's opposite. Most black people in Canada are first-generation Canadians. Black Canadians are West Indian. We know calypso and reggae. There should be more synergy between Detroit and Toronto musically, because of skin color, but, unfortunately, there's not.
MT: Do you think hip hop from the United States is valued more than that from Canada?
k-os: Actually, what I find a lot is that black music in America is very disposable. If it's hot now it can be easily forgotten six months later. I don't want that for my music. A couple of times I'd be arguing with my record label during meetings after turning in an album and they're asking me who can I get to make a guest appearance on a song. I'd just leave the office. It's like, I'm sending you art and you're asking me who's going to feature on it. I'm like, are you listening to the record or are you just trying to get it on the radio?
MT: Do you think American audiences really get what you're doing musically?
k-os: I don't know. I did dates opening up for Drake in the U.S. earlier this year, and that was my first real exposure to black America large-scale. There were clearly people in the audience at times wondering, "What kind of black guy is this?" You're an alien to them. It's not just about Canadian vs. American. Even Jimi Hendrix had to go to England to find likeminded audiences.
MT: You're platinum several times over in Canada but you don't get much stateside radio play. Does that bother you?
k-os: Most of the music on the radio that black people listen to isn't being chosen by black people. It's more about the executives in a room telling black people what they should like. Being on that Drake tour, I distinctly remember thinking, "Who knew that one day, the biggest rapper in America would be Canadian?" Maybe that's the change the American music culture needs right now.

Saturday, Oct. 24, at the Majestic, 4120 Woodward Ave., Detroit; 313-833-9700; wih shad, Astronautalis, Mobil and DJ2040; all ages; $15.