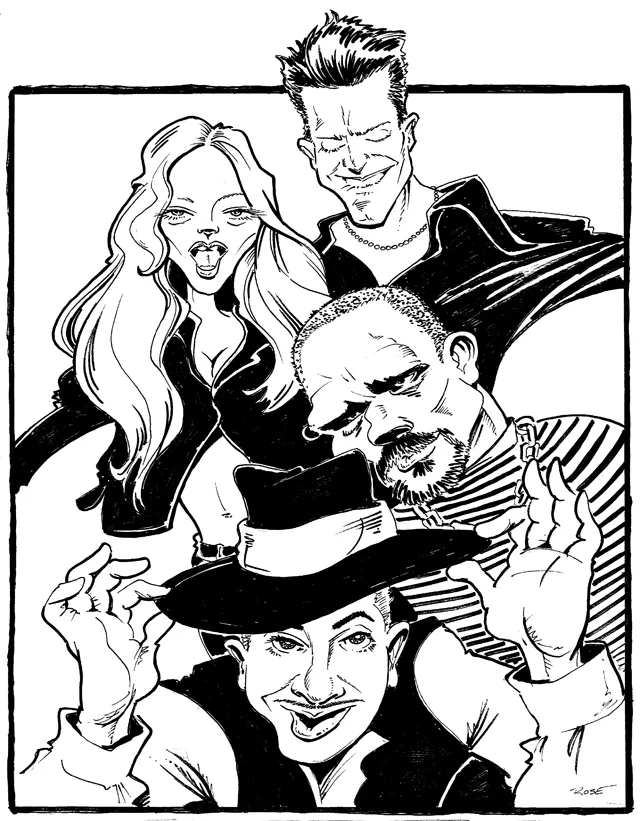 The millennial generation is lucky. When they go out, the earbuds go in. They don't have to listen to the radio, and even get to laugh at a dying recording industry that can't force-feed them "hits."
But it seems like just yesterday it was different. Walking around the city each summer, there would be that one song you couldn't avoid. It'd be pounding out of cars, out of apartment windows, playing in the store, on the car radio. Usually, you'd just let it wash over you, learning to like it. You wouldn't even know it was Rock Master Scott & the Dynamic Three, you'd just know "the roof is on fire" and keep on walking. The summer jam kind of reached its zenith in the late 1980s, with tracks like 1988's "It Takes Two" by Rob Base and DJ E-Z Rock (see if you can listen and not start nodding) or 1989's "Pump Up the Jam" by Technotronic.
But by the 1990s, these songs of summer started getting so subnormal, so tweaked to appeal to below-average intellect, that they'd rightly earn their place as sports anthems or become culturally appropriated by Disney. Charting the 1990s musically, you get the sense of the national brain being gradually deprived of oxygen, going from thoughtful and experimental to 100-percent fool. By the end of the decade, you'd listen to summer hits in much the same way you'd stare at a Magic Eye image: trying to find what other people see in this jumble of nonsense. Follow the summer jam timeline.
1990: Black Box,
"Everybody, Everybody"
This international hit channeled disco in a good way, with warm synths worthy of a Rick-roll backing actual literate singing. The lyrics hark back to 1970s dance-oriented weepers about being left on your own. And the tension between the unhappy storyline ("Sad and free!") and the upbeat music makes this an interesting piece of music. The 1990s were off to a good start.
1991: C+C Music Factory,
"Gonna Make You Sweat
(Everybody Dance Now)"
By 1991, it was already clear things were going awry. Whereas at least C+C Music Factory had a lyrical message that was pure disco ("let the rhythm move you"), the music was going in a stripped-down, super-repetitive, pants-shakin' direction where there's never enough agogo bell. What's more, this track has some of the dumbest raps imaginable, courtesy of Freedom Williams, including: "It's your world and I'm just a squirrel, trying to get a nut to move your butt to the dance floor." Dude, really?
1991: Naughty by Nature,
"O.P.P."
Sure, it earns a smile by biting its melody line from the Jackson 5's "ABC," and contains a surprisingly engaging rap about guys and girls in committed relationships stepping out to get some strange, with a plain-rappin' charm similar to Young MC. That said, this song should be damned just for every arm-waving fool who not only claimed to be "Down with OPP" but bought the "Down with OPP" ball cap to prove it. Which is a shame, because it's actually not guilty of some of the later excesses of '90s summer jams — it's just that the chorus sank the national IQ about 10 points on its own.
1992: House of Pain,
"Jump Around"
A catchy tune with what must be the cleverest sample from Prince ever. Too bad it has typical tough-guy lyrics from white dude Everlast, frontin' about himself. But that was normal in '90s rap. The real flaw of the song is the jump-line chorus, which made this one of the first rap songs to go totally jock jam. Perhaps chromosome-damaged sports fans couldn't remember the lyrics to "Jump" by the Pointer Sisters or Van Halen, so House of Pain had to give them something they could remember, lyrics dialed down to a 5-year-old reading comprehension level: "Jump! Jump! Jump! Jump! Jump!"
1993: Tag Team,
"Whoomp! (There It Is)"
Oh, man. Down we go. This song is so idiotic, it makes that same year's hit from Haddaway, "What is Love? (Baby, Don't Hurt Me)," sound as classy as Sinatra. Instead of a crooning, spine-tingling plea to an estranged lover, we get extra helpings of shak-a-laka and raps about finding a honey to dip it in. And people shouting "Whoomph"? If you're so young you were still suckin' on a push pop through all this, check out some old YouTube clips of The Arsenio Hall Show and despair that woofin' and throwin' the arm was ever an acceptable gesture. It was only 1993 and yet, clearly, America had already lost its mind.
1994: Reel 2 Real,
"I Like to Move It "
These New Yorkers produced a dancehall track with lyrics about watching girls move their bodies. Hey, the Mad Stuntman isn't that bad, but again, it's the insistence of the chorus, the knock-you-over-the-head repetition of it, not to mention the silly synth line. Seven. Words. Over. And. Over. All. Summer.
1995: Ine Kamoze,
"Here Comes the Hotstepper"
If you lived in an urban environment in 1995, you couldn't dodge this one. Now, there's nothing wrong with dancehall. In case you were still on your micro scooter in the mid-1990s, we can assure you that dancehall was huge. But there were so many artists who were much cooler, from Barrington Levy to Shabba Ranks, with sweet bass lines and warm Jamaican cadences. I guess nobody could appreciate that, because we had to settle for this anthem, which was all junked-up with scratching, samples and such mass-appeal nonsense as the chorus of "Land of a Thousand Dances." Yeah, he's a murderer. He murdered dancehall. Get him!
1996: Los del Mar,
"Macarena"
If you want proof that the national intelligence took a precipitous drop during the 1990s, we present as Exhibit A the fact that this song spent fourteen fucking weeks at No. 1. I mean, here's a song so dumb it made No Mercy's "Where Do You Go" look sophisticated. A song with almost no lyrics in English really takes the pressure off people to know the words, and the dance is just simple enough to work at an Omaha wedding. Worst of all? That note held before the word "Macarena" that sounds like the singers all stepped on an upturned tack at the same time. You wish Susan Powter were there to scream, "Stop the insanity!"
1998: Madonna,
"Ray of Light"
What do you do when you have a singer past her prime but trying to remain relevant? Just hire a production team that will take all the latest sonic trends and bundle them up into a package to promote her. It will sound almost exactly like a really cool commercial for American Express. Especially if you have a music video that shows lots of neat time-lapse stuff and doesn't show how old the recording artists has become. Not only was this song just not that good, but the singing doesn't stand up in the age of Auto-Tune. And yet we were exposed to it 20 times per day.
1999: Ricky Martin,
"Livin' La Vida Loca"
Lofted by a late '90s enthusiasm for Latin-oriented music (see 1999's Buena Vista Social Club), this track was pounded into our brains all summer, no doubt helped along by boy-crazy girls gaga over Ricky. Unfortunately for them, they'd all have an easier time scoring a date with a Might Morphin' Power Ranger. But we can't feel too bad about this song assaulting our eardrums all summer. We soon got our revenge. It was called "She Bangs."
1999: Lou Bega,
"Mambo No. 5"
Speaking of the Latin craze, that track from Ricky Martin was perhaps only eclipsed by this song from Lou Bega. Hey, we love that Cuban sound. We love Pérez Prado. We love the 1940s. But this song appeals to people who couldn't care less about that stuff; it's just an obvious effort to cash in on Cuban music by dumbing it down relentlessly. Bega added in scratching and samples in a bid for urban listeners, but still kept it inoffensive enough to appeal to dumbass Middle America. Proof of success? Within a year, Disney was all over that shit, changing the names of the girls to Disney characters.
2000: Baha Men,
"Who Let the Dogs Out?"
Look back in shame. What the hell was the record-buying public thinking, sending this track anywhere near the charts? It rocketed to No. 2 on the UK Singles Chart and reached No. 1 in Australia. Even in the United States it reached No. 40 on the Billboard Hot 100. With lyrics so dumb they make Lady Gaga look like Aristotle and Socrates rolled into one, this is three minutes and 15 seconds of screaming and woofing, interspersed with oddly upbeat calypso rap about — get this — actual dogs! Here's a song that was actually too stupid for Disney, so the Baha Men had to make their deal with Nickelodeon.
Michael Jackman is senior editor of Metro Times. Sound off on summer songs stuck in your head at metrotimes.com.