We are stoked —
stoked
, we tell you! — about the most important cultural event in the Detroit calendar year, and of course we are talking about
Noise Camp
. The always secretive and highly ritualized harsh noise/summer camp environment will take a different form this year as it returns to a nightclub space.
Called "Journey to the Center of Noise Camp," the event takes place this Saturday, Oct. 1 at the UFO Factory; doors are at 9 p.m.; free admission; all ages welcome.
It looks to be more of an event
about
noise camp and its venerated history, with both a panel discussion and a film preceding a performance by the one real mainstay of the annual event, a performance by
Princess Dragon-Mom
.
The scheduled lineup is as follows:
10 p.m., In Conversation with the Electric Bear: A Panel Discussion On The History of Noise In Detroit from 1960 'Til The Future
,
moderated by Greg Baise.
10:30 p.m., Autograph signing session
, with Noise Camp's most recognized and beloved character, the Electric Bear.
11 p.m.
,
Movie showing
(film tentatively titled
Noise Camp Diaries
.)
12 p.m., Princess Dragon-Mom.
Power electronics in the moonlight, drinking muddy water from a hollow log, electric watermelon, tree v bush, etc.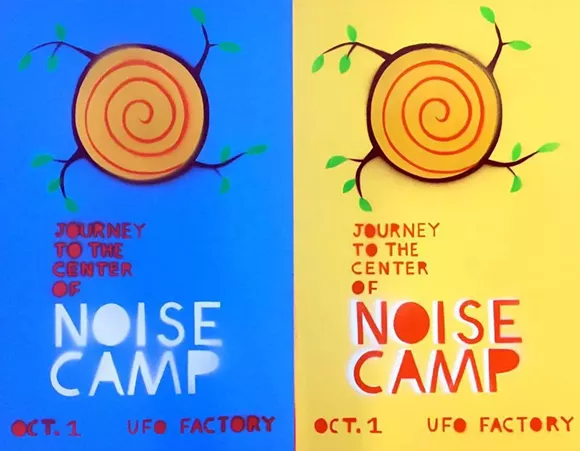 Noise Camp at 22: It's time to reevaluate this popular Detroit tradition with roots in both Viennese aktionism and kid's summer camp. As the city is now overrun with free noise festivals and the once-underground scene now regularly covered by the NY Times and Spin magazine, Time Stereo's Noise Camp — an annual tradition since 1994 and well known for extremely loud harsh electronic noise filling the summer air and total chaos escalating as the cardboard tree and cardboard bush get into a giant fight at midnight — is taking it back underground.

After 22 years of recreating the sights and sounds (and snacks) of the natural world in an otherwise urban environment, a reappraisal is in order. When it began, Noise Camp was an instant success and became an annual event that grew in size and scope each year.

Touring Japan was a life changing experience and performing throughout the great museums of Europe as well as east coast and west coast tours of the US saw Noise Camp facing unique challenges such as "where do we find a watermelon in Belgium on a Sunday night in the winter?" and developing and refining the traditions that could not have been imagined in 1994 when actual-kids-camp-counselor Davin Brainard started Noise Camp with musician Warren Defever.