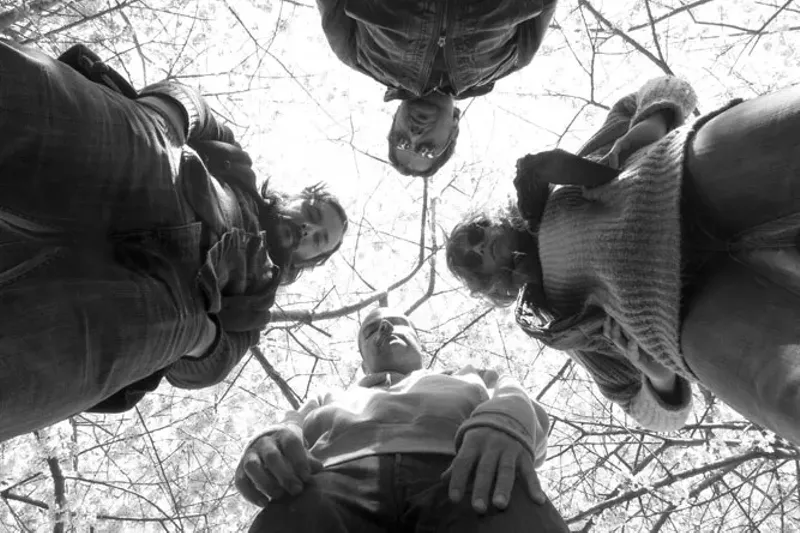 Seraphine Collective's annual BFF Fest is back in full force for its fourth year, once again held at El Club. The workshops, art show, and clothing swap all return as well, while the musical line-up presents a carefully curated selection of genuinely diverse acts: just one night promises garage punk, soulful rock, dream pop, and hip-hop. And unlike most other mainstream festivals, the majority of the performers are women and people of color, helping to provide the sense of balance that Seraphine Collective as a whole strives to achieve.
The festival runs Friday, Aug. 11 through Sunday, Aug. 13. Tickets are $10 in advance and $15 at the door for each day; 3-day-passes are $30. Kids 15 and under get in free. On Friday there will be a small, curated art show with free pizza courtesy of Pepe Z. On Saturday and Sunday there will be a vegan brunch pop up from noon to 5 p.m. by the eternally tantalizing
Grim Feeder
, accompanied by tarot readings.
Make sure to grab this year's
Serazine
at the fest. You can check out this year's mixtape online. (It's scheduled to go up tomorrow, we'll be sure to add a link when it does.)
Girls Rock Detroit is back again this year; the community-based organization is dedicated to reaching young girls through music, and they excel at doing so in a camp setting. Saturday at noon you can catch a showcased composed entirely of camper bands — perhaps the future faces of BFF Fest 9 or 10?
Other workshops this year include zinemaking instructions (with tables set up until 5 p.m. so people can work on them throughout the festival), how to make informed choices and exercise your consent in a medical setting, and how to build stage presence for shy people, among many other things.
On Sundays as the bands play outside, inside you'll find the clothing swap. Attendees are allowed to bring up to two bags of clothing to add to the swap.
And, of course, each night you can catch a different DJ: DJ BEIGE on Friday, DJ Mel Wonder on Saturday, and DJs Baby Whispers, STACKS (____), and Dee throughout the day on Sunday.
View the full music schedule and get ticket information and more workshop details at the
BFF Fest 4 Facebook event page
; check out our musical must-sees below.
Friday
Dear Darkness
at 8 p.m.
Bandcamp
Dear Darkness channels the spirit of punk with a culty flair for the dramatic, offering a live show that is known to be a raw, visceral experience. Singer and guitarist Stacey MacLeod spills her guts in voice and sound, while drummer Samantha Linn is known to break sticks.
Little Animal
at 10 p.m.
Soundcloud
The electronic sounds of duo Little Animal are as spectral as they are sexy, offering transcendental tones and textures that are as lush as velvet, yet not without a sense of dysphoria. This is the kind of music that could cause pixels to develop the capacity to feel both lust and sadness.
Mother Cyborg
at midnight
Bandcamp
Mother Cyborg is a technological force to be reckoned with. This year saw the release of her first work Pressure Systems, a concept album that tells the story of a cyborg's journey to consciousness and trips through an electronic wonderland with influences that range from house to cumbia to R&B. When Mother Cyborg hits the stage, cells awaken and start dancing.
Saturday
Pledge Drive
at 9 p.m.
Bandcamp
Infectiously catchy Chicago-based garage punk with a love of wrestling, snidely clever lyrics, and a serious penchant for keyboards. The track "I Get My Protein" is a favorite, a shouted paean to the life of a vegetarian/vegan constantly questioned about their sources of protein.
Soft Location
at 10 p.m.
YouTube
Little sonic jewels of gloomy dream pop by one of Detroit's hidden musical gems. Only singer/songwriter/guitarist Kathy Leisen lives in the area, but the band has been in existence for fifteen years and just released their third album, Land Electric. BFF Fest 4 is their first performance in some time, and who knows when the next will be?
Mahogany Jones
at midnight
Website
Hip-hop activist Mahogany Jones, who has graced stages with such music legends as Gil Scott-Heron and Talib Kweli, mobilizes the power of music to both heal and inspire. Her brand of passionate hip-hop and commanding lyrical presence is something to be felt, not just seen or heard.
Sunday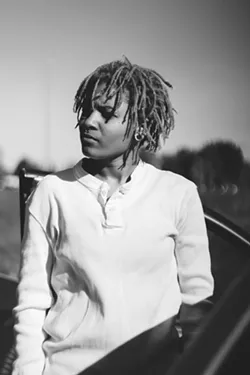 Petrillo
at 6 p.m.
Bandcamp
Off-the-wall post-punk out of Kalamazoo that alternates between plodding and sprinting, Petrillo has been described elsewhere on the Internet as "what would happen if the Golden Girls' grandkids decided to start a bitchin' rad band" and we kind of think we should just leave it at that.
Shells
at 7 p.m.
Bandcamp
SHELLS is the solo guitar project of Shelley Salant, tireless musician/promoter/DJ/writer. Lately she has been playing with Tyvek; you also know her from Saturday Looks Good to Me and Swimsuit and a million other things. In SHELLS, she creates meditative, hypnotic guitar music with an experimental sense of freedom.
Ché
at 11 p.m.
Soundcloud
Rapper Ché, formerly known as Detroit Ché, is fresh off the heels of her latest release, the 4-song EP Chénges, which will be performed live for the first time at BFF Fest. Her rhymes are on fire and the beats haunting, but her voice has a soulful, R&B sensibility that grounds the music, too.
BFF Fest takes place from Friday, August 11-Sunday, August 13 at El Club; 4114 W. Vernor Hwy., Detroit; elclubdetroit.com. Tickets are $10 in advance, $15 day of show. Three-day passes are $30. The art show starts at 6 p.m. on Friday, Aug. 11, with performances starting at 7 p.m. Doors at noon on Saturday, Aug. 12, with performances starting at 7 p.m. Doors at noon on Sunday, Aug. 13, with performances starting and brunch available at noon.