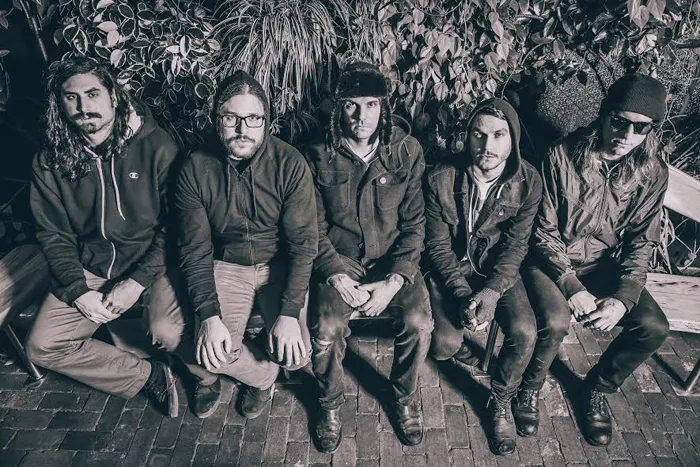 It's Pig & Whiskey 2013, the annual Metro Times event that sees folks from all over metro Detroit gather in Ferndale to drink whiskey and eat barbecue in the sunshine while listening to great music. On Saturday, the sun has been beating down hard for hours, but it has relented a little by the time Nice Hooves prowls onto the stage.

This hardcore-tinged punk rock 'n' roll combo is terrifying from the very beginning of its set. Frontman David Graw used to sing with local hardcore faves Bang! Bang!, and he still sings for the similarly aggressive Heads Will Roll — both great bands. But there's a new intensity, something vicious and primal, that sets this band apart.

Unsuspecting event attendees are already staring at the stage aghast when Graw climbs up the side, makes his way awkwardly across the lighting rig, and stands high and center, barking at the crowd that is now in his sweaty palm. This isn't a Gene Simmons-esque routine, wires raising him to the rig in a carefully choreographed and immaculately executed piece of theater. No, this was sloppy and dangerous, edgy and very fucking punk. It was spontaneous too, and very cool.

"That's the first time we'd ever played that stage and that location," Graw says. "I think everyone gets it at this point. We're going to just do what we do, and some shows will be different than others. If there's something to climb, I think somebody's going to climb it."

The group formed in 2010, when Graw recorded a track with the Armed, another local band that features members of Nice Hooves. "Most of the members are in that band," Graw says. "The Armed was working on recording a 7-inch and a download release. Tony [Wolski, drums] and I had met through mutual friends, and he asked me to sing on a song. I did that, so I guess this band came together in October 2010. We got together to do one track, and then shortly afterward Randall [Kupfer, guitar and vocals] joined the Armed at the same time that we formed Nice Hooves. The Armed is still an active band."

While Bang! Bang!, a favorite with local punks, has played its last show, Heads Will Roll is preparing to play the Berserker Fest at the Loving Touch in February, a Ferndale event dedicated to extreme music. Graw didn't necessarily need a new band, but he found a kinship in Kupfer and the rest of Nice Hooves (Aaron Jones, guitar, and Kenny Szymanski, bass), an outlet for something dark and nasty.

"It wasn't about doing anything different, it was about fulfilling a need at the time," Graw says. "We all seemed to be in the right space to make this kind of music, and it had been a while for me. Randall and I played music together in between Heads Will Roll and Nice Hooves. Nothing really came of it. Nice Hooves is a culmination, a collective of the five of us making music together right now."

Graw, 36, simply describes the Nice Hooves sound as aggressive rock 'n' roll. Kupfer, 29, digs a little deeper. "I'd say it's a darker punk sound," the guitarist says. "It's a punk band at heart. We just try to make it what it is. We aren't going for anything in particular. We just try to play what sounds good and take it from there. If we finish the song and turn around and everybody's got a smile on their face, then we kinda go for it."

Both Graw and Kupfer, who work in the video post-production world during the day, are audibly excited when mention of the Detroit music scene arises. The guys might be all intense and glaring on stage, spitting words and smashing out riffs with violent abandon, but get them talking about music and they regress to geeky kids.

"I hate naming bands because you always forget somebody," Graw says. "We like playing with everybody. Really, we haven't played out of the area. Our hometown is Detroit, and the metro area is where we play. We've played plenty of great shows with plenty of great bands — some touring, but lots of local. At this point, there's a ton of great music in Detroit. One of my favorite bands in the city is Bars of Gold. Tesco Fest is super fun. There are too many good bands in this city. It's a great place to go to shows, and to listen to music. I'm really happy with what's going on right now. It makes me happy."

So focused is a Nice Hooves show that it's tough to imagine them ever having a truly horrendous one, but it happens. "The worst was a loft show we played downtown," Graw says. "It was because of poor electrical. I looked in Randall's eyes while we were shocking each other and he was bummed out that we weren't having more fun."

"I was having a terrible time," Kupfer adds. "Also, Shawn Knight from Child Bite, his guitar exploded. That was visually beautiful but he was having a terrible time too."

On Saturday, Nice Hooves will perform with the Bill Bondsmen at the Magic Stick, part of the latter band's Punk Rock Winter Formal show. The guys are excited, though unpredictability is still the order of the day.

"I don't know what to expect," Kupfer says. "We figure it out the day of. Some shows are better than others. We don't have any choreographed moves."

"We're excited to play," adds Graw. "We're gonna do our thing and keep it short. I'm sure it'll be nice and quick. There's no plan. Whatever happens happens. I'm trying to make it through this week. I was taking out the trash earlier, and it was like trying to repair a satellite in outer space. I had gloves on, and putting a trash bag on a trash can at 20 below. I'm thinking about snow right now, and not our show. I'm sure it'll be good though. We'll practice. I think that's important. We get together and work through it. We put the time in, and everybody puts the time in on their own."

When that show's over, the band will concentrate on increasing its recorded output. "We recorded some stuff in Salem, Mass.," Kupfer says. "We have some stuff going on there and are trying to get the feel of whether that's going to be an EP or full-length. That's something that will happen in 2014, some more stuff coming out. We have a split out with Golden Torso, that's on our record label."

"It's going to be a good year," Graw says in closing. "2014 — Year of the Horse."
Nice Hooves plays the Fifth Annual Punk Rock Winter Formal with the Bill Bondsmen, F*ck You Pay Me, Nervosas and Rebel Spies at 7 p.m. on Saturday, Jan. 25, at the Magic Stick, 4120 Woodward Ave., Detroit; $10.