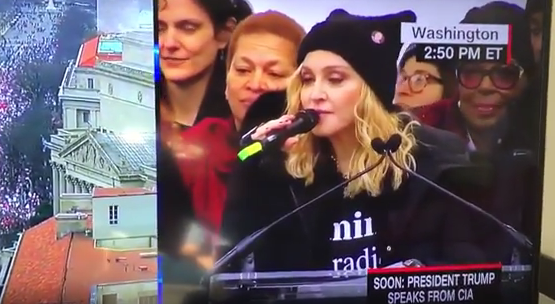 Besides telling President Trump to "
suck a dick
" at the Women's March this past Saturday, Madonna also expressed how she was felt with some words that could possibly get someone a visit from Homeland Security if they weren't a famous pop star.
During her speech at the march, Madonna declared that "I thought an awful lot about bombing the White House, but I know this won't change anything."
A slew of criticism came after the Women's March was over with — one person being Newt Gingrich. On Fox News, former Republican Speaker of the House newt Gingrich said Madonna "ought to be arrested." He also added that she was a part of "an emerging leftwing fascism."
Madonna took to Instagram to explain her comments and was speaking metaphorically. "I am not a violent person," she wrote on Instagram. "I spoke in metaphor and I shared two ways of looking at things - one was to be hopeful, and one was to feel anger and outrage, which I have personally felt." Oh, Madge.