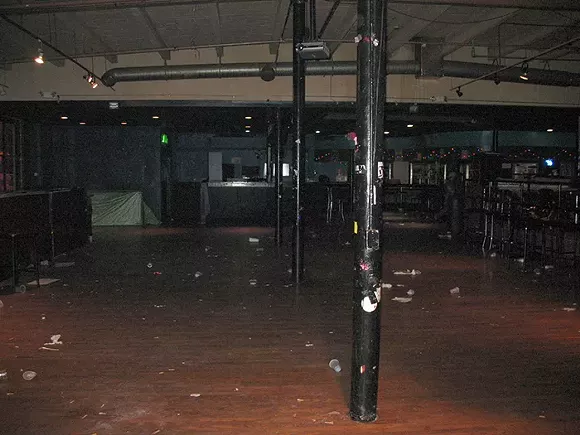 With the Magic Stick announcing last week that they would be
changing formats
to a dance club, we're left looking back and wondering what it all means.
It's true that the Stick has seemingly fallen out of favor as the go-to place for rock shows in town. After enjoying the publicity of the "garage rock" boom of the early 2000s, dwindling ticket sales in recent years have seen the owners come up with various attempts to make touring bands feel like they weren't playing to a mostly empty room — like drawing a curtain to partition the space into the more intimate Magic Stick "Lounge," or booking bands to play in the smaller Garden Bowl or Majestic Cafe downstairs.
But that's not to say that rock isn't a viable art form anymore. The owners point out that they will be moving rock shows (and the ol' "Lounge" curtain partition trick) to the attached Majestic Theatre. And it's not that the types of bands that used to draw huge crowds to the Stick aren't drawing anymore — they've just been taking their shows to other venues in town like PJ's Lager House and new venues like Trinosophes and the UFO Factory in recent years.
Rock's not dead — but the market might be saturated. And anyway, the same could be said about the dance market, with venues like the Works, TV Lounge, and Whiskey Disco all competing for a similar territory. Plus, doesn't that German guy want to
put a new techno club
in the old Fisher Body 21 Plant?
The Stick was never strictly a rock club anyway — hosting plenty of other acts, including electronic music — so it's interesting to see the announcement of a format change in the first place. The venue was long overdue for renovations (with the bathrooms leaving plenty to be desired). The announcement of the new format could have less to do with viable musical genres and more to do with making the Magic Stick less "Cass Corridor" and more "Midtown."
Which reminds us of a bumper sticker we've seen, made by the late Cass Corridor artist Ralph Hogg: