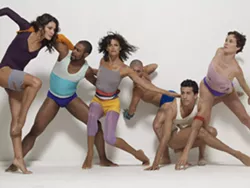 The late, great, theatrical musician David Bowie will be paid tribute to by the Music Hall in Detroit in perhaps the most appropriate way possible: a ballet.
Bowie died this past January at the age of 69, and the Music Hall has commissioned the ballet as another way to immortalize his legacy. Complexions Contemporary Ballet will perform the rock opera production, scheduled to debut on June 18.
Complexions Contemporary Ballet is a company based in New York City, comprised of 14 classical and contemporary dancers. They are America's first fully multicultural ballet company and have performed all over the world; however, this production is surely unlike anything they've ever performed.
If you never thought you would hear the words "Bowie," "Metallica," and "ballet" used in the same sentence, think again. As if Bowie wasn't creative enough, the ballet will also include works from the metal band Metallica. Not much more information has been made public yet, so be sure to keep an eye on the countdown on the Complexions website for the upcoming performance in Detroit.
The show starts at 8 p.m. on June 18 and tickets are $30 and can be purchased through the Music Hall box office at 313-887-8500 or ticketmaster.com. Check musichall.org for more info.
Music Hall is located at 350 Madison, Detroit