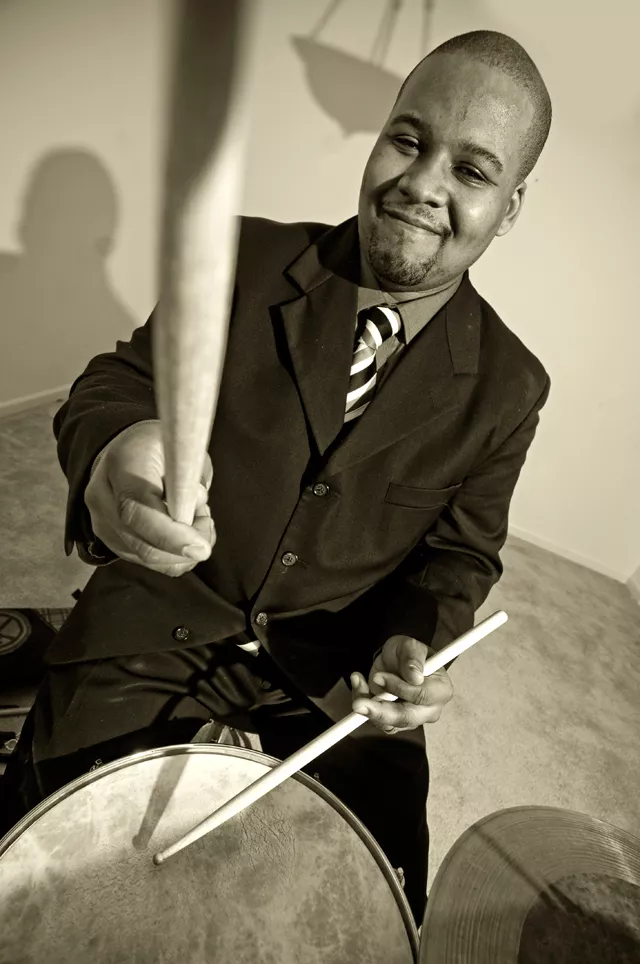 When Sean Dobbins assembled his band the Modern Jazz Messengers, he knew he had a lot to live up to. Naming the quintet after the iconic Art Blakey and the Jazz Messengers was a bold proclamation given that Blakey's band was sort of a graduate school for such celebrated jazz stylists as Lee Morgan, Wayne Shorter and the Marsalis brothers, Branford and Wynton.
"I wanted a band that was going to continue the spirit of Blakey's music. I wanted the spirit of the Jazz Messengers, so that's what I was going for when I started putting together my band," Dobbins, 34, said recently during an interview at Orchestra Hall where he is the artistic director of the young musicians in the Civic Jazz Orchestra. "I knew that I wasn't Art Blakey, nor was I trying to be, but I could play with his honesty, fire and passion, and I could continue what he believed in."
The Modern Jazz Messengers is a swing-conscious outfit. Dobbins, like his late musical idol Art Blakey, also a drummer, keeps the band interesting by changing up the lineup. Since, he formed the band in 2008 some notable Detroit jazz musicians have performed in it, including bassist Marion Hayden, pianist Tad Weed, trombonist Vincent Chandler and saxophonist Diego Rivera.
The last five years, as a drummer and bandleader, Dobbins has matured. In the past, he was bit of a ham, resorting to twirling his drumsticks in the air during solos. That has changed. Now his solos are more poignant — almost as if he tells stories on the drums, and he gulps down rim shots like an ice-cold beverage.
Dobbin is a stocky guy. He laughs after he tells stories, and considers himself the world's most overprotective dad. During the interview, he constantly checked his Blackberry in case his wife, Roula, or kids Rima, Lala and Sean Matthew were trying to contact him. The drummer grew up in Ann Arbor, where his mom, Deborah, worked at City Hall. His dad owned First Step Driving School. At 8, Dobbins started banging on stuff around the house.
"I would beat on all the barstools around the house. My mom thought it was some anger issues. It was right around the time my parents were breaking up. My mom didn't know what to make of it. She wanted to put me in therapy. Her friend asked if she'd considered getting me drum lessons," Dobbins recalled.
At Forsythe Middle School, he met his first music mentor, trumpeter Louis Smith, who had played with the great jazz pianist Horace Silver and recorded for Blue Note (Here Comes Louis Smith and Smithville) in the late '50s before moving to Ann Arbor to teach. But Smith also continued his musical career, performing as a leader and recording extensively for the Steeplechase label. It was Smith who introduced Dobbins to Blakey.
"We would go into his office. He would talk about all the great jazz drummers that he played with, and he would invite me to his gigs. I listened to Art Blakey's Jazz Messengers With Thelonious Monk and I was hooked. Blakey was everything. Blakey had a lot of chops, but he didn't play a lot. When he soloed, he told stories."
At the University of Toledo, Dobbins earned a Bachelor of Music degree. For eight years, he worked in the house band at Murphy's Place, a jazz club in Toledo with former Detroit pianist Claude Black and the club's owner, bassist Clifford Murphy. Dobbins said Black taught him about professionalism.
"Claude told me that I needed to get my act together. One night, he told me that I was playing so loud he ducked under the piano because he thought somebody was shooting up the club, and that I dressed so poorly he was ashamed to be on the bandstand with me. So I went out and bought me some new suits, and some new drums. Claude said now that I had new drums it was time for me to learn how to play them," Dobbins recalled.
At Murphy's Place, Dobbins met his musical soul mate in trombonist Vincent Chandler. In 2002, they formed the jazz quintet Urban Transport. Until then, Dobbins had performed almost exclusively with veteran jazz musicians.
"I remember being excited hearing a player of my generation, a little younger than me, who I knew was just as intrigued by jazz as I was," Chandler recalled.
Urban Transport became a local hit, playing to appreciative audiences at the Firefly Club, Baker's Keyboard Lounge and the Detroit jazz fest. The group won the regional 2002 Heineken Jazz Competition. They released two well-received albums Introducing Urban Transport and Urban Transport Live! At the height of the band's popularity, Dobbins became sought after, but he stuck with the band, turning down an offer to play with pianist Mulgrew Miller, one of the most respected pianists on the scene today, who was last year's Detroit Jazz Festival artist in residence.
"As much as I dreamed of playing with Mulgrew Miller, Vincent and I had put a ton of work into the new band, and I decided to stay with our gig," Dobbins said.
Chandler and Dobbins set the band up to be a democratic collective, where each member had equal input. Alto saxophonist Dean Moore, who recently moved to Philly to practice medicine, and bassist Yosef Deas, known as the pretty-boy in band, rounded out the group. Everyone wrote for the group, and Moore's originals stood out, in particular, with his challenging countermelodies in such pieces as "Deciduous" and "Thoughtful Motions."
Dobbins' personal life changed as well. He got married, purchased a home in Ypsilanti, and started a family. When better-paying jobs surfaced, he could no longer turn them down. In 2007, he left Urban Transport.
"It wasn't fair to Vincent or the other guys in the band for me to treat the band like I could show up whenever I wanted to. We had created some great music," Dobbins said. "There comes a point where life says that you've done this and you have done that. You rode in the back of the car as a passenger now for your development as a musician; it's time for you to drive."
He went on to play with greats such as James Moody, and Sonny Fortune. In 2008, Dobbins formed Sean Dobbins and the Modern Jazz Messengers, and released their debut recording, Blue Horizons, which he dedicated to Art Blakey. On the recording, you can check out Dobbins' band-leading acumen, guiding his musicians, all hungry improvisers, through hard-bop staples such as "One by One," "Ping Pong" and "Bolivia."
Dobbins has kept his promise to continue the spirit of Art Blakey's music through the Modern Jazz Messengers. Dobbins is plotting the band's second album, which the drummer promises will have a socially conscious bent.
"The Modern Jazz Messengers will be about some sort of significance about what is going on in society. I am not doing any records that I think will sell. No recordings will be about getting played on the radio. We are going to do what the Messengers have done. We are going to play the music that we believe in and everything else will fall into place," Dobbins said. How is that for another bold proclamation?
Sean Dobbins and the Modern Jazz Messengers with trombonist Vincent Chandler, pianist Rick Roe, and bassist Rodney Whitaker perform at 9:30 p.m. on Saturday, Dec. 4, at Cliff Bell's, 2030 Park Ave., Detroit; 313-961-2543; $10 cover.