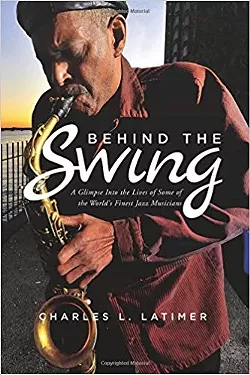 We're always pleased when one of
MT
's longtime writers or staffers makes the leap into books. The latest of our alums to author a book is our longtime jazz writer Charles Latimer, and the book is a collection of the pieces he wrote for us titled
Behind the Swing
.
Latimer wrote about jazz for
Metro Times
for about 16 years, usually zooming in on a person who had an upcoming Detroit appearance. They ranged from international legends and next generation artists to dedicated local performers who loved keeping "America's classical music" alive. Latimer developed a sort of easygoing style as a jazz writer, especially when conducting fireside chats with older cats, who calmly recounted their careers.
Latimer was always probing behind the personality to find out what made jazz people tick. Were they from musical families where melody was a part of home life? Were they on the academic track, or did they prefer learning by doing? He'd ask not just who influenced them, but who inspired them, and why. Were they stern taskmasters? Were they generous mentors? What did they learn from being backing players? How did they become standout vocalists or bandleaders?
The introduction provides Latimer's own "origin story" — a tale that even provides a bit of insight for me, a guy who, as a copy editor, helped edit his dispatches from the jazz world for a decade. As hard as it is to believe, Latimer grew up mostly familiar with smooth jazz. That is, until a chance meeting with writer, editor, and critic Kofi Natambu when Latimer was in his mid-20s. Natumbu told the young Latimer "that's not jazz" — a speech Latimer had heard before but never delivered with such passion and knowledge. Natumbu introduced Latimer to the music, and also to the critics. Later, poet and playwright Bill Harris taught Latimer in a more structured way, lending him albums and helping fill the gaps in his technical knowledge of music.
In the 1990s, Harris turned down an offer from
MT
editor George Tysh to write about jazz (he was too busy at the time), but suggested that Latimer might have what it takes to be a sort of roving jazz correspondent. While Latimer would never get rich writing for an alt-weekly, the riches were in the access writing gave him to sit down with some of the jazz world's global idols and have conversations as intimate as if they took place in a barbershop.
It wasn't always easy. In the beginning, Latimer says, he was "inexperienced," and "wasn't sure I was qualified to hold court with those accomplished musicians." But as the years went by, Latimer's confidence and skills grew, with a bit of help from such seasoned
MT
editors as George Tysh and W. Kim Heron.
And, as a spin through
Swing
demonstrates, Latimer blossomed into a pretty darn good writer. Not just when it came to telling people's stories, but in artful turns of phrase: describing the ways a player's body moves in the music, describing a vocalist's smoothness to honey drizzling off a spoon, or comparing the way a violinist's bow glides across a string to silk sliding across a bare breast.
The chapters include stories on Detroit names that ring out, such as James Carter, Kenny Cox, Regina Carter, and Marcus Belgrave. Sometimes they're national figures such as Branford Marsalis, Christian McBride, or Horace Silver. His literary lens even captures such local movers and shakers as jazz festival savior Gretchen Carhartt, smooth-jazz ambassador Alexander Zonjic, or improvisational music performer-promoter Joel Peterson.
But perhaps best of all is his piece on "the Detroit way" — a method developed to educate the young protégés of jazz by getting them up on stage. Latimer quotes professor and saxophonist Donald Walden on the method: "You can have all kinds of natural ability, but if you don't have the desire then you probably won't do it. The ones who are going to be successful at mastering this art have to understand that it's a solitary kind of undertaking. Like you can get a wealth of information from books, but the ability to master this is not going to come from method books or a classroom. The classroom for this music is the bandstand."
Walden may as well be talking about writing. It could also describe Latimer's education as a jazz writer, taking place in a real publication, with supportive editors who were able to help him find his voice. The rest, as they say, is history — now bound together in one handsome book.
Behind the Swing: A Glimpse Into the Lives of Some of the World's Finest Jazz Musicians is by Charles Latimer, $14.95, 260 pp. It's available at Amazon.