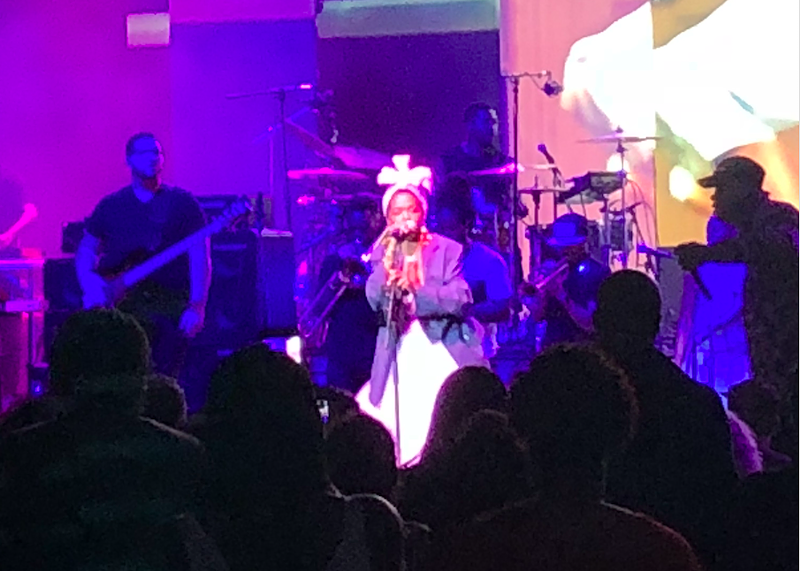 On Friday night, Ms. Lauryn Hill graced Detroit — OK, technically Sterling Heights — with her presence, and she was shut down early. Yes, somebody turned the lights on right as the legendary hip-hop artist was gearing up to play one of her most beloved songs, "Doo Wop (That Thing)," while celebrating the 20th anniversary of
The Misseducation of Lauryn Hill
. Why we can't have nice things?
In all fairness, the star-studded show — with openers including Busta Rhymes and Santigold — seemed to be doomed from the start. Mother Nature threatened to ruin a good time, with dark clouds circling overhead.
However, it wasn't all gloom and doom. Despite some obvious sound problems, Busta Rhymes put on an amazing show, donned in a glittery suit and accompanied by his longtime partner in crime, DJ Spliff — who was hospitalized for a heart condition only a few weeks ago. He emphasized that no matter what small problems were arising, he was grateful to be on stage with Spliff and celebrating Hill.
Santigold, who announced on stage that she just had two babies four weeks ago, also put on a high-energy, stellar performance. Joined by two back-up dancers, Santigold and her fusion of genres lifted the crowd's mood and had the crowd transfixed. After her set, the audience's energy had obviously shifted, resulting in an impromptu but perfectly in-sync dance party erupting in the amphitheater's center staircase.
With anticipation running high, Hill finally entered center stage in a fairytale-like princess dress, pink headwrap, and denim jacket — looking exactly like the queen everyone knows her to be, and her performance was nothing less than royal. She opened the show with the legendary album's title track, "Miseducation of Lauryn Hill," accompanied by a lush ten-piece band.
Hill served as both performer and band director, commanding the troupe of musicians with ease and delivering unexpected alternative versions of some of the songs that shaped hip-hop. Probably the most hype moment was when she sang "Everything is Everything," one of the hits that resonated so strongly with her audience.
Sadly, the high was promptly quashed at 11 p.m., the venue's mandated stop time, right in the middle of the "Doo Wop" intro. There was a feeble attempt at bringing her back on stage, but to no avail. The crowd trickled out of the amphitheater with heads down and furrowed brows.
Throughout, Hill seemed eerily calm, probably a result of her own advice: "Everything is everything/ what is meant to be will be/ and nothing even matters at all."
Get our top picks for the best events in Detroit every Thursday morning. Sign up for our events newsletter.