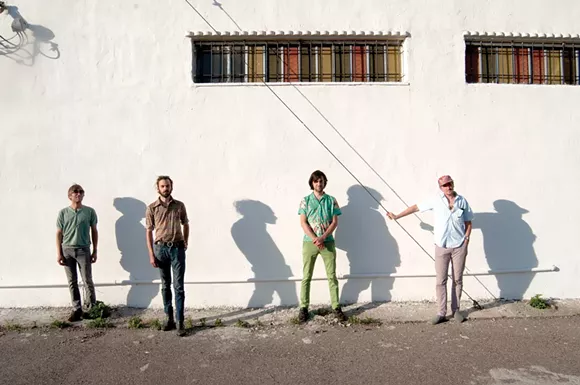 It's no secret that Metro Times has a bit of a crush on Detroit's Mountains and Rainbows; heck, they even topped our list of best new bands last year. We considered them "new" at the time, despite having been around for at least a handful of years, because they hadn't released a proper full length album. Which brings us to today, and the group's debut album Particles — a full-color double album housed in a lovely gatefold sleeve — has finally been released by Bay Area-based label Castle Face.
Whether you favor 10-minute psychedelic expeditions or two-minute garage pop gems, this thing drags you through plenty of each. Howling vocals, fuzz-pop guitar riffs, and even surprise saxophone contributions? Should we call this frantic beach-psych-rock? The title track is a seven-and-a-half minute jam that repeats the line "We are all a little monkey" over and over, while the album features four versions of a track titled "Beach Jam," originally intended as interlude music between songs for live shows. "Yeah, it's a weird record," says bass player Ryan Harroun.
MT caught up with the band to talk about the new album, some even newer music, and upcoming shows.
Metro Times:
What are some of your favorite songs on the album?
Andrew Barrett:
I love playing "Particles" live.
Matt Ziolkowski:
I really like "See How They Run." It's funny to see people write about this album and how low-fi it is. I feel like we put a lot of time and effort into this album, and there are a lot of subtleties that probably only we hear.
Barrett:
I've been pretty surprised to see that too. I would describe it as "non sequitur" or "enigma-ish," but not low-fi.
MT:
What was the inspiration for the track "AM 580"?
Ziolkowski:
It's about technology changing, and holding on to older technology. With the radio, and music in general, you can listen and multitask. I think TV is for dullards. Music brings people together; it's about community, and being together.
MT:
So when you guys practice, do you plot out your live shows ahead of time?
Barrett:
I think what makes our shows good is that they're not terribly premeditated. It's very much just us trusting our instincts, and our ensemble dynamic.
MT
: So when it comes to the longer tracks …
Ziolkowski:
Those are different every time we play them. Some songs we rarely practice, to keep them really raw.
[The band also thinks it's weird that they've developed a seemingly larger-than-life reputation. Their current lineup, which produced the songs for Particles, has been playing together for about three years. In that time, they opened for California psych-rock band Thee Oh Sees twice in Detroit, at which point frontman John Dwyer offered to put out their record on his label Castle Face. So about a year ago, they sent him two albums' worth of recordings, with album artwork created by singer and guitarist Ziolkowski.]
Barrett:
It was all happening at once. We were working on the recordings when John Dwyer offered to put out a record for us.
Ziolkowski:
We gave him an old demo tape, but he wanted some new recordings. So we sent him two albums' worth of recordings, and asked if he would put it out as a double LP.
MT:
And you guys aren't really touring to promote the new record?
Ziolkowski:
It seems like the record is doing pretty good without us really playing a lot of shows.
MT:
Yeah, you guys have a lot of hype behind you right now.
Barrett:
It feels weird.
Ziolkowski:
We would like to tour, but with all of our personal lives it becomes increasingly difficult.
MT:
How was it opening for Thee Oh Sees twice?
Ziolkowski:
Great. I really like where they are right now with their new lineup.
Barrett:
He [John Dwyer] operates on a different level; he doesn't seem to stop, just adrenaline all the time.
MT:
Would you say you guys are on the same level?
Ziolkowski:
No, we're pretty chill guys. We like to take our time, and apparently it takes us 10 years to put out a record.
MT:
Except for your next record — that's already finished.
Ziolkowski:
Right. We have a whole new record where the three of us, (Ziolkowski, Barrett, and Harroun) did equal songwriting.
MT:
What's the title for this even newer record?
Barrett:
Story of Love. It's another weird record, but it's really different. It's half the length of Particles, and half of it is acoustic, more folky. It also features some of our friends on guest locals.
Harroun:
Yeah, and we want to record another one this summer as well.
MT:
Are you guys going to release a bunch of new stuff, or sit on the recordings for a while again?
Ziolkowski:
We'll put this one out as soon as we can, maybe approach Castle Face in the next few weeks and see if they're interested in putting out another record. If not, we'll put it out ourselves or find someone else who's willing.
MT:
Will you perform any of these new songs?
Ziolkowski:
Yeah, we have been. These next two shows with Jeffrey Thomas will be the first time playing Particles material in about a year. Until about three months ago, we've been working on new material with a different drummer. We were moving on, and now we're going back.
MT:
Right on. I was told the album artwork was constructed completely out of duct tape.
Ziolkowski:
That's true. When I make visual art, I often use duct tape, I've been working with that medium for about seven years. I used to make these really long banners, like 2 feet wide and anywhere from 6 feet to 30 feet long, and I would try to hang them in trees or give them away. A lot of food-inspired stuff, like burgers, pizza, tacos. I also like making birds of prey.
MT:
How long did it take you to make the album artwork?
Ziolkowski:
Probably about 45 minutes, and then some tinkering.
Barrett:
The image really pops out in person.
MT:
Do you consider yourselves misunderstood?
Ziolkowski:
I don't know if you know this, but we're all really funny people, too.
Barrett:
We used to do a comedy routine throughout our set.
Ziolkowski:
Come for the band, stay for the jokes.
Mountains and Rainbows play a record release show with Boony Doon, Feelings, and Deadbeat Beat on June 24 at El Club; doors at 9 p.m.; 4114 West Vernor Hwy., Detroit; elclubdetroit.com; $7 in advance, $10 day of show.