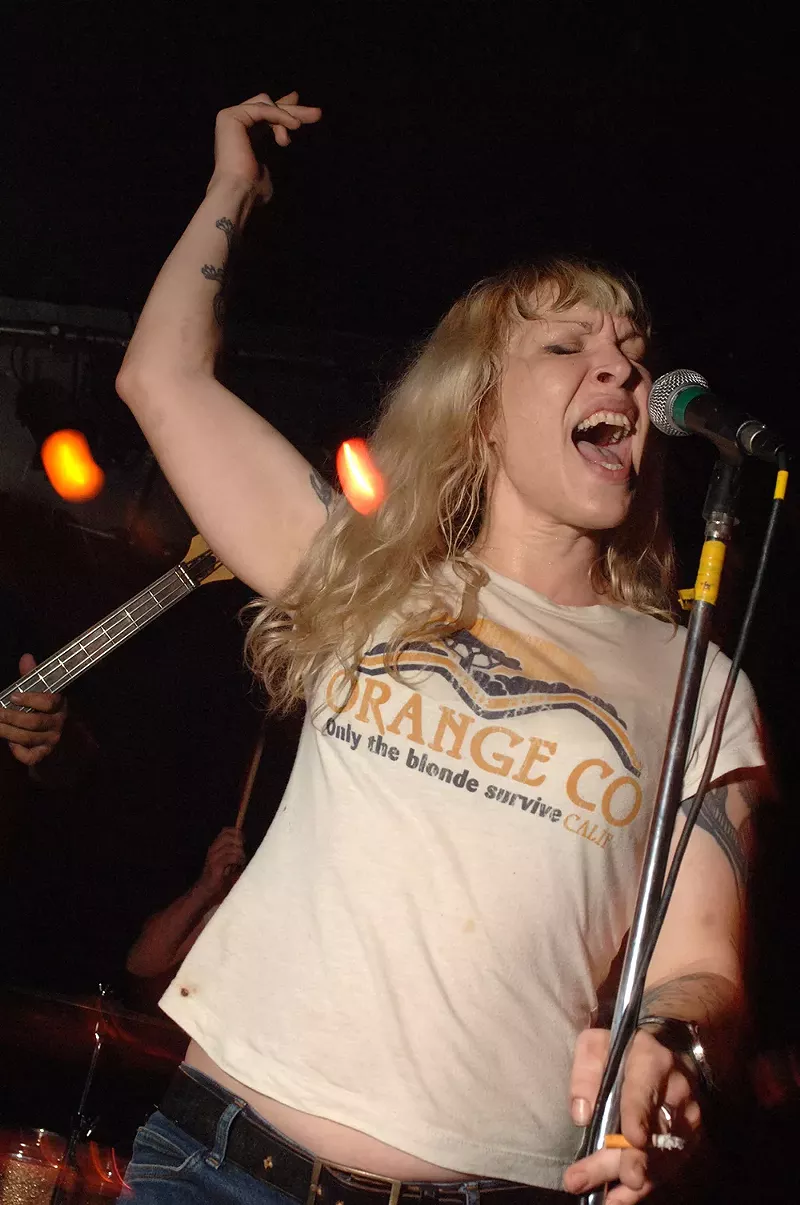 The Detroit Cobras are a band with a past, dogged by whispers of debauchery and general unsavory (and unreliable) behavior. But somehow, the group's couldn't-give-a-shit strut and volatile combination of obscure R&B, soul and rock 'n' roll classics has charmed the world.
The band's music evokes festive beerstink nights and stale hungover mornings, heartwarming love and loin-draining sex. But these guttersnipes have coupled their strut with a self-assured independence and healthy ego.
When faced with a band that delivers goods as consistently as the Cobras, loose talk seems pointless. It's like the Rolling Stones — the biggest tragedy happened the minute Keef's drug use became a bigger story than his guitar playing.
With a new album and a headlining national tour kicking off this week in Detroit, the storied Cobras are, essentially, proving to be a good example of what happens when a rock 'n' roll band just lets it happen.
The Cobras' third album, Baby (Bloodshot Records) landed in stores on Sept. 27, finally getting a stateside release after hitting U.K. shelves last November. Included on the new, 20-song "enhanced" version is the first American release of 2003's Seven Easy Pieces EP.
"It's kind of anticlimactic," singer Rachel Nagy says by phone from her current home in San Diego. "It's been out on Rough Trade for a while, so I know a lot of people that already have it."
Why the delay?
"Because we're some slow motherfuckers," Nagy says. "It's like we get busy with one thing, and we forget to put on our right shoe. It's like, 'Oh, the left shoe's on — we can hop!' We're not master planners — we're masturbators."
Self-sexing or no, the Cobras get around. Revered Brit DJ John Peel championed the band until his death last year. Their bristly renditions of "Cha Cha Twist" and "Ya Ya Ya (Looking for My Baby)" spruced up major ad campaigns for Diet Coke and Budweiser, respectively. Key international newspapers and music mags have been trumpeting the quintet, and not least among their fans is legend-in-song Jackie DeShannon. The group's relentless touring in recent years has earned them both a dogged fan base and a living.
Alongside the two constant Cobras — guitarist Mary Ramirez and singer Nagy — the famously shifting lineup currently features drummer Kenny Tudrick (Bulldog), ex-Electric Six bassist Steve Nawara and honorary Detroiter guitarist Greg Cartwright, of Oblivions and Reigning Sound fame. Cartwright lent his production and writing skills to Baby, and has been a longtime band friend and collaborator. The Cobras reworked Cartwright's "Bad Girl" (the original Oblivions title was "Bad Man") on 1998's Mink, Rat or Rabbit. He'll be pulling double duty on the tour; his Reigning Sound is supporting.
The Cobras' new label, Bloodshot Records, is a respected Chicago-based indie that's known more for its boutique roster of alt-country twang and songwriting traditionalists than anything. And many were surprised when the Cobras got the deal earlier this year; the label-band match seemed odd. But Nagy says the label, more than the others who had shown interest, understands them. And by all reports, Bloodshot is happy to have the band. Further, the Cobras' rep as a hard-living rock 'n' roll force to be reckoned with — on stage and off — should boost the label's profile outside of its musical niches.
Bloodshot "seemed to understand what was going on, and they weren't going to fuck with us or get us to do something stupid," Nagy says. "And that's pretty important — we don't need somebody doing a dance remix or something.
"We do what we do," she says, in what could double as a summation of the band's manifesto. "We really don't want anybody putting their finger in our pie."
At the moment, the band's focus is on promoting the new record. Baby is more refined and less bombastic than its predecessors. That's not to say the Cobras have been entirely tamed. It's more that their sound has shifted closer to the R&B side of their roots and away from the punk tonalities. The guitar sounds are rich and gritty. Tudrick's drumming gives danceable groove and momentum; Nagy's vocals provide the soul.
"I think it sounds a little more grown-up" Nagy says. "It's not quite as raw. We used to be pretty rough and raw, and then the EP [Seven Easy Pieces], I thought, was almost getting a little too clean. So now we've gotten back to a happy ground between being too rough and too clean."
Baby was recorded in several spurts at Detroit's White Room studio, in summer 2004, with Nawara on guitar and ex-Sponge man Joe Mazzola on bass. Ramirez says the recording benefited from Cartwright's production help. "If you have someone whose opinion you trust, it makes recording a lot easier," she says.
The record showcases the band's maturity and versatility as it shifts with ease between stomping rockers and restrained scorchers. On the heavy side, there's Dan Penn and Spooner Oldham's "Slipping Around," and "Baby Let Me Hold Your Hand" by "Hang On Sloopy" authors Wes Farrell and Bert Russell. On the restrained side there's Gary "U.S." Bonds' "I Wanna Holler (But the Town's Too Small)" and a gooseflesh-inducing reading of Naomi Neville's "It's Raining."
"Weak Spot" — composed by Stax godheads Isaac Hayes, Steve Cropper and David Porter — features the band in slow-burn mode, smoldering, straining to hold back, as if one stroke out of place would bring the whole thing to a premature climax. The song is a centerpiece on Baby.
"The thing that makes it ["Weak Spot"] kind of special is that it's almost not the kind of song that you'd expect this band to take on because it's such a subdued vibe," Cartwright says. "When they try to do something like that, even like these little subtle guitar parts, the guitar is buzzing like it wants to jump out, but everybody's trying to keep it reined in."
Many songs the Cobras perform involve love themes, ironic given that Nagy's personal autonomy seems ingrained in her identity.
"For a lot of years, it was kind of a vicarious emotion for me because I really wasn't like that and I never had relationships like that," she says. "If a guy got on my nerves, I just walked. So I really wasn't in my bedroom too much sobbing and going, 'Oh my god, what am I doing?'"
That all changed when Nagy met her current boyfriend, who prompted her move from Detroit to San Diego.
"I ended up with a boyfriend who I started to have to experience those things with," she says. "So for the first time, those songs really meant something to me."
The Cobras have made a career of playing other people's music, and have sometimes been lazily dismissed as a "cover band." And though, technically, that tag is true, the band — particularly Nagy — brings a gruff, road-traveled beauty to the music. The singer offers a deep sense of empathy to the lyrics, toward both the songwriters and the songs' subjects. And lines like, "I'm going to take him by the balls and drag him all the way back to town" make men fret. Hers is unrepentant and believable.
There's a great tradition of American songwriters — Hank Ballard, Dan Penn, Spooner Oldham, Allen Toussaint, Bobby Womack — whose craft is underappreciated, and the Cobras' overt mission is to celebrate that tradition by performing their works, and others.
"If these songs aren't being played on the radio, then it just don't make no sense," Ramirez says. "This band is a total reaction against the radio, because the radio sucks."
The Cobras have a knack for selecting songs, which, as Sinatra taught us, can be everything. But where would those songs be without the band's raucous spin? Their choice of obscure material raises a question so philosophical it could be a Zen koan: If you cover a song nobody's heard, isn't that as good a writing a new one? It's an approach that some (but not all) in the band are committed to, one showing tentative signs of change.
A Cobras' founding principle is to pay homage to the more grimy and unsung parts of Detroit's bottomless musical history. The band's early singles featured tunes by Nathaniel Mayer and ? and the Mysterians — songs that were hard to find unless you were an obsessive record collector.
So far, the joy from that powerful kind of musical discovery has suited the band just fine. As bassist Nawara says, "You're only as good as your record collection."
From Nagy: "We've never said one day we're going to write some originals and move into that. Obviously it's not our goal. We are what we are, and we're that for a reason. It's not a cradle that we're trying to grow out of. It's what we like to do."
It's an argument that Ramirez is even more passionate — or defensive — about. "Is it a conscious effort? It's a conscious effort not to play bad music," she says. "Just because you can write doesn't mean you can sing, and just because you can sing doesn't mean you can write — that's the basis of the whole Cobras thing." She says it as though she's weary of having to explain the obvious yet again. "There's nothing worse than playing a song you don't think is that good. But when you're playing and the song is good, you play differently.
"As easy as [Otis Redding's] 'Shout Bamalama' is to play, it's not that easy to come up with."
Cartwright — a guy who's astonishingly adept at writing explosive rockers and country weepers — disagrees.
"I thought, man, this is a band that should at this point be able to write this kind of material," he says. "They've been doing it long enough, they know how these kinds of songs work and how the chord structures work. They should be able to duplicate this formula."
Perhaps by covering some of the greatest R&B songs of all time, the Cobras have raised the bar too high, Cartwright says. "I think that's what has scared them for so long about writing material. It's not that they don't have the ability — they all have the ability."
For the first time on a Detroit Cobras record, Baby features an original composition — the lascivious double-entendre rocker "Hot Dog," which finds a saucy Nagy delivering lines like, "I could eat one/or I could eat three/it takes a lot of dogs/to satisfy a girl like me." The song is credited to Cartwright, Nagy and Ramirez.
Cartwright says the song is basically his, but Ramirez wrote the cheerleadery intro and outro. Nagy reworked some lyrics. "I came with the song in hand and most of the lyrics, and we cut the track, pretty much just the music and some of the vocals," he says. "When I left, I thought that we probably wouldn't use it because it just seemed like I had thrown it at them too last-minute to get a usable track."
But when he finally got the finished record, he was surprised to find "Hot Dog" included. "I was pretty blown away at how good that song turned out to be," he says.
"The highest praise we've gotten for "Hot Dog" is people not realizing that it's an original," Nagy says.
For Cartwright, "Hot Dog" was a good way to introduce Nagy and Ramirez to the pride of authorship, and he's keen on bringing song ideas to the table for the next record. He hopes the band finds "a middle ground where half of the record is their own self-expression and the other half is songs they really dig playing. That's where I would really like to see them in a couple of years — a little more self-sufficient and a little less reliant on covers. And I think it's possible; it's just going to take a little while."
In the meantime, the Cobras are turning young American and European heads on to brilliant but obscure soul, R&B and country.
There's a weird thing that some Cobras fans do, Ramirez says. Occasionally, a presumptuous one will give her a CD burned with original versions of songs the Cobras do — as if she's never heard them. It's a gesture she appreciates, and not just because it's nice to have an extra CD with some of her favorite songs on it.
"It's almost like a challenge," she says, "like I'm the teacher."
The story of the birth of the Detroit Cobras is well known around these parts. Ramirez describes a mid-'90s Detroit scene that was much homier, where people met future bandmates by stepping over them to get a beer, and where record deals came about when you ran into Dave Buick at a party.
"We weren't trying to do nothing. We were just hanging out," she says.
But there was a dark side to which Nagy was no stranger.
"There definitely was a point when we were insane, and I was definitely insane," she says. "I would drink and I would punch the first person I meant to say hello to. After a while it's time to grow up — that shit ain't cute anymore. You're gonna end up in jail or with someone pulling a gun on you."
Ramirez had been playing with Rob Tyner protégés the Vertical Pillows. She teamed up with guitarists Steve Shaw and Jeff Meier around 1993. Shaw says he came up with the Cobras idea after spending some time with Box Tops and Big Star man Alex Chilton in New Orleans. Shaw met Chilton through Chilton's then-girlfriend, ex-Gories drummer Peggy O'Neill.
"I had a bunch of material in mind before I even got back from New Orleans," Shaw says. "It was heavily R&B-based; it was like a New Orleans feel, a Memphis feel, and certainly there was a bunch of Detroit soul I was interested in. So I pretty much had the whole concept worked out."
But finding a singer is never easy, and Shaw says they even approached Scott Morgan and Mick Collins about joining. Ultimately, attention fell on Nagy.
She was a friend of the band. The story goes that she was basically cajoled into singing one night. This was spring 1994, and Nagy had, incredibly, never sung a note before.
That lineup jelled, and recorded some 7-inch singles in 1996 and a debut album, Mink, Rat or Rabbit. They began to cause a stir worldwide.
Not long after Mink, Rat or Rabbit, the group splintered, but formed again a year later — without Meier or Shaw, who by then had the Breakdowns going (Meier's Rocket 455 had been cooking for a number of years). "I don't think we were real interested in going back and playing with the Cobras per se," Shaw says. "But we weren't exactly asked, either.
"I did kind of run the show in those days. The band just self-destructed and disintegrated. I don't put it on any one thing. But I don't think — since I left the band — there's been anyone like me in the group." Shaw's now in the Fondas, and Meier runs Nathaniel Mayer's combo, the Shanks.
Since those days, Nagy and Ramirez have unquestionably been the Cobras' ringleaders. They have the vision and the attitude. And for the past decade, they've seen a steady stream of local rock stars and stand-ins pass through the ranks.
"I don't look at it as a band," Ramirez says. "I look at it more like a project."
People are often first drawn to the Cobras because of Nagy's have-to-hear-it-to-believe-it voice. It's astounding that's she'd never sung before this band. And live, Nagy has a kind of odd grace — her dyed-blond Bettie Page mane, forearm tats and salty sexuality belie the purity of her lilt and tone. But her ability and moods nail the song's emotional highs — from pensive plaints to a raw, booming sexuality. Yet singing wasn't Nagy's childhood aspiration — she stumbled into it with beer and smoke in hand — and she gets uneasy when there's even talk about the sound of her voice.
"It's taken me a long time to get used to listening to myself," Nagy says. "I never got myself ready for that. I never really wanted to do it, so to listen to it is like, 'Oh my god, what the fuck is that?'"
Baby is "the first time I've been able to listen to myself and not cringe," she continues. "That's a step in the right direction, I think."
The self-doubt is no put-on. But if she doesn't recognize how rare her voice is, others do.
"The thing is Rachel's voice. When they asked me to help them, that's the reason I'm doing it," Cartwright says. "She's definitely blessed. Someone with those kinds of natural chops is refreshing, especially when you can look at people on television shows like American Idol and see all these kids. They've studied and they've mimicked every vocal trick in the book, but they don't have any natural ability to convey feeling.
"Unfortunately, that's what most of the American public wants; they've been tricked into thinking that's what music is. They don't know that music is even a spiritual thing. So when somebody comes along like Rachel who learned nothing — she didn't come from a background where she sang all her life, mimicking this guy or mimicking that person. She just has it."
If Nagy's voice could possibly be one of God's miracles, then a great rhythm guitarist is extremely underrated — and Ramirez is one of those. She plays around and on top of the beat — she's Keef to Nagy's Mick.
The problem is one of perception, Nawara says. "Everybody's got to rock, but no one knows how to roll."
Call it attitude, laziness or sheer brilliance, but the Cobras have refused a few dues-paying indignities.
One time early on, the band got an $800 offer to play the Village Underground in Manhattan. They didn't feel like leaving town, so they turned it down. And Ramirez learned a valuable supply-and-demand lesson about generating gig money.
"Why am I going to leave home when I've got everything I need right here?" she says. But, by refusing the gig, the Cobras suddenly became more attractive. "Just because we said no, it went up to $1,500.
"It does come down to pimp and ho. You can't sell yourself short, and you've got to believe in yourself. You should do things for two reasons: One, because they're fun and, two, because you're getting paid."
And, while Nagy says the band hasn't fared too badly on the road, touring can devolve into a roving netherworld. She relates one from a recent European tour:
"Because we kept changing time zones, I couldn't sleep. I would sleep for a day and then not sleep for two or three days. There was one day, I was like, 'OK, if I don't get some sleep, I'm going to lose my mind.' Someone gave us a bottle of Glenfiddich. I hadn't drank whiskey in years because it makes me insane."
But as the others were sleeping, the saucer-eyed singer hit the Scotch in an attempt to join them. "All I remember was taking the first swig out of a coffee mug. I don't remember anything else, but I guess I beat up every person on the bus that night. Everybody got punched or kicked or something."
The Cobras' music has been featured in lucrative commercials. Was there ever a philosophical debate within the band over this? "We love it," Nagy says. "I'd rather do a commercial any day than be on MTV or the radio. There's better music on commercials than on the radio these days. And I got no problem selling a product — especially one I use. I drink Coke, I drink beer."
The commercial windfall hasn't had a huge impact on the band's bottom line. As Nagy says, "I don't think it guarantees you anything but being able to pay your rent that month."
The band's work ethic — doing only the things they want to, and then at their own pace — sometimes creates problems. For example, this writer went to interview Nawara and Ramirez at a Cass Corridor bar, only to find — at the scheduled interview time — the lounge closed and nobody answering their phones. Finally, contact was made with drummer Kenny Tudrick. He helped with the required connections, but with a caveat: "You're dealing with the Cobras, where nothing is done on time or right. Just be patient."
The patience paid off, and Ramirez and Nawara surfaced at Honest John's, offering apologies and rounds. They were up all the night before killing a 30-bomb of beers.
"I've recorded two records with them. None of it was easy, and nobody was ever there on time, and nothing ever ran on schedule," Cartwright says. He's now a band member, but he retains his outsider perspective — largely because the Memphis native lives in Asheville, N.C. He sees the disorganization is an important part of the Cobras' gestalt.
"It was kind of difficult for me because I'm a stickler for being on time, punctuality," Cartwright says. "I can get kind of anal about things. At the same time, it's like a total challenge just trying to make it all happen. [The Cobras are] always kind of like a catastrophe," he adds, laughing. "That's what's special about it."
Cartwright tells of a recent Detroit trip he made to rehearse for a Cobras gig in New York City: "We were supposed to have these rehearsals, and I'd show up at Steve's house at the time we were supposed to rehearse. Not only was nobody else there, Steve wasn't even home. It happened on a daily basis."
So Cartwright secretly booked a Cobras show at the Belmont in Hamtramck. "I just thought if I can't get them to show up for rehearsal, if I book a show they have to be there. So I'll get to rehearse. It'll be in front of people, but at least I'll get to rehearse. And, actually, it was one of those things where it was just oddball enough that the show was great."
The Detroit Cobras are a quintessential band of misfits who, Ramirez says, were all runaways. The guitarist was an Army kid and moved a lot. Nawara once lived on an I-696 construction site. Cartwright bailed high school and left home at 17 to fend for himself. Tudrick's move was similar. Nagy's backstory can be particularly burdensome for her. The singer's previous job titles — stripper and butcher — have given rock writers readymade content.
"I guess people need something to glom onto," she says. "It's fine, whatever. Fate did what it did to me, and that's why I'm doing what I'm doing now. It's just shit I did; it really doesn't define me. Being a butcher defined me more than being a stripper, a fucking dumb whore. If they hadn't busted up our union, I'd still be cutting meat. I loved that job. It was fucking great." Then she adds, "When you're paying your own rent at 17, it's hard to get jobs."
In other cities, the Cobras are often called "Detroit badasses." Where did that come from?
"It's just a certain way that you walk when you don't want to be fucked with," Nagy says. "It's not that we think we're badasses or anything. We just don't want to be fucked with. When you're chicks living in Detroit alone, you can't walk down the streets like a fucking victim. It takes more effort to soften up than to try to be hard."
The loose-limbed strut is a part the band's appeal.
"None of them are rich kids from the suburbs," Cartwright says. "For the most part, they are damaged human beings. And that kind of reality is something that you can't cop, in a live situation or on a record. Why did people keep going to see Johnny Thunders even when he was terrible? You just can't get it anywhere else. To me, that's what it's about."
Friday, Oct. 7, at the Magic Stick, 4120 Woodward Ave., Detroit; 313-833-9700. With Reigning Sound and Loretta Lucas & the Larkspurs.
Brian J. Bowe is the editor of Creem magazine. Send comments to

[email protected]