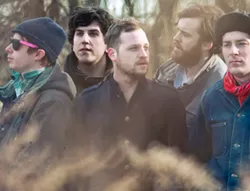 Dr. Dog recalls the '60s woodsy soul of the Band tucked inside Beach Boys harmonies before it's cycled through the ears of home-recording master R. Stevie Moore. Guitarist Scott McMicken gave us the five monomanias on why this Philly quintet loves heading back to Detroit. —Pietro C. Truba
5. The crowds: When we first started going, we were real afraid, because people said people in Detroit are real hecklers and aggressive, but I like how every time we go it's not really the case.
4. The history: I like the feel of Detroit's history, the way music seemingly kind of works with the present state of the city, there's a kind of urgency behind everything there.
3. The Magic Stick: I like that place a lot. When we play there, we get to have a few games of bowling before we play.
2. Garage rock: The Gories and the High Strung, all that kind of stuff. Jack White and, of course, Iggy Pop.
1. Motown: Nolan Strong & the Diablos kinda slipped through the cracks and just sort of resurfaced as a gem for me. They're one of the best things I've heard in a long time, easily at the top of my list.
Wednesday, Oct. 20, at the Crofoot Ballroom, 1 S. Saginaw St., Pontiac; 248-858-9333; with Here We Go Magic, Prussia.