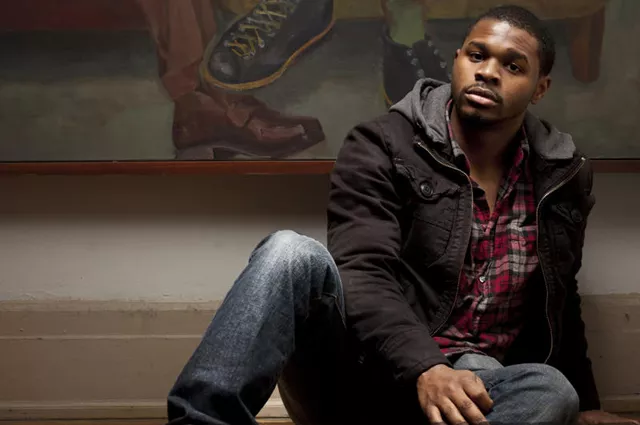 Simple fact: There's no shortage of ignorance in much of today's popular rap. True fans of can argue the point all night, but we know what we hear. That's a big part of why it's refreshing to see 25-year-old social worker and emcee JYoung the General (born Jahshua Smith) release a series of EPs that focus on giving up deeper meanings. No, this ain't rappin' arithmetic stuff to help you learn your times tables. JYoung's aiming to reshape people's thoughts on black history and why it shouldn't be relegated to a month-long attraction. His new EP, Black History Year: Installment Two, released last week, is didactic enough to sprinkle knowledge about the colors of the Pan African flag, the Black Panther Party, and explaining who Harriet Jacobs was, yet with help from Detroit producer Nick Speed, the songs contain beats and samples that make for a fun ride. As a graduate of Bates Academy and Renaissance High School, chances are he'd already learned more than a few things about black history as a kid, but he's encouraging folks to dig deeper. JYoung recently checked in with the MT about creating the EP.
Metro Times: Can you talk about the process of releasing this project?
JYoung the General: The whole purpose of black history year versus black month is to let people know you can learn anything related to black history whenever you open a book — and that's an all-year concept. We wanted it to be effective no matter whenever we did it.
MT: Does creating such an EP make you a militant emcee?
JYoung: Umm, I've always preferred being more militant ... although I think there's a negative aspect with any categorization in rap. I've always had liberal views and I let people know that I'm passionate. If I call myself a general and then get offended when someone calls me militant, that wouldn't make sense.
MT: Any favorite militant groups or artists in any genre?
JYoung: I've always respected Lupe [Fiasco]. I do like Dead Prez, I do, but you have to make relatable music. Lupe puts things as a conscious emcee where folks can understand it. System of a Down is a good one as well. I'd say Marvin Gaye too. I always felt he had that vibe, especially to come out with What's Going On? But that makes you ask, what is militancy though? If it enables people to want to be involved in what's happening in their community, that's militant.
MT: What's your fave EP track?
JYoung: I think "Slaves (the House vs. the Field)" featuring P.H.I.L.T.H.Y reverberates most with me. He was the one who envisioned the project with me. We bounce concepts off each other constantly. I wanted to tell the perspective of a field worker versus a house slave because history has separated the two. They're two different types of slavery. There's a lot of pain and emotion on there. We came up with the song together, wrote it together, I knew what sample I wanted Nick Speed to use, so I'd say that's probably one of the strongest songs in my career.
MT: What's the main thing you want listeners to take away after listening?
JYoung: I want people to realize that studying black history shouldn't be limited to black people. There are so many raw attitudes about race in this country. This is a chance for everyone to learn more.
Download Black History Year: Installment Two at tinyurl.com/Jyoungthegeneral.