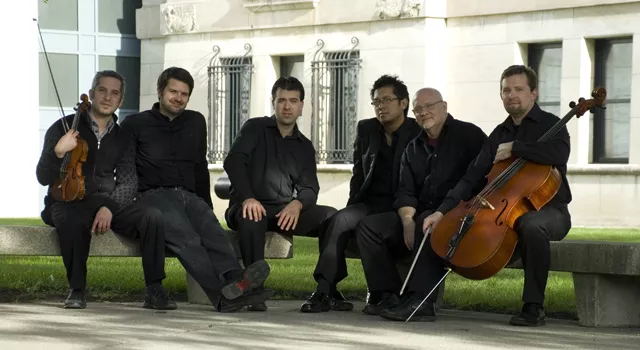 Like American musicians from Jelly Roll Morton to Harry Nilsson, the members of the Oblivion Project love an Argentine tango. So much so that as the Oblivion Project they play nothing but tangos, specifically tangos by the great tango modernist — instigator of the nuevo tango movement — Astor Piazzolla. Three members of the Oblivion Project share memories of their worst gigs and oddest offers.
Violinist Gabe Bolkosky:
1. When I was in college, I got a call from an agent representing a "public figure in the movie industry." I was asked to play solo Bach on my violin in a hotel room suite. A driver was sent to my apartment, and on the way there I was asked to sign a waiver saying that if I saw this "public figure" I would not go to the press. The gig paid well, so I signed. When I arrived at the room there was no one in it. But there were two bedroom doors, both closed. The agent told me to play for two hours and someone would come to get me when it was time for me to leave. I'm guessing the "public figure" was entertaining someone in one of the two rooms. I heard a few pleasant sounds come from the room but did not dare stop. It was pretty creepy.
Bandoneon player Julien Labro:
2. On a concert in Petoskey a couple years ago, my friend Dede flew from France to see the Oblivion Project. He was excited to sample typical American bar cuisine. We fed him deviled eggs, jalapeño poppers, potato skins, burgers and lots of booze. One of his hemorrhoids burst open, which resulted in a hospital stay and a hotel room that looked like a crime scene. He never lost his smile, had a great time, and flew nonstop back to France sitting on a donut!
Percussionist Alex Trajano:
3. At the end of a concert at the Charles H. Wright Museum, each band member's name was introduced for a bow. When as my name was announced I bowed and smashed my face into my hi-hat cymbals. It made a loud crash and as my head came back up my glasses were hanging sideways off my face. All I could hear was my family in the audience howling with laughter.
And two funny gigs I declined:
4. A private party for the Ferndale Meat Packers Association.
5. To play snare drum while being suspended in the air high above a Chrysler display at the Auto Show. Alone!

The Oblivion Project performs at 7 and 8:30 p.m. Friday, April 22, at the Detroit Institute of Arts, 5200 Woodward Ave., Detroit; 313-833-7900. The performance is free with admission.