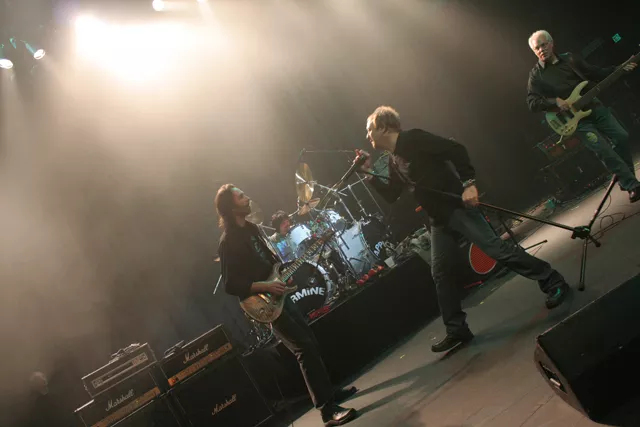 First of all, let's get something out of the way; Cactus guitarist Jim McCarty and I have a mildly sticky recent history because back in March 2010, I wrote a feature about another of his other projects, the Hell Drivers. I called them a "bar band," albeit the "Motor City's greatest bar band ever." Still, McCarty, a few band mates and a ton of the Hell Drivers' followers took offense. Hate letters flooded Metro Times and Facebook went berserk with pissed fans convinced it was sacrilege to refer to McCarty and drummer Johnny "Bee" Badanjek, as bar band guys. I disagree, incidentally, and stand by my feature; after all, the band was playing '70s rock in bars. Interestingly, the group soon ditched its "Detroit revue" format, changed its name to the Rockets, and so began a return. To be fair, the new Rockets kill every venue they play.
So when the reunited Cactus was booked to play Ferndale again, my first thought was, "Uh-oh, I'll have to interview this guy McCarty again." I was half-expecting an expletive-ridden vocal explosion when I phoned him. Truth be told, he was happy to close the book and move on. That's great because McCarty is the best rock 'n' roll guitarist ever to have come out of Detroit (even if his playing was judged solely on his work with the Buddy Miles Express), and Cactus is, without doubts, incredible. And look at it like this: McCarty recorded with Hendrix. He played with Mitch Ryder and the Detroit Wheels before Cactus, after which he joined Buddy Miles and then the Rockets. Shit, Les Paul recently won a Grammy for his cover of McCarty's "69 Freedom Special." You couldn't find a guitarist with a better rock 'n' roll pedigree, one with better cred, anywhere on earth. 
Cactus formed in late '69 by Vanilla Fudge duo Carmine Appice (drums) and Tim Bogert (bass). You'll note that both Jeff Beck and Rod Stewart passed through the lineup, which really settled down (as much as this band ever could) early in 1970, when McCarty was brought in alongside singer and fellow Detroiter Rusty Day (formerly of the Amboy Dukes). 
McCarty quit Cactus in late '71, and Day was soon fired, but in those two years the band recorded three albums (Cactus, One Way... Or Another and Restrictions) whose stature grows each year as new generations of kids discover them. Of course, as is so often the case with those who create music of real value — Cactus wasn't recognized in their time. But the heavy riffing and Appice's hammerhead drumming influenced a ton of metal and stoner bands (Monster Magnet, Kyruss, Nugent, etc.).
"It's surprising to me," McCarty says. "The band was together for two years. It was kind of an experiment that never really gelled for me. There were some great moments, but then there was a lot of banging heads together. Eventually I left because it was a frustrating experience for me. I figured that was it. We were together for two years, we did three albums and there were some nice things there. But then down through the years it started developing this cult following. I still get guys in various hard rock and even metal bands that cite Cactus as an influence. Van Halen loved the group. I remember talking to Eddie about it. I saw that Anvil movie a year or so ago. The two Canadian guys still trying to make it — they're standing in front of the house where they grew up, talking about their influences. He said, 'Oh yeah, a lot of Cactus. Who the fuck listened to Cactus?' I just fell in the aisle with tears coming out of my eyes."
McCarty remembers frustration leading him to quit Cactus back in '71. "I don't wanna point fingers, but Tim was a little too flamboyant for my taste," McCarty says. "There were a lot of occasions where it would seem to be three guys playing, and each guy was in his own separate little room, as opposed to a band playing together. After a while, it just became too frustrating."
Appice and Bogert recorded one further album, Ot 'N' Sweaty, without Day and McCarty, before calling it quits. In 1982, Day and his son were killed in a shooting by musician Ron Sanders. However, Cactus re-emerged in 2006 featuring McCarty, Appice, Bogert and former Savoy Brown man Jimmy Kunes on vocals. The band dropped the Cactus V album. "When we first came together, it wasn't a question of doing any gigs," McCarty says. "This fellow Randy Pratt is an extremely wealthy individual and a huge Cactus fan. He had a studio set up in his mansion on Long Island, and that's where we recorded the reunion CD. When Carmine and Tim were in New York with Vanilla Fudge he would call me and make me an offer I couldn't refuse. I would come in, and over three days we laid out a bunch of tracks and everybody just had a ball. It was a lot of fun. ... When Jimmy had done the vocals we put the CD out and it got very nice reviews. The band started doing some dates here and there — along the East Coast and down South. Then the shit started happening. We did a festival in Sweden and in the third song, Tim's bass amp blows up. They plug into the spare bass amp and that stops working. They had to plug into the monitor system, which was like a horror show. That sums up the whole Cactus thing. It became like a curse. It was either me a complete physical wreck or the equipment not working. We did the NAMM show, around 2007, and I've got Pat Travers, Warren Haynes and Joe Bonamassa on the side of the stage, and my equipment starts shorting out. It was beyond belief. Hopefully this time the equipment will be working right. I have a good feeling. When this thing is on, it's a great little band."
McCarty is convinced that the current lineup of Cactus does nothing to disrespect the memory of the much-loved original, despite now missing Bogert, who has all but retired, leaving just McCarty and Appice from the classic lineup. "Carmine is one of the greatest hard rock drummers in the world," McCarty says. "He's one of the guys who invented that style of drumming. It's not just a question of being good at it. He and John Bonham invented that school of drumming. So Carmine's just a lot of fun to play with. Jimmy is just terrific. The job he did on the reunion CD was amazing. I was missing playing with these guys. I've got the Rockets and I was having a lot of fun with them, but the Rockets are a high energy rock 'n' roll band whereas Cactus is a hard rock band. It's a different musical sensibility."
Carmine Appice agrees with his guitarist: "It is a great lineup, today. In the '70s the business was different. There was more jamming and it was less about songs. Jimmy Kunes is a better singer, but Rusty was a rebel and that gave Cactus this underground thing. There was no other bass player like Tim Bogert, but Pete Bremy [Bremy's first show with Cactus is in Detroit this week] who plays with Vanilla Fudge does a great job playing the Cactus parts now."
I couldn't resist asking McCarty which drummer he thinks is the most badass, Badanjek or Appice. The guitarist was annoyingly but understandably diplomatic. "They're two of the best," he says. "It's like comparing John Bonham to Charlie Watts; two entirely different schools of drumming."
Friday, July 22, at the Magic Bag, 22920 Woodward Ave., Ferndale; 248-544-3030, with the Muggs supporting.