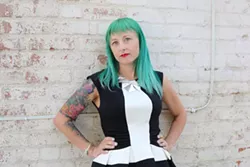 The Suicide Girls have to be careful. The group has been around for so long now that they're very nearly as much a part of mainstream culture as regular strippers. Then where will we be? (We're kidding, kinda.) The girls bring their Blackheart Burlesque show to Detroit on Dec. 1, and to celebrate, we spoke to co-founder Missy Suicide about what we can expect. — Brett Callwood

Metro Times: How long have the Suicide Girls been operating?

Missy Suicide: Suicide Girls have been around for 12 years. We've got five movies that have all aired on Showtime; three books that have all been bestsellers on Amazon; we were on CSI: NY; and Californication had a main character who was a Suicide Girl. Dave Grohl drummed with a Suicide Girls logo on his drum kit, and Paris Hilton was arrested at our five-year anniversary party.

MT: What was the original idea behind the group?

Suicide: If I had a time machine, I would have wanted to get Paris Hilton arrested … Seriously though, when we first started the site, it was a different time. There wasn't Friendster, MySpace or Facebook. People didn't really keep blogs or live their lives online like they do now.

The proliferation of tattoo culture wasn't quite as pervasive as it is today. There weren't any girls that didn't fit either the waif-thin supermodel, Kate Moss-type, or the Pamela Anderson busty type — those were the two extremes of the mainstream media's vision of beauty.

Women with tattoos and piercings weren't really celebrated anywhere as being beautiful. We wanted to create a place where they could be themselves. We took photos of them and we knew that they had so much to share with the world beyond their images, so we created a community around them where they could keep blogs and keep their fans updated about what was going on day-to-day in their lives.

We gave the fans blogs as well, and gave them access to meet one another and talk about their interests. It resonated with people and struck a chord. We've had a couple of hundred couples that have met on the site and gotten married, and a couple of hundred thousand friendships.

MT: How has it evolved?

Suicide: When we started the site, the exclusive outlet for the Internet was at your desktop. Now, people have the Internet in their pocket and community sites have really taken off. We recently re-launched our website for the first time in 10 years and updated it with a completely responsive design. The new site will work on your desktop, on your tablet, on your phone, on your Xbox, and it'll be a seamless experience for you.

MT: Tell us about the Black Heart Burlesque show

Suicide: It's a really fun, sexy, awesome show. There are a lot of pop culture references in there; it's not the traditional bada-bada-boom, old-timey burlesque. It's very modern, sexy and updated. The girls are professional dancers.

MT: What are your memories of coming to Detroit?

Suicide: The last time we were there, it was near Halloween, so it was super-creepy. The audience was really responsive. We have a couple of Detroit girls in the Suicide Girls, including Vivid. She's amazing.
The Suicide Girls perform the Blackheart Burlesque show on Sunday, Dec. 1, St. Andrew's Hall, 431 E. Congress St., Detroit; 313-961-8961.