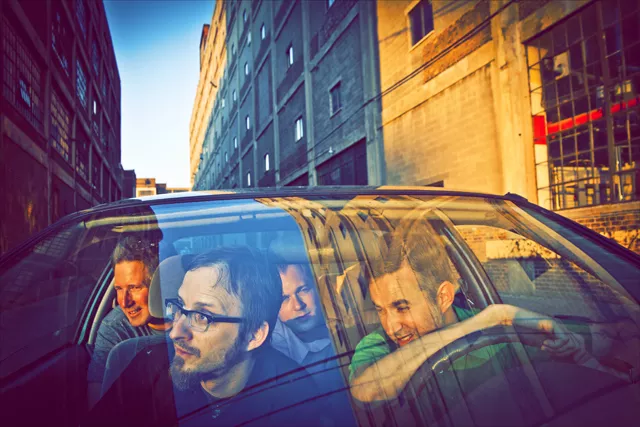 Most musicians can, perhaps reluctantly, tell you horror stories about their days in high school bands — the sort of in-development indie troupe or submetal group that parents pretend sounds good for the sake of their child's self-esteem, when in reality the music makes them want to fill their ears with cement. It's all very normal. That's how musicians learn and, hopefully, grow. However, in most cases, those bands are left to one side and, like the pictures in the high school yearbook, pulled out and laughed at from time to time for the purpose of cringe-inducing nostalgia.
Not so the Prime Ministers.
The band's name might have changed a few times in the beginning, but the core duo of Todd Wicks and Ned Coho has been playing together since high school and they are now in their late 30s. 
"We're super music fans — that's what brought us together in high school," Wicks says. "That's what kept it going. Ned is a super likable dude. He's the life of the party. Or he was. Now he's a dad."
The Prime Ministers officially came to be in '99, and the first CD, The Last Days of..., came out two years later. "We played as a three-piece for a few years, and we added Brandon [Malik] on guitar in 2005 maybe," Wicks says. "Jimmy [Irimescu] joined last year on drums. As the Prime Ministers, we've been playing shows since '99. We were the Prime Ministers by the time we played the first Blowout. Before that, we were Sensitive Clown, but there was confusion with ICP. They were enraged by it. People asked if we sprayed Faygo on people. When you think about it though, they are Insensitive Clown. Sensitive Clown was around '95-'98. Before that, we were a bunch of other bands. Stalking Buddy was one. Grimace was another. We would make these mixtapes and cut the picture of the Grimace character off of McDonald's cookies. We would slide that into a cassette cover."
The Prime Ministers are essentially a power-pop band, a rock 'n' roll group that revels in pop melody in the great tradition of Cheap Trick, Big Star and, to add an alt-twist, the Replacements, the Lemonheads and Superdrag. The sound comes naturally, as Wicks is a fan of '70s rock while Coho seems to favor '80s bands like the Cure and Duran Duran.
Wicks and Coho admit that their group has seen a high turnover of band members. "The typical band, if it doesn't find success after three or four years, it breaks up," says Wicks. "That didn't bother us that much. We just enjoyed what we were doing so much that we just never stopped. We built up a little discography. That's what we enjoy — writing songs and putting out our own albums and stuff."
"There are a lot of ex-band members that I guess did get frustrated," Coho adds. "But I guess we're die-hard. It's almost become a hobby. We still hope for success, but why would you give up something that you love doing just because it doesn't become your career?"
The guys believe that, besides their ability to put career ambition to one side, the fact that they didn't ever belong to a "scene" has aided their longevity. "Due to our age, we don't get out to see many bands anymore," Wicks says. "I think it helps that we've never been part of any scene. We've always been our own little thing. We're always just a little behind the curve — adding synth on the last album [2009's Compromiser] and adding the 'the' to the band name. There is good camaraderie, and I would say it's as much about the social thing as the music."
That playfulness between the guys is apparent when sitting with three (guitarist Brandon Malik didn't make it to the interview) of the four of them; they joke and play off each other like an old comedy act, like a rock 'n' roll Monty Python or something. That makes bringing a new guy in difficult, because they have to be able to slide into the social side as much as the music. "The music is just as important," Wicks says. "There were good friends of ours who wanted to join but they weren't cutting it. That was awkward. But it does have to sound good at the end of the day."
For Irimescu, there were challenges involved in joining a band that has been so established for so long. "It was interesting," the drummer says. "It's a situation that I have never gone into before. I've always started bands from scratch, with people that I've known or people from around the scene. It was kinda cool if slightly intimidating, thinking about whether I'll come in and fit into the camaraderie that already exists. But it was also cool because they have this huge catalogue of songs and they're great guys."
"We get in trouble for being self-deprecating a lot," Coho adds. "Our wives ask why we make fun of our own band. It's just funny."
To be fair, it really is. The absolute and total lack of ego is refreshing and very attractive, and the guys get away with it because the tunes are so strong. The influences remain fairly old, but the music doesn't sound dated. "I'm still stuck in the '80s and '90s," Coho says. "I don't hear anything new on the radio that I like. I tune in to sports instead."
"I keep up a little bit on new bands, what's on Pitchfork and stuff, but I'm really into rock bands with guitars from the '90s and '70s," Wicks adds. "The new stuff that I like is really just stuff that carries on in the vein of the Replacements, like Yuck [English indie band]. Rock that doesn't sound new. Lyrically, Morrissey is a huge influence."
Coho says that the Prime Ministers' best show so far was opening for comedy band the Dan Band [comedian Dan Finnerty] at the Royal Oak Music Theatre, "a joke band but not as cool as Weird Al. It was nice to play a big venue though, and for there to actually be lots of people there."
"We've been doing this for so long that we're almost conditioned for a not-big crowd or big response," Wicks says. "It's almost like, when a show is really good, it's extra fun."
Even when there is a smaller crowd, the Prime Ministers play as if the guys are headlining at an arena. They will undoubtedly be bringing it when they perform at Ann Delisi's Listening Party on Tuesday, Oct. 16, promoting the new "Magazine"/"VLP" single, even if the occasion is mildly alien. "It'll be interesting," Wicks says. "It seems like a dinner-type audience, so I don't know if we'll be too loud. I'm grateful that she's been playing our music on the radio. Little things like that keep us going. There will always be a little event like Ann Delisi paying attention, or the DIY festival, or Metro Times writing something good that keeps us going."
Glad to help. To finish though, we had to ask where that very British-sounding name came from. "We want to rule England," Irimescu says.
"It is confusing when people do a search online and find a lot of political sites," Wicks adds. "There's a Prime Ministers band in Ecuador too. Their songs are in clunky English but all their fans comment in Spanish. I don't know what the governmental system is in Ecuador, but maybe the name's more relevant there."
Brett Callwood writes City Slang for Metro Times. Send comments to [email protected].