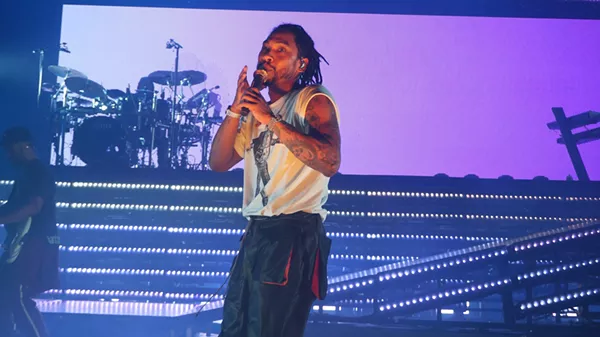 As expected, Miguel Pimentel offered an hour and a half of pure sonic ecstasy to a sold-out Royal Oak Music Theatre Friday night. But what was a bit unexpected was the revelation that Miguel is actually pretty fucking metal.
Backed by a full band and alternating between thrasher headbanging and smooth, sensual movements inspired by the King of Pop, Miguel gracefully melded the worlds of rock, pop, and R&B — and reaps the star power of being royalty in all three.
When Pimentel entered the stage, the intro to his opening song, "Criminal," was masked by the elated screams of teenage girls and grown-ass men alike. Surrounded by clouds of smoke and sending chills through the audience with every last hip gyration, Pimentel appeared less like a performer and more like a sex demigod. It helps that his voice maintained a sinfully perfect pitch through every microphone hump, crotch grab, and swoon-inducing dance move.
There wasn't a moment throughout the performance that Pimentel didn't have the audience hanging on his every word — he could make singing about taxes sexy. In fact, there was a brief moment where Pimentel breached his strictly-sex protocol to get a little political. Bringing his younger brother and collaborator, Nonchalant Savant (Nicholas Pimentel) on stage, Miguel attacked the power of big corporations.
He introduced the song saying, "The way our laws and bills are passed are influenced by multi-billion dollar corporations. I don't like that shit. So we wrote a song about it." The song's main lyrics were "fuck you, pay me," which the Pimentel brothers had the audience repeating in almost a ritualistic trance. While it was unclear which laws or corporations the Pimentels were directly addressing, it was endearing to see them momentarily step away from their erotic personas to stand up for what they believe in.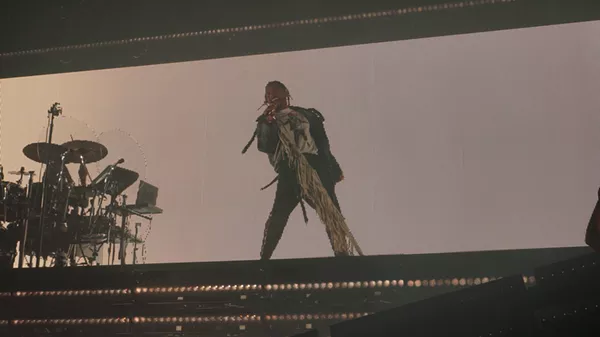 Getting right back to business, Miguel tugged on his Mexican roots with "Caramelo Duro," a song from
War and Leisure
sung mostly in Spanish. The song allowed Miguel to further flex his wide range of dance capabilities as he fell into sexy Bachata-like body rolls. The show went on in all it's sensual glory, pausing only for a moment when Miguel praised Detroit producer J Dilla as his favorite producer of all time.
Miguel teased the audience with a faux ending, leaving the stage after his Prince tribute song, "Pineapple Skies," but returned to thunderous applause to perform three of his most popular songs, "Pussy is Mine," "Adorn," and his latest album's lead single, "Skywalker."
"It don't feel so cold in the D tonight," Miguel said. No, no it didn't.
Get our top picks for the best events in Detroit every Thursday morning. Sign up for our events newsletter.