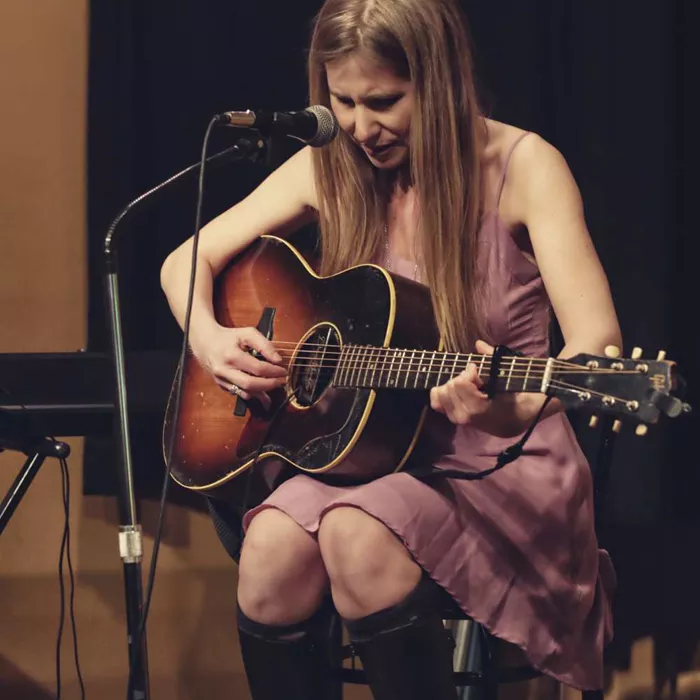 Michelle Held invites us to take a seat in her Detroit loft apartment near the Russell Industrial Center. She offers us a coffee and, when we decline, she says, "Good, I'll drink it all." She sets herself, steels herself in fact, and off we go.
Held is relatively new to Detroit's ever-blossoming singer-songwriter scene, a folk singer who sets her stall out as the most honest of artists. She hopes that other people will like what she creates, sure. She even has ambitions to be able to support herself solely through music. But if that doesn't happen, if she writes as she wants to write and spends her whole musical career strumming and singing at open mics and folk shows around the metro area, she'll be happy enough.
The theme of confidence runs through Held's lyrics. She has a unique vibrato voice, a distinct warble, that only adds to her charm. Like her heroes (Bob Dylan, Leonard Cohen, et al.), her voice is instantly recognizable, but a music teacher might tell her that she's doing it wrong. On plenty of occasions when she was younger, she was mocked because of her voice and she learned to hide it. Now, she embraces that which makes her different.
Held works freelance in film production houses for short bursts, earning as much money as she can, before effectively holing herself away in her apartment for a period so that she can focus completely on her music. She stays locked away while working on a song, scribbling it down on paper and then recording it on her laptop before, bravely, posting it on Soundcloud in order to receive feedback.
"I come from an acting background," Held says. "An ex-boyfriend bought me a guitar maybe 10 years ago. It sat in my living room forever. One day I was standing there looking at it, and I looked at him and said, 'You know I'm going to master that one day.' He goes, 'I have no doubt.' I'd pick it up, get frustrated and put it down. One day around 2008, I started messing with it and then summer 2011 I wrote my first song, called 'Goddamn, I Don't Know.' I used to think writing was fairly difficult until I wrote that song, and I realized all I need to do is tell the truth."
Throughout the interview, her eyes dart from side to side as she constantly searches for the right words, or strives to unearth memories. She unnecessarily apologizes more than once for talking too much, betraying the fact that, despite her time served in the very L.A.-ish film industry, she's a nervous soul. Her humility is charming.
"I just write from my heart," she says "I still have my dad's old foot locker from Vietnam — I keep all my music in there. I still have the five sheets of white paper with my first song scribbled out on. I lived in Birmingham and I wrote all my songs in this little apartment. I was really depressed. I was having a hard time. You get to this point where you're like, 'What the hell am I doing.' Everybody gets to that point. Trying to figure out your purpose, what you're here for."
Held has a hard time describing her music because, she says, she doesn't want to pigeonhole herself. There's nothing really complicated about it though; Held plays gentle folk with oft scathing lyrics. It's her voice that adds the X-factor; that little bit of welcome strange.
"I remember kids laughing at me in elementary school when we were sitting in a circle," she says. "So I just learned to hide it. I can do it or not do it. A girlfriend told me she liked it, so I started embracing the uniqueness of my voice. I took a handful of voice lessons, and [my vocal coach] helped me with some technique things. I didn't even know the high notes I could hit, because I didn't have the courage or the confidence. I cried at every lesson. That was the turning point, where I was like, 'Fuck it.'"
Held loves her home. She has great affection for Detroit, but she doesn't see the city through rose-tinted glasses. She knows that this is a hard town to live in, certainly a difficult place to make a living through art. "I have a lot of friends in L.A. and I've thought about moving out," she says. "I was depressed for two years in my apartment, writing and crying. I thought I was going to move. I have a song called 'Something About This Town,' but there's so much heart, soul, and grit. I have so much support here now, it's crazy. You can't be fake. Once they're there for you, Detroit is so loyal."
This weekend, Held plays as part of the Celebration of Music concert at the Trumbullplex, organized by another local singer-songwriter, Audra Kubat. "Audra built this whole show around Joy Ike because she's touring from Pittsburgh," Held says. "I wasn't familiar with her, but I listened to her music online and she's wonderful. So Audra hand-picked people she thought would work well with her music."
So does Held believe that women in music still face obstacles that their male counterparts might be oblivious to? "I'm sure there are. I haven't experienced it yet," she says. "People always say that the music business is a tough business, but I don't care. I'm doing what I love. Even if my music never goes anywhere, I don't care. I'm just going to keep doing it. I'm hoping eventually I can start supporting myself with my music. It's hard to make money here with music, unless you play covers. A lot of it is about the writing for me, and I love creating something out of nothing."
Held takes another sip from her coffee, looks up, and adds, "Somebody once told me, 'I was almost embarrassed listening to you — it was so touching.'"
For Held, that's as high as praise can reach.
Michelle Held plays with Eleanora, Joy Ike, Audra Kubat, and Markita Moore at 7 p.m. Friday, May 16, at the Trumbullplex, 4210 Trumbull St., Detroit; trumbullplex.org.