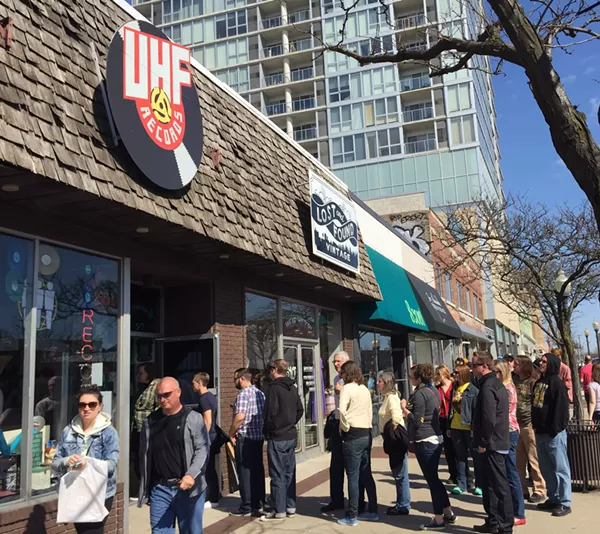 Like some sort of Olympic sport, preparation is key to getting the most out of Record Store Day (Saturday, April 13), now in its 12th year of celebrating independent music shops. 'Tis the season for vinyl freaks, and to be honest, shit can get intense, with long lines, greedy bin diggers, and "don't take it out of the sleeve!" elitists.
This year though, metro Detroit's record shops are counteracting the madness with a more zenlike approach. Many locations have opted out of booking live performances as to better serve customers, and others have implemented organizational systems to make sure everyone gets what they need — even if that means limiting coveted Record Store Day exclusives to one of each title per customer.
So take a deep breath. We've done the heavy lifting. Here's a list of participating local record stores, many of which have placed special orders to stock limited-edition Record Store Day releases for your pleasure. (Please note that some of the times listed are special hours for Record Store Day 2019 and do not apply to regular Saturday hours.)
Now, Namaste out of our way.
Dearborn Music
22501 Michigan Ave., Dearborn; 313-561-1000; dearbornmusic.net. Open 8 a.m.-9 p.m
With 50,000 titles in stock per usual, this year, Dearborn Music will offer RSD sales of 20 percent off on CDs, as well as all new and used vinyl. As far as RSD exclusives go, Dearborn Music will offer releases from the Art Ensemble of Chicago, Captain Beefheart, Courtney Barnett, David Bowie, and more. Remember: Dearborn Music enforces a strict "one of each exclusive release per customer" policy, so behave.
Detroit Threads
10238 Joseph Campau Ave., Hamtramck; 313-872-1777; detroitthreaadsstore.com. Open 11 a.m.-10 p.m.
As with last year, Detroit Threads will host Detroit Techno Militia and vinyl-spinning DJs throughout the day. The family-friendly event will also offer a handful of RSD exclusives and local releases. Oh, and there will be free barbecue outside the shop all day.
Electric Crown Records
5225 S. Saginaw Rd., Flint; 810-293-1727. Open 8 a.m.-5 p.m.
Metro Detroit gets plenty of love come Record Store Day, but our neighbor to the north has its own cache of vinyl gold. Enter Electric Crown Records, which is celebrating its second RSD with event-exclusive releases, a performance by Josie Pace at 1 p.m., doughnuts for the early birds, and an afterparty at Churchill's.

Encore Records

417 E. Liberty St., Ann Arbor; 734-662-6776; encorerecordsa2.com. Open 11 a.m.-8 p.m.
In addition to Record Store Day releases, Encore will be selling a stockpile of thousands of releases they have been sitting on, including many that are still in their original shrink wrap.
Flipside Records

414 E. 14 Mile Rd., Clawson; 248-585-4090; shopflipsiderecords.com. Open 9 a.m.-8 p.m.
In addition to Record Store Day releases, Flipside will offer 50 percent off on used CDs and DVDs, and 20 percent off of other used items. Radio station 106.7 WLLZ will be in house, and there will be free candy and soda pop.
Flat Black & Circular
541 E. Grand River Ave., East Lansing; 517-351-0838; flatblackandcircular.com. Open 10 a.m.
Since 1977, Flat Black & Circular has served East Lansing's crate diggers with their bargain-priced selection. This owner-operated shop will host live sets from Wally Pleasant, Midnight Organ, Cathy & the Craggs, and Misfits tribute Children in Heat. Sweet treats will also be served.
Found Sound
234 W. Nine Mile Rd., Ferndale; 248-565-8775. Open from 10 a.m.
Remember what we said about zen? Well, Ferndale's Found Sound is heading the call for calm after last year's Record Store Day involved a noise complaint and a band on the roof (we see you, Sister of Your Sunshine Vapor). This year, Found Sound is keeping it simple with a handful of RSD releases.
Hello Records
1459 Bagley Ave., Detroit; 313-300-5654; hellorecordsdetroit.com. Open 10 a.m.-7 p.m.
Hello Records might not have exclusive discs, but each year they roll out their legendary 50 percent off sale, which spans all used records and all of the shop's $1 records are 3 for $1. They even drudge up some of their inventory not found in store and set up tents outside. They've also expanded their hours for the occasion. Did we mention DJs and free beer?
Melodies & Memories
23013 Gratiot Ave., Eastpointe; 586-774-8480. Open 9 a.m.-9 p.m.
For RSD 2019, this family-owned shop is focused on the late, great J Dilla. Starting at noon, Dilla's Delights will serve up dozens of doughnuts. Special guests include Dilla's Uncle Herm and some of the late producer's musical family. DJ Butter and DJ King David will be spinning throughout the event. There will also be painting raffles, refreshments, and a photo opportunity will go down in front of the shop at 5 p.m. Per usual, RSD exclusives are limited to one title of each per customer.
Peoples Records
1464 Gratiot Ave., Detroit; 313-831-0864; peoplesdetroit.com. Open 11 a.m.-7 p.m.
They might not have Record Store Day releases, but they're keeping it old school with DJs and refreshments. Don't forget to peep their $1 records for a steal you couldn't get anywhere else.
Record Graveyard
2610 Carpenter St., Hamtramck; 313-870-9647. Open 11 a.m.-7 p.m.
Don't let the name fool you. Hamtramck's Record Graveyard is alive and flush with soul — and plenty of jazz, blues, Motown, and polka. This year, they'll offer up a 20 percent off sale.
Ripe Records
15212 Charlevoix St., Grosse Pointe Park; 313-469-7479; riperecordsdetroit.com. Opens at 10 a.m.
Established last year, this husband-and-wife-owned and -operated shop has already found its groove. Offering a selection of new vinyl, players, stereos, and receivers, this Record Store Day finds Ripe Records slinging a whole slew of RSD exclusive releases.
Slick Disc Music
1625 West Rd., Trenton; 734-692-1881.
This year, this cozy, mom-and-son-owned Downriver spot will offer 400+ limited-edition vinyl releases and swag for the early shoppers. (If you're reading this pre-RSD, they're making room for Saturday's madness with some overstock sales on 33s and 45s.)
Solo Records
30118 Woodward Ave., Royal Oak; 248-549-0581. Open 9:30 a.m.–6 p.m.
For its ninth Record Store Day, Solo Records is continuing with tradition in raffling off everything from DVD sets, T-shirts, and, at the end of the day, a major big-ticket item — a phonograph. They'll also have some official RSD 2019 swag to give away in addition to selling a limited number of event-exclusive releases.
Stormy Records
13306 Michigan Ave., Dearborn; 313-581-9322; stormyrecords.com. Open 11 a.m.-8 p.m.
So far, this Dearborn shop has some surprise sales planned and Record Store Day exclusives have been ordered.
Street Corner Music
26020 Greenfield Rd., Oak Park; 248-967-0777; streetcornermusic.com. Open 8 a.m.-8 p.m.
This Oak Park shop is kicking off 2019 RSD with the fourth installment of its Early Morning Concert Series with the sounds of David Shettler (Viands, Moon Pool, and Dead Band) and coffee and record-themed cookies. They'll also be stocking bins with 1,200 fresh used records and have a rotating roster of DJs in store to set the mood.
Third Man Records Cass Corridor
441 W. Canfield St., Detroit; 313-209-5205; thirdmanrecords.com. Open 10 a.m.-6 p.m.
This year, Jack White's bumblebee-colored storefront will offer up some unique RSD specials for serious White Stripes fans, including a super-cute box set of three-inch singles and a special "triple inchophone" to play them on. Non-White Stripes related releases include Captain Beefheart's Trout Mask Replica and Griot Galaxy's Kins.
Trax-N-Wax
26535 Harper Ave., St. Clair Shores; 586-218-8188. Open 8 a.m.-8 p.m.
In addition to RSD releases and a massive sale both inside and on the sidewalk (weather permitting), Trax-N-Wax will also host a meet-and-greet with Psychopathic Records' Juggalo ABK. They've also got a live music lineup of 13 bands, including Girl Fight, Motorkam, VNESSWOLFCHILD, My Drowning Youth, and Metro Times' "Band to Watch" Career Club. If that wasn't enough, there will be free food, so y'all can carb-load before you haul away your vinyl load.
UHF Records
512 S. Washington Ave., Royal Oak; 248-545-5955. Open 9 a.m.-8 p.m.
In addition to RSD exclusives, the UHF gods will haul up some rare used vinyl for the RSD masses. There will also be ticket giveaways and contests.
Underground Sounds
25 E. Liberty St., No. 249, Ann Arbor; 734-327-9239; store.ugsounds.com. Open 9 a.m.–9 p.m.
This Ann Arbor mainstay will offer up a slew of RSD exclusives, all of which are limited to one of each title per shopper.
Village Vinyl
5972 Chicago Rd., Warren; 586-838-4992. Open at 8 a.m.-8 p.m.
This Warren shop has more than Record Store Day to celebrate. This year marks Village Vinyl's two-year anniversary, and with that comes a special celebration sale with RSD exclusives, 20 percent off on select items, and 10 percent off everything else.
Weirdsville Records
61 Macomb Pl., Mount Clemens; 586-468-2665; weirdsvillerecords.com. Open 9 a.m.- 8 p.m.
All used vinyl, CDs, cassettes, DVDs, and guitars will be 20 percent off. Live performances by Emma Lee, Electric Bagels, Those Hounds, and Slot Rods will start at noon. They'll also be serving up free coffee and cookies so you can stay caffeinated while you shop.
Get our top picks for the best events in Detroit every Thursday morning. Sign up for our events newsletter.