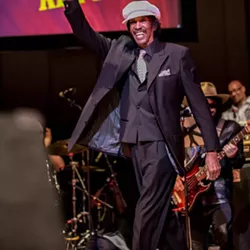 Come celebrate the legacy of the Motor City with icons of Detroit soul music, Northern soul, and Motown. Featured acts include "the Detroit soul ambassador" himself, Melvin Davis, legendary vocalist Pat Lewis, heavy-hitting Motown artist Carolyn Crawford, Undisputed Truth/Fabulous Peps lead singer Joe "Pep" Harris, and LMT Connection featuring Leroy Emmanuel of the pioneering funk group the Fabulous Counts.
These Rhythm & Blues Music Hall of Fame inductees will be joined by expansive live ensemble the Rock Mill R&B Band. Between sets, classic soul and deep cuts will be played by Jay Butler of WDET/WJLB fame, as well as Drew Schultz, who is a sideman/songwriter for a seemingly endless list of classic soul icons. This unbelievable night of live music will draw from the golden era of Motor City music, while highlighting the undeniable fact that Detroit is still a massive hotbed of soul, rock 'n' roll, and rhythm & blues.

Monday, 8/29; Doors @ 8 p.m.; 660 W. Baltimore St., Detroit; northernlightslounge.com; $15.