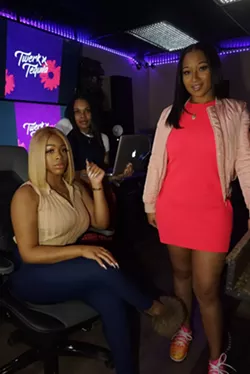 As a member of Detroit's powerful APX Management team, event producer and go-to girl Lauren McGrier makes sure to get the job done. After nearly six years of working with Joe Robinson, founder of APX Management, McGrier has made herself a necessity to the group and figure within the city as a go-getter and self-made entrepreneur.
And now, McGrier is making her hometown her dance floor.
Being a woman of many hats, McGrier has also launched Twerk x Tequila, which returns to El Club on Cinco de Mayo and has become an instant favorite — initial ticket sales for the event sold out in less than 24 hours. Beyond that, McGrier, who is from the east side, says she hopes to use the event to put other women in a position to get noticed and win.
"I want to partner with other women and bring them on board," she says, putting those words to work by partnering with local women-focused businesses such as I Wear Glam and Brooklyn Body Butter for giveaways and other placement. And with Twerk x Tequila on its third run, the demand has also allowed McGrier to hire local women to control social media, branding, and more under her umbrella of opportunities.
"I had women around me that were great, so it was easy for me to just trust them to help me with this," she says. "The same thing will apply when things get bigger."
Twerk x Tequila will also bring Alana Easterling, aka Lana LaDonna, APXs' only female rapper, to the forefront as the event's host. Equally known for her vibrant personality, the artist will control the energy as the voice of Twerk x Tequila.
Generating buzz around her name, LaDonna of Detroit's west side has managed to stay true to herself and her dreams, which reach far beyond music. "It's footsteps on the moon, so the sky isn't the limit," she says when asked what is next for her career.
Using her success in music, LaDonna plans to launch multiple businesses within Detroit to further invest in the community.
"I'm educated, but I'm still very much from the hood," she says. "I'm a representative of both worlds. I got Detroit on my back, my family on my back, and it's a new person in town."
Standing as the in-house DJ for APX artists LaDonna and Supakaine is Mariah McMikel, aka DJ Mars, who has secured a set among three others at Twerk x Tequila. Coming from the east side of Detroit, Mars has studied the art of being a disc jockey, using her roots and family as motivation to exceed heights in the business. "I want to learn everything, everything the [male DJs] do, I want to learn it," she says of her skill set and goals of becoming a top female DJ worldwide.
Establishing their own model for ambitious women, all three women of APX share the same mentality of opening doors for women on global levels, but primarily in their hometown. Their overall feelings toward the boost of energy in Detroit are that of great admiration, focusing on community building, expansion, and remaining true to self. The city has been experiencing a boost in the economy from women like Melissa Butler, founder of The Lip Bar, and Megan Ward, founder of Femology. Regardless of industry, experience or interests, women are building an unshakable foundation for the future girls of Detroit.
"I don't think anything can be successful without women," LaDonna says.
"I'm so proud of all the women right now in Detroit," Mars says. "It's a lot of women going hard and putting on for Detroit."
As far as keeping the momentum going and grooming future girl bosses, Lauren affirms: "True leadership is sharing the wealth."
Twerk x Tequila starts at 1 p.m. on Sunday, May 5 at El Club, 4114 W. Vernor Hwy., Detroit; elclubdetroit.com. A limited number of tickets will be available at the door for $30. You can follow these women on Instagram: @connectwithLo, @LanaLaDonna, and @amarsproduction.
Get our top picks for the best events in Detroit every Thursday morning. Sign up for our events newsletter.