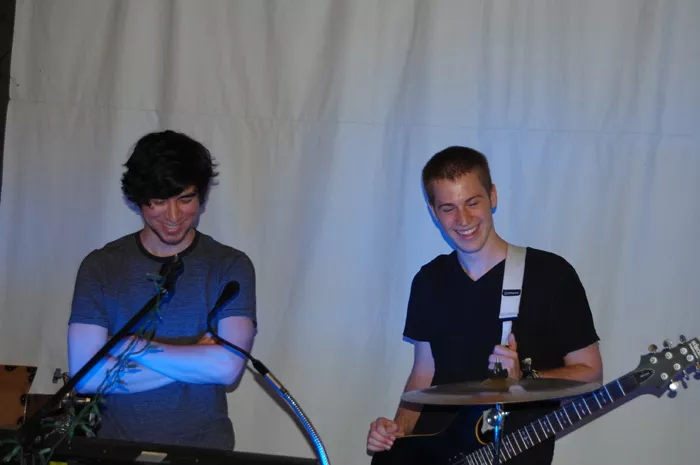 Trying to find Nigel & the Dropout's rehearsal space, the venue for this interview, turned out to be a hell of a mission. The guys, Nigel Hemmye and Andrew Ficker, provided us with an address, and Google Maps gave us directions, but when we arrive all we can see is the Recycle Here! building on Holden Street in Detroit. We wander around and find some great art (including a giant dinosaur apparently made of trash), but no band. Then a door opens, seemingly out of nowhere, and Hemmye pops his head out.
It's a great space; hidden at the back of the building as it is, nobody walking by would have any idea that musicians are rehearsing in there. As we enter, clear plastic strips flap down, an indication that the place was previously used as a meat packing plant. Signs of creativity are everywhere — artists paint and sculpt, and musicians play. "The Infatuations practice just there," Hemmye says, pointing. "The Science Fair uses the same room as us."
Nigel & the Dropout is an interesting couple of guys. The "Nigel" is obviously Hemmye, while Ficker is the "Dropout," a tribute to the fact that he left high school during his junior year to focus on music. "I felt like I was wasting my time," Ficker says. "I didn't really know at the time how big of a decision it really was. This couldn't have been possible if I hadn't done it. I started learning guitar after I dropped out. That sparked this, so we went with the band name the Dropout. My parents freaked — they totally did. My mom's got her Ph.D., so she's the opposite of a high school dropout."
The band formed in high school out of the ashes of other bands, but the two men evolved into a duo as their bandmates left town to go to college. "A band dissolved and then [Ficker] ended up coming and we were some kind of four-piece, and then everyone went off to college and we didn't," Hemmye says. "We were figuring out for a long time what we could do. We still wanted to make music and be a band, but how? … We don't have a drummer so we were trying to figure that out for a long time. Eventually, after accumulating so much stuff, it made up for the other band members."
Meanwhile, life went on for these two guys. Both from Farmington Hills and both 22, they've been scrambling around to make a living since leaving school, doing whatever it takes to subsidize their music. Until recently, Hemmye was working at the Whitney, a job he had held since moving to Detroit in November. He recently quit and is now in between jobs. Ficker is, in his words, a "legal medical marijuana caregiver." That seems perfect.
Before this project, Hammye was in the Science Fair for a couple of years, while Ficker was in an ill-advised Led Zeppelin cover band. But that's it — that's the total of their pre-Dropout experience. But then, that's entirely appropriate because these two men belong in a band together. Few other people would be able to make sense of their vision, resulting in a sound that they don't want to attempt to describe — though we have to try.
While rooted in rock, the use of loops and all manner of electronic gadgets is vital to the sound. There's an experimental feel to the alt-electronica, and you get the impression that the two musicians are kind of flying by the seat of their pants — that they don't necessarily know what's going to happen from one show to the next. Ficker will play a guitar riff, then it'll be looped, Hemmye providing the beats.
"I really don't want to say I make beats, because that has a connotation that I don't want to be associated with, but that's really what I do," Hemmye says. "We're just doing what sounds good to us. I'll leave it up to whomever wants to interpret it. It's a lot harder to market yourself that way, though. We've been trying to play shows to push it. It's really hard to approach anyone or have someone approach you when you can't say what you sound like. I want to use words like indie and electronic, but it's so vague. You just want them to listen, really."
Because of the heavy electronica slant to the music, as well as the extravagant light show, it would be easy to picture Nigel & the Dropout on a Movement Festival bill, as well as playing with some indie bands at a dive bar. Ficker sort of agrees. "The only reason I would say yes is because of the light show — it caters to the electronic, drugged-out people," he says. "I've been to Movement, and that's usually my favorite thing — how crazy they do the lights. It's a production. We cross a weird line with the DJs. I'd love to play Movement, but selling it to them is a little bit hard."
The guys throw themselves into their performances; a Nigel & the Dropout show is a real experience. It's not particularly surprising, however, to learn that Ficker pretty much makes up the lyrics on the spot. "I just spit-ball in the moment," he says. "I forget about lyrics and I'm reciting these words. I make up something on the spot. I know what I felt when I wrote it, and what I feel about it now. But I try to be as vague as possible and let everyone come up with their own meaning."
"The inspiration comes a lot from the technology that we use — the way the signal's going through our stuff," Hemmye adds. "Maybe there'll randomly be a sound that we totally weren't prepared for. It'll just somehow sneak in and it works. You get a new piece of equipment, and there are all these knobs. There's a new song."
The band, which already has three albums and an EP out, is currently working on a fourth full-lengther. "We released the first album before we'd even performed," Hemmye says. "We wanted to record music and we did, and then we called it an album. Then we decided that we should learn to play it live. It's not a traditional band approach — if there is one. It's nostalgic to go back and listen [to the first record]. We've gotten really good at production compared to when we started. Everything's tighter. We're a lot more experimental. There's more of a process, I guess."
That's great, but that tightness, that process, doesn't help when you're playing a show and somebody from the audience decides to disrupt things. The best-laid plans and all that. "Our worst gig was our very first show," Hemmye says. "It was at the Berkley Front. There was this woman there who may or may not have been on drugs. She was sitting down in front of the stage. She started sprawling out on the floor, feeling the floor out which is great. Eventually, she came up to the stage and we were in the middle of playing a song. She hugged me, and then hugged Andrew, and then got hold of a microphone mid-song and started yelling, 'I love these guys,' as loud as possible. She's feeling herself the whole time. She hops on the drum set and starts hitting things. No one stopped her. I remember finishing the song and saying into the microphone, 'Really? Are you serious?'"
Things could only really get better from there, and they did, although the guys admit that they do fuck up fairly regularly. "I don't think we've had a perfect show, and I hope we never do," Hemmye says. "We pride ourselves that we don't use laptops. We can make mistakes — we can fuck up. It's a juggling act, and we take pride in that."
"We're pretty critical of ourselves," Ficker adds. "We use a lot of loops, and things can get really messy if things are just a little bit off. If I mess up a lick and then loop it, you keep hearing that mistake. The mistakes are really forever. The eight seconds where I'm doing a loop have to be perfect or it's really obvious."
Nigel & the Dropout is a great example of what makes the current vibrant Detroit music scene so exciting. Nearly impossible to put in a genre box, the guys are always looking to do something new. And yet, they're really not out of place on any local bill. Hemmye says that there are good and bad things about being a Detroit band. "Places like this (the rehearsal space) — this is why it's really great," he says. "Getting people out to shows is a lot more difficult. Public transport is a factor. People get sketched out and worried that they'll get shot."
This weekend, the band plays at the Loving Touch in Ferndale. "It's our first weekend playing at the Loving Touch, and it's a free show so it'll be easier to pull," Hemmye says. "I'm excited to play the venue. Nothing crazy planned. We've got a new song we haven't played yet. To make it fit in with everything else, I want to have all the lights synchronized — make it really cool. It can be a bitch to program, because I feel like other bands, when they have a light show, they have a guy in the back pushing buttons, whereas we have it hooked up to our gear and pre-programmed, so we're playing the lights like an instrument."
Lights, unpredictable loops, and crazy fans — what more could you possibly ask for?
Nigel & the Dropout plays with Citizen Smile, the Sound Logic, and Tart on Friday, June 13, at the Loving Touch, 22634 Woodward Ave., Ferndale; 248-546-3644; no cover.