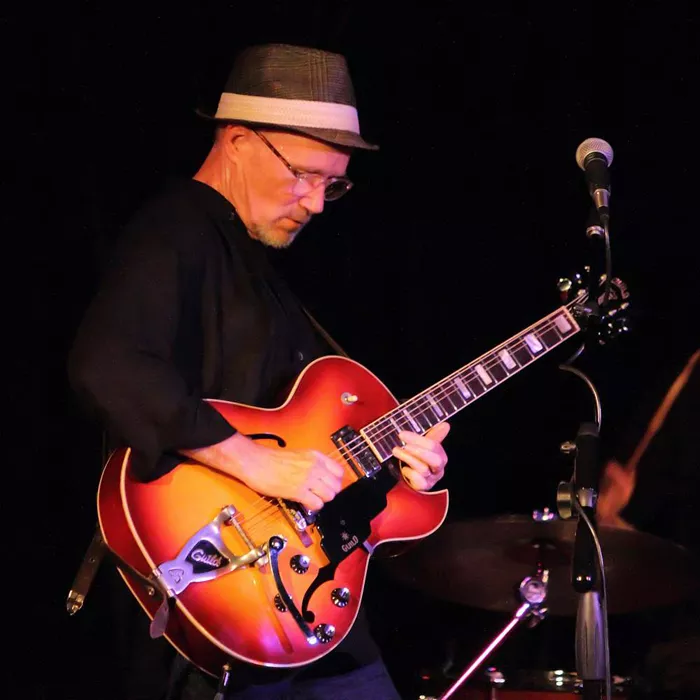 "I Don't See You Laughing Now" is an earnest rock ballad sweetened by Marshall Crenshaw's melodic croon and resonating guitar. Released in late 2012, it was the first in an ongoing 6-EP subscription series that sees him release a new single on vinyl every six months, with one cover song and an alternate version of one of his many past recordings. Most remember Crenshaw for his breakout hits in the early '80s ("Someday, Someway," "Whenever You're on my Mind"), but his work has evolved beyond catchy power-pop into more eclectic blends of soulful roots rock, still stitching sweet melodies and indelible choruses.
Crenshaw, the veteran singer, songwriter, guitarist and producer, is nominated for a Detroit Music Award (for Outstanding National Single) and will be honored at the 23rd annual ceremony this week, where he is also scheduled to perform live. And he's got plenty to say about jazz and punk too. Let's hear it from him.
Metro Times: When you were growing up, getting into music, how influential were Detroit-area bands at that time?
Marshall Crenshaw: I lived there until I was 23 years old. My dad was a rock 'n' roll enthusiast, which was very peculiar for somebody of his age group back then, but there was always the rock radio station on, all my life, and that engaged my imagination. I noticed a trait among people from Detroit — an acute sense of the absurd. I was kind of a cranky kid growing up, but the thing in my life that made sense was music. I was obsessed with music, that's all that filtered through. I saw the Stooges at the State Fairgrounds in '69 at this thing called the Rock & Roll Revival.
MT: And, we noticed that, after the passing of Stooges drummer Scott Asheton, you devoted one of your recent radio shows (Bottomless Pit on WFUV-FM) to recordings of his work. Do you make an effort to represent and promote Michigan music?
Crenshaw: It does go that way on my radio show. Something comes up Detroit-related and I'll talk about it. I just loved [the Stooges'] music. Listening to all that stuff on the radio that night, I thought, to some extent, this is like the ultimate rock music, you know? Seeing them, back then, there was just absolutely no way you could imagine or prepare yourself for it. It's primitive but also cerebral. Iggy's obviously extremely intelligent, and that's part of the music. It's physical and visceral; there was crudeness to the music, but also smartness.
MT: Ingesting all of this hard rock, the crude stuff people would call garage rock, it's interesting your first record leaned so strongly in the direction of pop.
Crenshaw: Well, that's a tough one. I kinda bristle when anybody uses the word "pop" when talking about my stuff. I hate the idea of my stuff being shoved into some little subcategory. My first album is only one record that I've made. This is the way it works, you get this four-year window of opportunity, if you're lucky, with a flurry of media attention, but you can't expect it to last. I realize some of my stuff is obscure, but that first record's one little time period of music that I made, just a fraction of what I've done.
MT: The music you've since made has evolved substantially. Can you talk about other influences?
Crenshaw: There's really an eclectic range with my stuff. If I say I love and respect the Stooges, it doesn't mean people hear my stuff and say, "Oh, I hear that." They won't, necessarily. I've absorbed a lot of music over the years, not just Detroit music. But, even just talking about Detroit music, the rock is just a fraction, too. I'm a jazz fan, also, so people that really changed that music, like Milt Jackson and Elvin Jones. Detroit radio during the '50s and '60s was very diverse. WABX came along and I heard Pharoah Sanders. FM rock radio in Detroit back then was like going to music school.
MT: Can you talk about performing here when you're on tour; does it feel like a homecoming show?
Crenshaw: It's nice. I used to get extra nervous coming back. I like to go play in the area. I love to visit Detroit. I was there last summer for the jazz fest. I'm old enough and experienced enough to know there's really something particular about good musicians from Detroit, and I'm not the only person who thinks so.
MT: Can you talk about "I Don't See You Laughing Now," the nominated single?
Crenshaw: I always write the music first, that's always how I do it. I was just trying to express some anger that'd been building up inside of me, looking around at the world, at America in particular, there's plenty to just be appalled by. The goal, always, is just to write a decent rock n' roll song and that's what that one turned out to be as far as the words.
MT: How's the EP series coming? The third one came out last winter.
Crenshaw: It's going well. I'm pleased. It was kind of a left-field idea. I decided I just didn't want to make albums ever again. I'm always partial to whatever's the newest thing I've done, and I do think the stuff on these EP's is really decent. It could have gone the other way, but I'm glad that it did take off.
MT: Singles seemed to go away in the '90s but started coming back with Internet-influenced listening trends.
Crenshaw: The record industry made up their minds to screw the consumer in the '90s and they got the tables turned on them, they were screwed by the consumers, which is kind of a beautiful thing. I think it's better now, to have that range of choices.
Marshall Crenshaw performs at the 23rd Annual Detroit Music Awards at 6 p.m. April 25, at the Fillmore Theatre, 2115 Woodward Ave., Detroit; 313-961-5451; thefillmoredetroit.com; detroitmusicawards.com; $30.