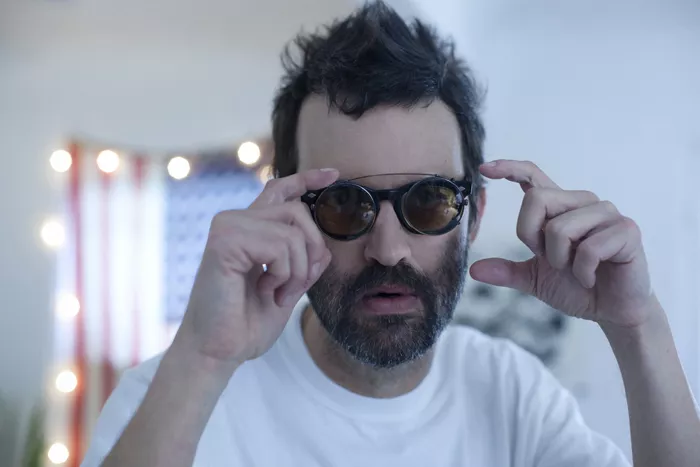 We really didn't know what to expect, but it turns out Eels lead singer Mark Oliver Everett, aka E, is a cool guy to talk to. Based on his lyrics from the group's 11th studio album, The Cautionary Tales of Mark Oliver Everett, we thought maybe he'd be a grim downer, bemoaning unfairness and injustice everywhere. But that wasn't the case at all.
Shockingly polite and funny, Everett says that the best writing comes from direct experience. "This is probably the most personal of all our albums," he says. "Somebody said recently, 'The beautiful spooky world of the Eels.' That's a good description. Sometimes pretty, sometimes scary, always undulating. That's us — the Eels."
Unusually downbeat in a paradoxically upbeat sort of way, the Eels are known for dealing with grim topics and depressing subject matter, but there's always something deep, treasured, and elusive in their albums. And their latest effort is no exception.
Chock-full of classic Eels sensibilities, Cautionary Tales is a journey of self-exploration as told through confessional lyrics and somber-toned melodies. Intensely personal, melancholy lyrics coupled with sad, bittersweet rhythms is the Eels blueprint.
"I don't write lyrics every day," Everett says. "I go through sporadic phases. My whole life is a process of going through phases, but there are periods where I write daily and then there's touring periods. When playing concerts, I'm just pouring everything into playing concerts."
In terms of what to expect from the new album, Everett says, "It's a lot to ask people to try to get out of it what I hope they'll get out of it. The songs, their context and sequence — the totality of it is a lot to ingest, so I hope they get at least a little something meaningful out of it. Things can be misinterpreted as far as what I intended, but that's one of the great things about music: It's open to a variety of interpretation(s)."
Less than half of the tracks the Eels originally recorded made the final cut. "The album is composed of my favorite tracks of about 25 to 30 … that we recorded," Everett says. "Our current band consists of musicians Koool G Murder, The Chet, P-Boo, and Knuckles. And as for songs, I particularly like "Agatha Chang" and "Kindred Spirit," but we obviously like all of them; otherwise we wouldn't have put them on there."
The album is an experiment in self-examination and how to learn from one's many mistakes through trial and error. Everett seems to thrive on negative energy and the philosophy of taking your pain up front in large, memorable doses, and Cautionary Tales has a running theme of lost love.
Everett's father, Dr. Hugh Everett III, invented the many-worlds interpretation of quantum mechanics in 1957 and kept a regular correspondence with Albert Einstein years before. After years of drinking and smoking, Hugh Everett died in 1982 at the age of 51. Mark Everett found his father's body at the family home in McLean, Va.
Now 51 himself, Everett has endured an epic string of tragedies, including the 1996 suicide of his schizophrenic sister, Elizabeth, the 1998 death of his mother from cancer, and the loss of his cousin Jennifer, who was an airline attendant on Flight 77, which crashed into the Pentagon on 9/11. Then, in 2005, Everett got divorced.
"I'm a haunted human in many ways," Everett says. "There are various hauntings throughout each of our albums, but on this particular album, Cautionary Tales, I'm haunted by some stupid decisions I've made in my life."
The music, however, seems to be the catalyst for learning from those mistakes. "I've found everything in music," he says. "Music saved me. I was a real lost cause at one point in my life when I was younger, and I really don't know what I would've done without music."
Everett's Los Feliz, Calif., neighborhood features the Dresden, the Derby, and the Philosophical Research Society, which is the largest occult library in the United States. "It's a sign of the spookiness of the Eels that I live within walking distance," he says.
Everett's musical influences include Neil Young, Tom Waits, Bob Dylan, Pete Townshend, and the Plastic Ono Band. "The Mount Rushmores of rock," he calls them. "They're household names for a reason."
Being a big-name musician isn't all glam and carefree splurging on Amazon rock crystal bathtubs and crocodile-skin jackets, though. "Being a musician is a hard way of life," Everett says. "You really have to pour everything you are into it for it to be great. It takes incredible amounts of focus. Over the last five to eight years in America, it seems like music has become a smaller and less important part of people's daily lives for some reason. Guess we musicians have to work harder."
Here in Detroit, the Eels appeal to a wide variety of people. "I always look forward to playing Detroit," Everett says. "We haven't been there in a few tours, so I'm definitely looking forward to coming back there. I really don't get out much in Los Angeles. I'm more of a homebody. I like to stay home and record music. I'm currently heavily into ping-pong. I need more outside interests. Right now it's just music and ping-pong."
As popular as the Eels are both in Detroit and elsewhere, they're still relatively unknown. "Our entire catalog is still an undiscovered secret to most people," Everett says.
That seems criminal. mt
The Eels play with Chelsea Wolfe at 7 p.m. on Tuesday June 3, at the Royal Oak Music Theatre, 318 W. Fourth St., Royal Oak; 248-399-2980; $29.50-$35.