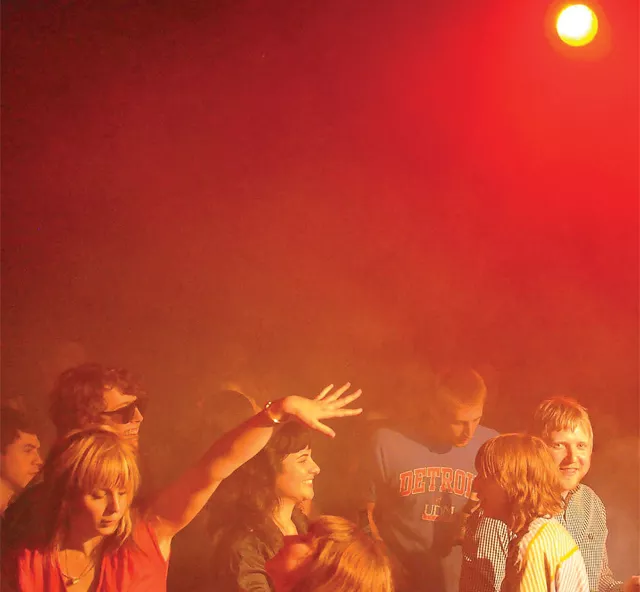 New Year's Eve, 2010: Two exceptional Detroit dance parties clash like fringed leather and gold lamé for a demure (yeah right) dance party. The Hydra's comprised of veteran Detroit dance makers Macho City and its night-stalking newbie counterpart, Haute to Death. Both are monthly dance parties where everyone's welcome, sweat pours and memories are made. These parties don't hinge on techno heads or house music maniacs, and they surely don't come off as swank soirees set to the tune of Top 40 remixes. They deliver dance music for discerning dancers. Wallflowers will wilt.
This New Year's Eve, at the Park Bar, the beast is reborn with Precious Little Diamonds.
"Look, there are many great monthly party nights in Detroit and there's no shortage of great DJs, but with parties like Sass and Dorkwave gone, we're wanting to fill a void in Detroit's dance scene," says Ash Nowak, who formed Haute to Death with Jon Dones. "I mean, we spin Cybotron all the time, but we'll spin anything that's danceable: Detroit garage rock, new wave and jazz." Adds Nowak, "You can't just play Prince, so we'll spin Bowie's 'Panic in Detroit' then Bauhaus and Whitney Houston's 'I Just Wanna Dance With Somebody.'"
Dones describes Macho City — the monthly party led by DJs Mike Trombley and Scott Zacharias at Detroit's leather haven, The R&R Saloon — as "reminiscent of Detroit's disco days at the Paradise Garage. It's proper disco."
You can expect the unexpected at either. "There's a wonderful mix of race, age, class and sexual preference," says Nowak.
"If Macho City is Gloria Gaynor, Haute to Death is Deborah Harry" says Dones. "Or maybe Diana Ross."
Adds Nowak, "They're parties for people who deserve a good party, for those who've earned it. It really belongs to them — our precious little diamonds on the dance floor."
Precious Little Diamonds: The Park Bar is at 2040 Park Avenue, Detroit. $40 advance tix covers coat check and all drinks. Pay $15 at the door for cash bar. Hors d' oeuvres will be served. Plenty more New Year's options starting Page 48.