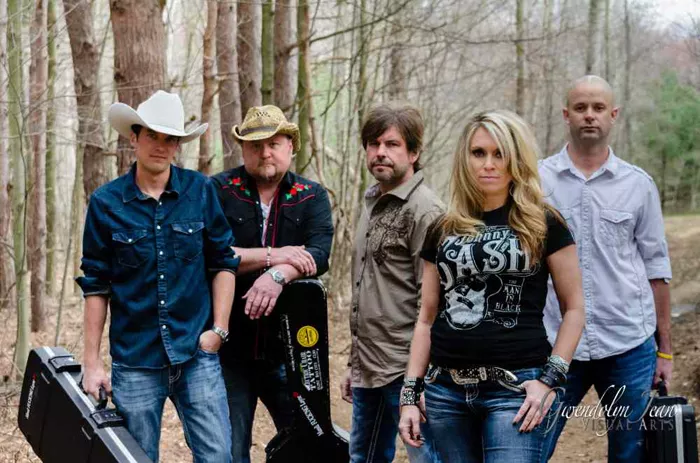 Some of the biggest names in contemporary country are playing the Downtown Hoedown this year, including the likes of the Band Perry, Dierks Bentley, and Big & Rich. Scan the lineup, though, and there's a lot of awesome local talent too.
Birch Run band Mandi Layne & the Lost Highway has been making some waves nationally since winning a local radio talent contest seven years ago. They made their Hoedown debut last year, performing in the Veterans Tent, and they've been promoted to one of the bigger outdoor stages this time around. We spoke to Layne about the festival, and the imminent release of the band's second album.
Metro Times: When did you start singing and playing?
Mandi Layne: I started in 2007, when I entered into a radio station competition put on up here in Saginaw called "The Rising Star Competition." I entered in with just one guitar player and myself, and then I was selected to be in the final five to compete, and then I found out that my competition was full bands. The guy that was playing guitar for me was like, "This is not going to happen. You need a full band." He called a bunch of his friends and we put a band together, we rehearsed once, and won. Immediately after the show, different festival bookers came up and were asking if they could book us. I was looking around at the band members going, "I don't even know if I have a band." They had all played together in the past and they weren't playing really at the time so they were like, "Let's do it." Before that, I was very shy and didn't want to sing in public. I was in college doing my degree, and was more worried about real life than chasing a dream, at that point. Now I'm more worried about chasing the dream.
MT: Where did you grow up?
Layne: I was born and raised in Birch Run, which is 25 minutes north of Flint. I still live in Birch Run.
MT: How did a Birch Run girl get into country?
Layne: It's very popular here. All my friends listen to country. Growing up, my parents listened to a lot of country, but I was also influenced by a lot of rock 'n' roll. I was just more drawn to country music. I like the style of it. It's changed a lot over the past years, but every time it changes and evolves I still like it. I still love the classic country that my mom would listen to — Willie Nelson and Waylon Jennings. I like the fact that country music tells a story, and usually one that you can relate to. It's a little more heartfelt.
MT: What kind of a town is Birch Run? Is it a cool place to grow up in?
Layne: I-75 runs right through it. It's a very small town, but it's developed over the past 20 years. We have the outlet Mall and we have a Meijer now. It has a close-knit community — you see everybody at the race track and the football games on a Friday night. There's never any trouble. You have the small-town vibe, but yet you can have places where you can go shopping. It's right between Flint and Saginaw, so any store we don't have is just 30 minutes away. I live around the corner from my mom so I get to hang out with my parents quite often — that's nice.
MT: Describe your sound. Is it pure country, country-rock …?
Layne: Our new album that we're about to release is called Country 2 the Bone. This album is very modern alt-country. It's right in with what's going on the radio right now. My first album, Drunken Love, we released that in 2008, and that was kind of all over. It was a little edgier with the rock stuff in it. I think at that time we were trying to find out who we were as a band.
MT: What do you write about?
Layne: It can be anything. A song idea will pop into my head. I had an idea, which is kind of a popular theme going around right now. If a girl is a hot mess, she's really hot but she's a mess at the bar, falling down. So we have a song on the album called "Hot Mess." The title track, "Country 2 the Bone," is about partying through the night, hanging out with friends and drinking. We have a lot of songs about drinking and campfires. There are a couple of love songs on there. The new album has a very summery vibe, which is why we're pushing hard to get it out before the end of June. We don't want to put out a summer record in fall. Track one on the album is called "Summer Song."
MT: Is the Hoedown a big deal for you guys? Have you played before?
Layne: Last year we played in the Veteran's Tent. It was great — quite a bit of traffic came through. We're excited to be on the Hoedown Stage this year. Usually during the Hoedown, we're at the CMA Festival in Nashville. Last year was the first year that we could play, and this year the Hoedown fell a week ahead of CMA Fest so we can perform. It's a great event. A lot of people, great artists — the local and main artist lineups are amazing this year. I can't wait.
MT: What can we expect from your set?
Layne: We're definitely going to do a lot of material from the new album that's coming out. We might throw in a few covers, but I'm not sure which ones yet.
MT: What's next for you guys, after Hoedown?
Layne: We're heading to CMA Fest right after Hoedown, and we're doing Fan Fair there. We have an emerging artist's booth where we get to meet and greet fans that come through. We're excited about that, especially with our new album coming out. We get to rub elbows with all the big players out there. It's a really good time. We'll play festivals through the summer and put the album out.
The WYCD Downtown Hoedown runs from May 30 to June 1 on the grounds surrounding Comerica Park; 2100 Woodward Ave., Detroit; wycd.cbslocal.com; single day passes are $29.95 each, three-day passes are sold out.