A fete for music itself
Make Music Detroit
is
a free, annual live music celebration with city-wide concerts for all ages
held at venues and outdoor public spaces every June 21, the longest day of the year. It's going down for the second time ever here in Detroit this year. It's part of an international event, and this year it will be held in over 750 cities worldwide, 51 of those in the U.S.
Metro Times
spoke with the leader of Make Music Detroit, Lawrence King, over lunch and via email. King is tall, gregarious, middle-aged — the kind of natural leader one usually finds running several startups at the same time. He is an exceptional listener, and a strong supporter of local music in Detroit, despite being a relative newcomer to the city. (King has written several features for our music section.)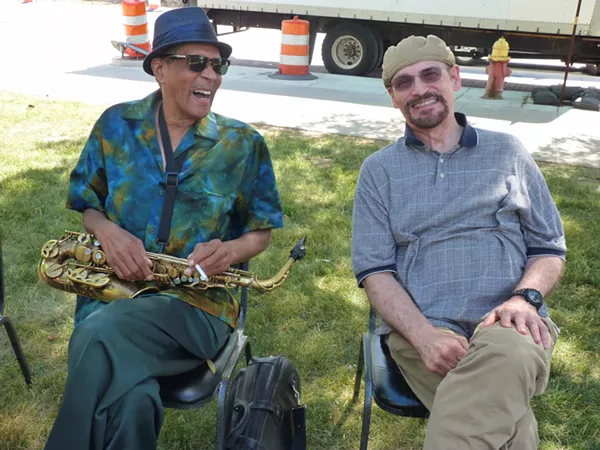 Metro Times
: You hail from a very musical place, so let's start there — where are you from, and what's an early experience with you have with music as a transcendent force?
Lawrence King
: Growing up in New Orleans, music played a big part in my youth. With music being the lifeblood of that culture, it is hard not to love it. The experience of greatest impact was probably my first trip to Preservation Hall. I was a kid there with my family; my older brother had pissed me off to tears. Determined to neither smile nor speak to any of them, I was ready to hate the music. But when Sweet Emma Barrett's band began to play, my life changed. As hard as I tried to remain mad, I was smiling after a few measures — transfixed by that sound which remains in my head to this day.
MT
: How important do you think music is in the history of Detroit?
King
: Music is Detroit's greatest cultural asset. The musical history of Detroit is as rich as any American city. New Orleans may lay claim to jazz, and Memphis makes much of its blues and rock 'n' roll roots, while Nashville cradled country. But no American city has as deep a musical history spanning so many styles. From jazz to rock and gospel, from blues to opera and techno, from avant-garde to classical and soul, Detroit has contributed a greater range of significant music and performers than any other American city. Detroit is recognized all over the world for its music; it is our most powerful cultural identifier. We have not done enough to build upon that widespread interest. We need to do a better job of inviting people to visit the city and experience both our music history and music in current form.
MT
: What steps could Detroit take to better elevate that?
King
: Our half-century of economic and population decline has taken a toll on Detroit music. Just like fixing roads, streetlights, and services, our musical ecosystem is in need of repair. We can model our approach on the successful efforts of cities such as New Orleans, Nashville, Austin, and Seattle. These cities have proved that supporting music results in measurable economic growth and an enriched cultural community. We should put into practice the things that have worked for these other cities, while adapting these actions to Detroit's unique strengths and constraints.
MT
: Tell us about Make Music itself — what is this thing?
King
: More than a festival, Make Music Detroit is a community-wide music celebration. What is today known as Make Music Day was created in 1982 as Fête de la Musique, a national holiday to celebrate music. Over the years, it expanded through Europe and the rest of the world. In 2007, Aaron Friedman brought the idea to the U.S. when he organized the first Make Music New York. Aaron then created the Make Music Alliance in order to expand Make Music days to other North American cities. Make Music Detroit is part of that alliance and follows some basic principles. Performances must be free, open to all ages, and community-wide. All musicians are welcome to perform no matter what style or level of expertise.
MT
: How did you yourself first come to work with them yourself?
King
: I met Aaron two summers ago at a music cities conference in Washington, D.C. As soon as he described the event, I knew it was a great match for Detroit.
MT
: So you did this event here once already; how did it go last year?
King
: We had a great first year. We only had four months to put the event together, but we were able to stage over 100 performances at over 20 venues.
MT
: What did you learn from that first iteration?
King
: We learned that we needed to do a better job of attracting patrons. We also learned that we needed more resources to staff so many performances. This year we have concentrated on building our audience, and better staffing the venues.
MT
: Why is this happening on the solstice — are you guys a bunch of hippies?
King
: We love hippies, but I doubt anyone would call us hippies. Make Music Detroit takes place on June 21 because that is International Music Day.
MT
: We already have so many festivals here — why this one?
King
: First, and most importantly, I don't believe there is such a thing as too much music. I remember the first Louisiana Jazz and Heritage Festival in 1970, when it was the only annual music event in the city. It drew an attendance of 350 people. Its attendance is 1,000 times that today. Instead of one festival, there are now 130 a year in New Orleans, attracting 2.5 million visitors annually, with an annual impact of a billion dollars. New Orleans' music ecosystem was revitalized by the festivals. Visitors and locals go not just to the festivals, but more importantly, to the clubs.
We have a lot of room in Detroit before we have too many festivals.
But to your question of why MMD, or maybe what sets us apart? Make Music Detroit is part of the largest global musical event in the world. It would be wrong for the great music city of Detroit to not be a part of that.
MT
: What was the highlight of the festival for you last year?
King
: My highlight was observing the interaction between 16-year-old singer-songwriter Emma Guzman and Liz Larin. Liz gave advice and encouragement to Emma before and after she performed. We don't have a kids' stage, but rather we mix them into the general schedule, oftentimes sharing the stage. The veteran musicians love to mentor, and rising talent gains invaluable experience.
MT
: What is the biggest thing that didn't go well in 2016?
King
: The way that we had the stage set on the lawn of the DIA caused the paintings to bounce. The curator called the director, and an ashen-faced staff member ran out to make us turn down the volume.
MT
: How is it all coming together?
King
: Just like all large events, the last week is crazy time. But all the preparations will result in a great event. It's taking place all over the city, at over 30 locations including the Jazz Cafe at Music Hall, PJ's Lagerhouse, Northern Lights, the DIA, Old Miami, Delores Bennett Park, and the One Mile Garage.
MT
: What are you most excited about this year?
King
: Make Music Detroit is about passing the torch to younger musicians. No better example will occur on the DIA south stage. Detroit Youth Volume — Clara Hardie's wonderful Suzuki program —includes two performers who are three years old. Their performance is followed by the wonderful a cappella gospel quartet, the Masters of Harmony, led by 103-year-old Brother Thomas Kelly. He has been performing in Detroit since 1926! What a wonder to have musicians with a 100-year age spread; that probably best exemplifies what makes us unique.
Make Music Detroit is Wednesday, June 21, throughout the city; see makemusicdetroit.org for more details and to download their app for latest updates about venues and artists; admission is free and all ages.