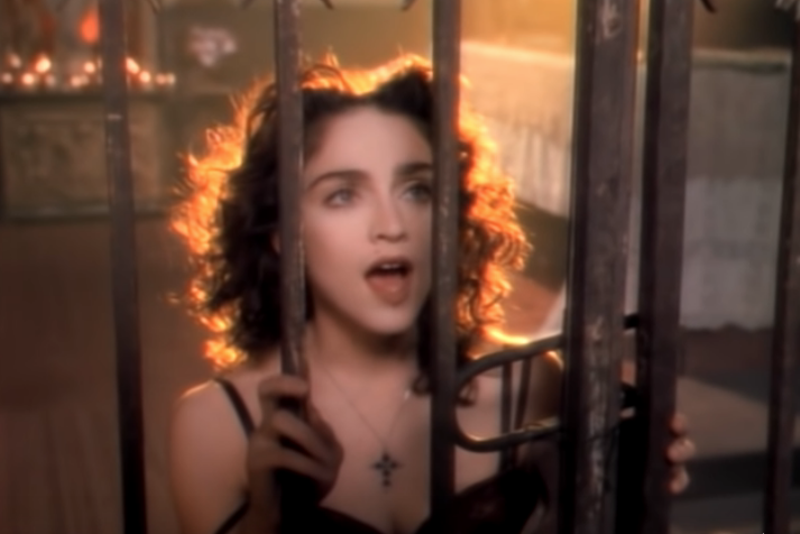 The Bay City native took to social media Monday to reflect on the 30th anniversary of her controversial 1989 video, "Like a Prayer" and the widespread backlash that followed.

"Happy Birthday to Me and Controversy!" she said in an Instagram post.

At just 30 years old, Madonna unleashed the five-minute and thirty-second rock gospel opus as the first single from her fourth studio album of the same name. While the single may have felt like a natural, albeit more lush follow-up to the social and religious commentary of 1986's "Papa Don't Preach," "Like a Prayer" had something slightly different — burning crosses, sexual stigmata imagery, and a black Christ-like figure. Oh, and international condemnation from the Vatican.

"30 years ago today I released Like a Prayer and made a video that caused so much controversy because I kissed a black saint and danced in front of burning crosses!" Madonna said in her social media post, adding that she had meant to post on the official anniversary which would have been yesterday, March 3, however, her post was flagged for being inappropriate.

"What a shocker!"


"I knew that we were pushing some big buttons, but I sort of underestimated the influence and bigotry of fundamentalist religion and racism in this country and the world,"
music video director Mary Lambert told Rolling Stone
. "T
he most important thing was to force people to reimagine their visual references and really root out their prejudices."

Following the video's release, Pepsi dissolved a $5 million contract with the pop star which included a commercial (which aired and was later banned,) and tour sponsorship.

In 2008, Madonna dedicated "Like a Virgin" to the Pope while performing in Rome and in 2017, she would continue her anti-Pepsi stance and dragged Kendell Jenner's disastrous Pepsi commercial during which the model leaves a fashion shoot to join a protest and hands a police officer a can of Pepsi.


"When you wake up and realize that shit just really doesn't make sense!" Madonna said of Jenner's commercial. "Side Note: My Pepsi commercial was pulled 30 years ago because I was kissing a black saint! 👼🏾 #ironic"
Stay on top of Detroit news and views. Sign up for our weekly issue newsletter delivered each Wednesday.